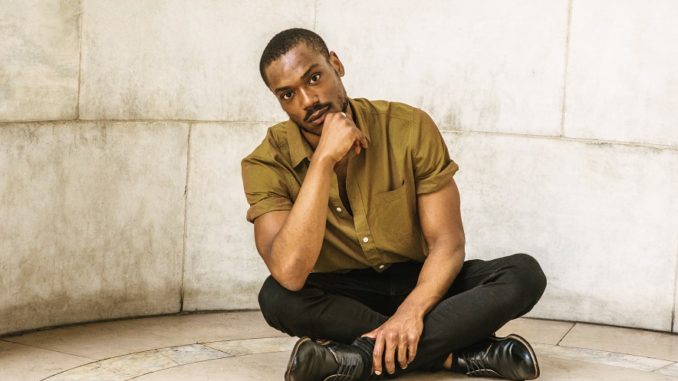 The camp collar shirt, also known as the "Cuban collar shirt", has been around since the 1950s when it was introduced to America by Cuban immigrants.  This shirt was rapidly adopted by Americans, tired of sweating through their work shirts. After embracing everything from palm trees to Hula girls and pineapples, this throwback piece quickly became a staple piece of summer wardrobes everywhere.
Today's camp collar shirt is a great answer to the question of how to look stylish or smart while staying comfortable. Traditionally constructed from a light, airy fabric such as linen, cotton or Tencel, this shirt is super comfortable and breathable.  Modernized with a slimmer cut on the arms and updated with new fabrics and designs, the camp shirt is also stylish, able to be dressed up or down with great success.  It now boasts seasonal, artsy and bold prints, allowing men to inject some personality into an outfit.

For this reason, fashion experts are describing this shirt as a "valuable asset" and "a must-have item when it comes to your shirt rotation".
Here are some of our favorites.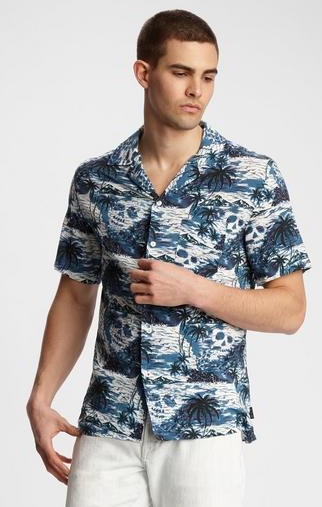 John Varvatos has boldly updated the camp shirt with his own "rebel" take, injecting hidden skulls into an island landscape scene replete with beach and palm trees.  Featuring an original graphic throughout, the Skip Camp Collar Shirt is a "wearable work of art".
This shirt pairs perfectly with jeans and sneakers, giving you a uniquely stylish yet relaxed look.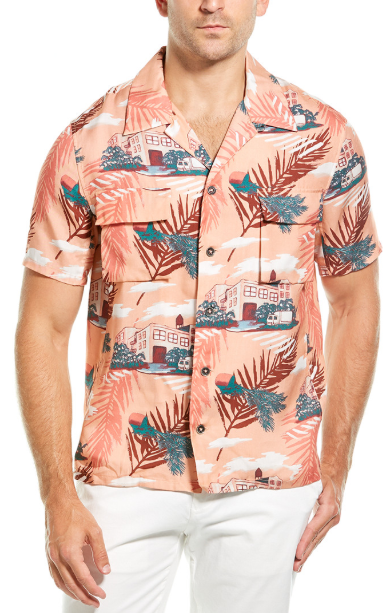 Mojito not included…but it should be. We can imagine Hunter S. Thompson sporting something similar while scribbling away at his Rum Diaries.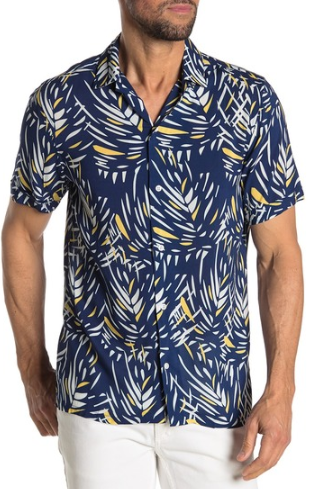 Intricate prints and a trim fit exude style on this camp shirt by Vestige.  A lightweight, drapey construction makes this shirt comfortable and breezy.  Pair it with jeans, chukka boots, or stylish sneakers for casual Friday or a happy hour.  Pair it with khaki shorts, sneakers or flip flops for a stylish yet relaxed look for a weekend brunch.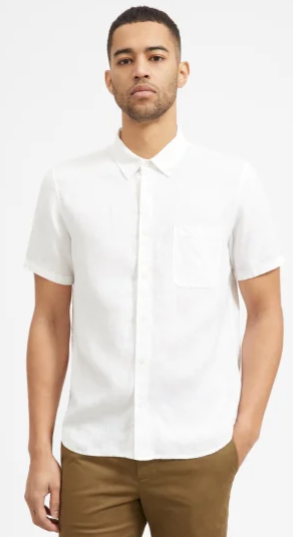 This linen shirt by Everlane is a fashion expert favorite and described as a "solid everyday shirt".  The linen is naturally breathable, making this shirt a great choice for warm days.  It has a texture that looks great even wrinkled, and it looks great both tucked and untucked.  It provides a great fit for athletic and muscular guys.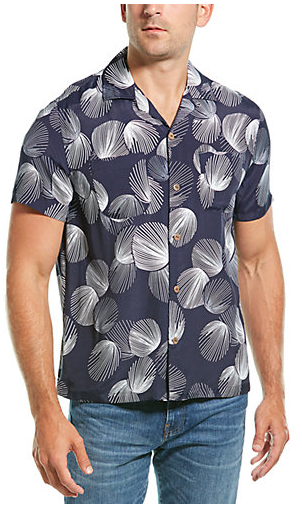 J.Crew has successfully updated the traditional camp shirt into a statement shirt.  The fun, abstract pattern is a great choice for an art, wine or music festival. Show off your personality with this shirt.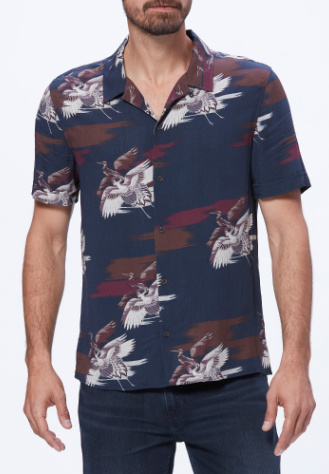 This Landon shirt from Paige is a great example of how designers are updating the camp shirt with modern prints.  The easy, classic shape, is juxtaposed with modern inspired bird prints. It's the ideal item for men who aim to inject unique, bold prints into their look.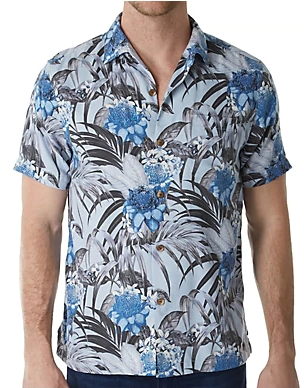 Tommy Bahama creates wearable art in this stylish camp shirt.  The blend of woven silk and polyester provides a lightweight and comfortable casual wear for warm weather.  Wear it paired with dark jeans and sleek sneakers or chukka boots. This shirt provides style and comfort for a casual Friday look, a happy hour, or a casual dinner date.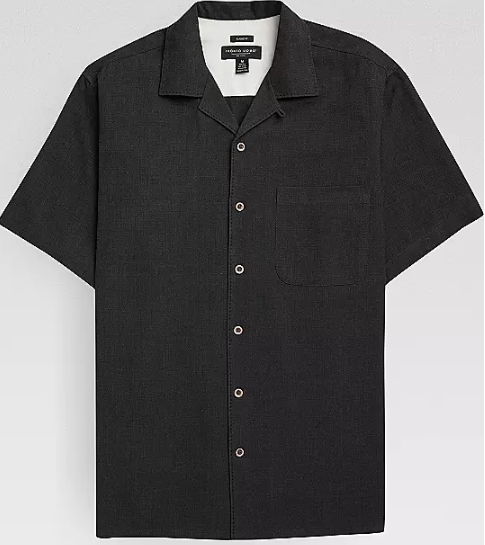 If you're not into prints, or you're looking for a great all around addition to your minimalist look, this shirt by Pronto Uomo is for you. The silk and tech fabric blend creates your own personal micro climate, wicking away moisture when you're hot, and keeping warmth in when it's cooler. Looks just a good with jeans as it does with khakis. Definitely a great staple piece.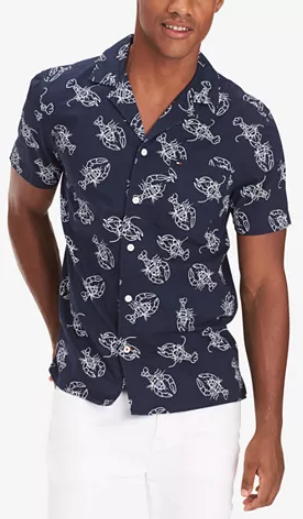 With logo-embellished lobster prints and the traditional button-down look, the Preston camp shirt from Tommy Hilfiger aims to provide a coastal vibe to your look.  This camp shirt from Tommy Hilfiger is great for men who love to stand out with a stylish, artsy look.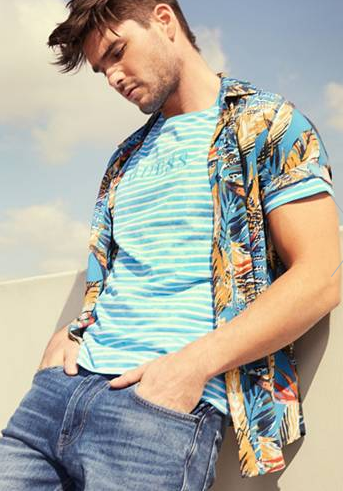 Our final choice is the Rogan bird-of-paradise shirt by Guess.  This shirt is great choice for a more relaxed, casual look for men to wear anywhere during the day.  Whether your running errands, going shopping, walking the town or just hanging out, this super-relaxed shirt still provides a stylish and artsy look that appears effortless.
In recap, the camp collar shirt is indeed having a big moment.  Its traditional lightweight and airy personality with its updated designs and fit and its ability to let men inject style and personality into their outfits are making it a must-have item.  We hope this article has helped you select a shirt or has encourage you to look for a camp collar shirt that showcases you.