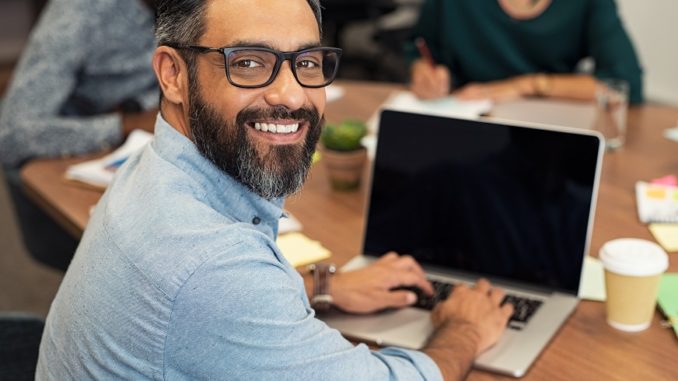 Father's Day is nearly on us, and if you've fallen victim to some less than stellar holiday gifts in the past, now is the time to take preventative action.
Here at ShopLikeHim, we've got your back. This quick hit list of eleven items that don't suck will help you start laying down those hints and get you something other than another random coffee mug (unless you really dig mugs, or if it's a really, really cool mug…just sayin')…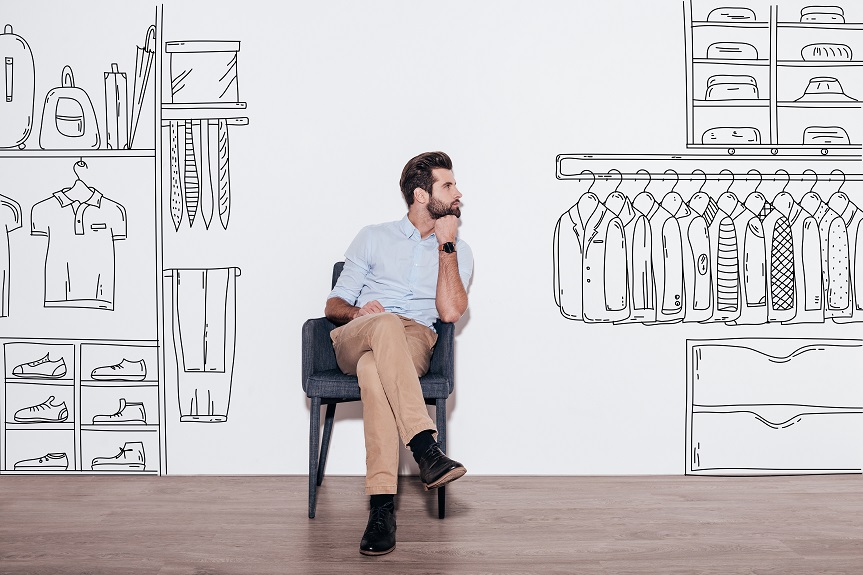 THE MENLO CLUB – $60/month
This clothing club is the perfect gift for the busy guy who wants to stay current and look good, but doesn't have the time to go shopping. Set up is super easy, your Gifter basically chooses which style fits your taste (Classic, Casual, Forward, or if you can't choose between them, there is also a Mix option). They input your measurements, confirm payment and that's it. You should start getting your first package, usually 2 items per month, and every month is different. Exchanges are easy and you can cancel anytime. Seriously, how's that for a perfect gift!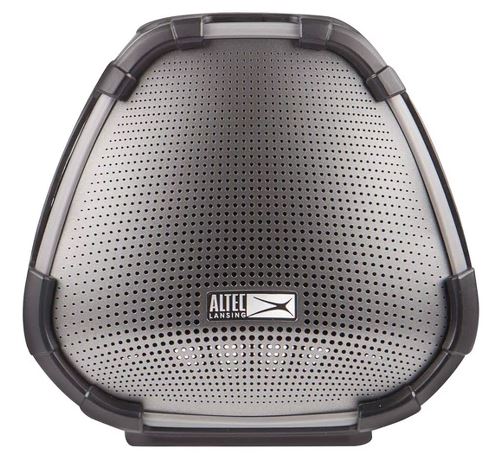 Are you the kind of guy who loves his tunes, indoors and out? This 5 out of 5 star rated outdoor speaker by Altec allows you to go hands-free with Far Field Voice Control that recognizes your voice and picks up on commands using the Alexa sync. It has a 100ft wireless range and Omni-directional surround sound. This fellow will give you up to 8 hours of your favorite tunes, plus it's waterproof, snowproof and dirtproof. Nice!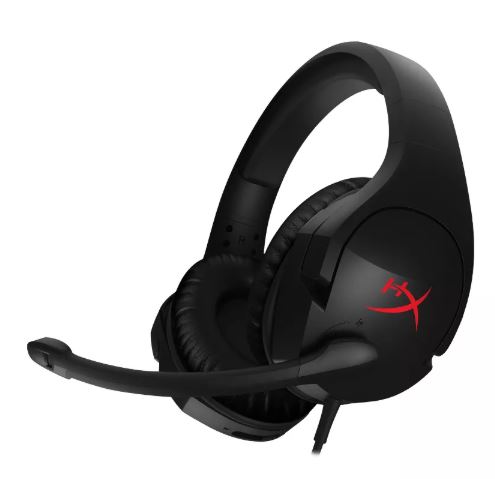 With a v-shaped sound signature, this headset boosts the bass and treble while mid-range frequencies are more recessed. In audiophile terms, that means it's perfect for gaming as it allows things like explosions to carry more oomph while making ambient noises (ie those small sounds you need to pay attention to in your FPS games) easier to hear.  Compatible with Xbox One, PlayStation 4, Nintendo Wii U, Nintendo Switch and PC.
And if you're really into gaming, here's a fun stocking-stuffer you'll appreciate…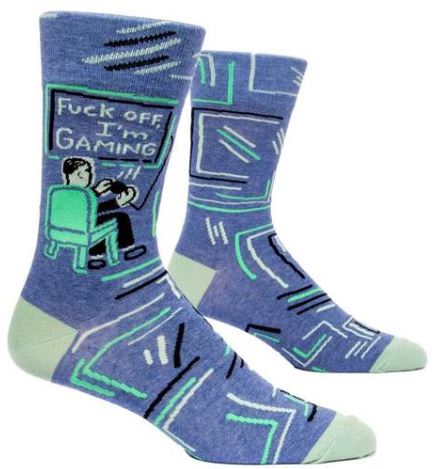 To quote Perpetual Kid "My body has melted into my chair, my vision is blurred, I haven't peed in hours and I feel GREAT."  If this sounds like you, these little fellas will at least keep your feet warm as you lose circulation from hours in your chair (JK, gamer!)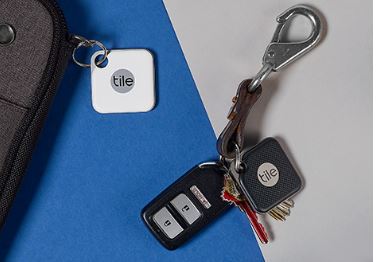 Sure, we know, it's hard to admit we can't remember where we put something…"It's around here somewhere, I'll find it if I just look around…" But when it comes to things that really matter, like keys, phones, wallets, even luggage (yes, Tile had global GPS location so no more guessing if your suitcase missed your connecting flight), these small little squares are a lifesaver. Tile is the world's best selling bluetooth tracker on the market today and has the world's largest lost-and-found community, spanning 230 countries. Just attach them to your item (or in the case of your wallet they have a slim fit model that's the size of a credit card) and finding that item is as simple as checking your App. If your item is within bluetooth range you can signal an alarm to help you locate. If it's outside of bluetooth range, the GPS location can be used, and if for some reason even that fails, you can tap into the Tile lost-and-found community – meaning that all other users who have Tile in the area can be used to send out 'hits' using their GPS in their Tile and if your item matches, you'll get an alert.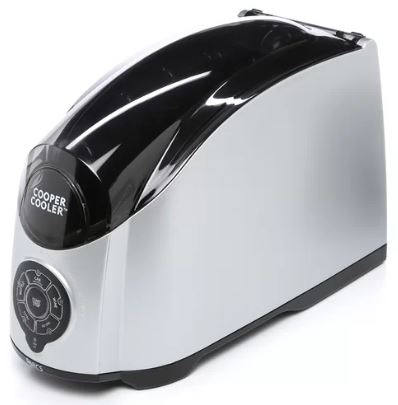 Whether home or away, there's no excuse for warm beer, lukewarm vodka or room temperature white wine when you have the Cooper Cooler Tailgater. Pre-fill it with ice and water, choose the container (can, bottle or wine bottle) and then turn it on. The Cooper Cooler rotates (so no worry about shaking container syndrome). Cans will chill in 1 minute, wine to perfect low-mid 50 degrees in 3.5 minutes and liquor bottles to ice cold in 6 minutes. Don't you just love technology?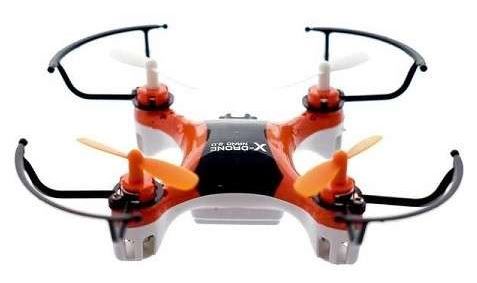 This is the perfect gift for the "drone-curious". Sure you could hone your skills on a $700 model and potentially crash it on the first maiden voyage. Or you could spend under $20 and get this cool little guy. The X-Drone Nano 2.0 is made for the novice. Speed controls are dead simple – low, medium and fast, so you can get the hang of proper maneuvering without having to think too much about the throttle. Didn't compensate fast enough? The X-Drone Nano 2.0 comes with bump guards. Oh, and for when you're feeling the need to impress, the X-Drone Nano 2.0 also comes with a 360 Flip Switch which handles all the hard part, you just tell it which direction to go. It's a cool little piece of engineering that will have you practice perfect when you're ready to upgrade to the pricier stuff…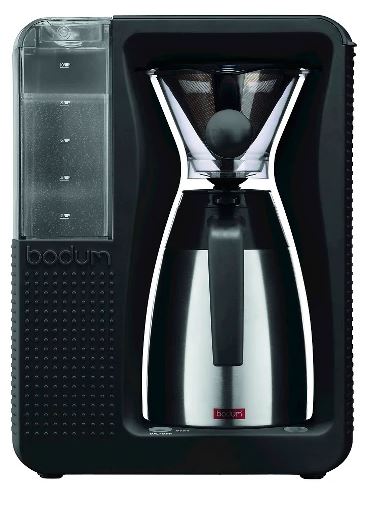 Do ya love your coffee? Java lovers know – pour over coffee is hands down superior to standard drip. Simply put, it tastes better. The downside? Your typical pour over coffee system is entirely manual, and time-consuming. You have to fill the kettle, wait for the water to boil, then carefully pour boiling water over your coffee grounds, hoping you don't give yourself 3rd degree burns. All this while you're half asleep and well, haven't even had your coffee yet! Welcome technology to the rescue. The Bodum Bistro is set to deliver the same extra-hot water temperature required for the perfect pour over brew, but does so in a convenient automated fashion.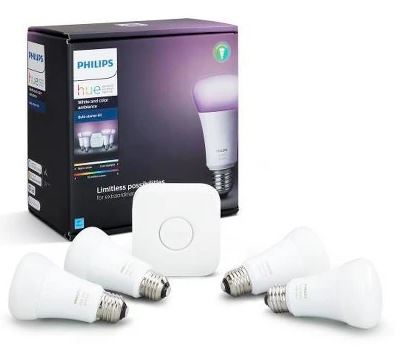 This will take your TV viewing experience to the next level. With the Hue LED Smart Light Bulbs from Philips you can access the included Hue Bridge to connect via smartphone or tablet to control the brightness and color of the lighting in one or more rooms. And it's not just for the entertainment room. You can choose a bright, sunshine setting to start off the day or a lower, darker setting for winding down before bed; there's a setting perfect for every activity in between.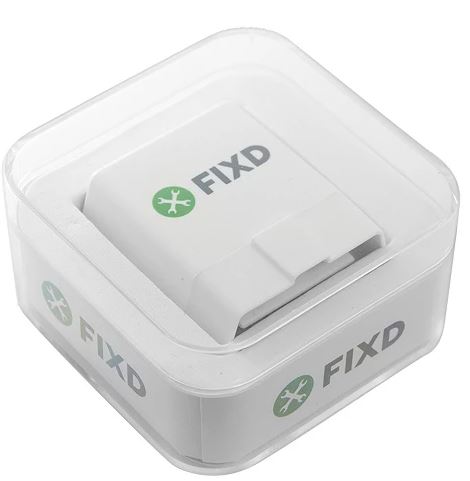 No one wants to be the guy who goes to the mechanic only to get his wallet taken for a ride…especially not you. This cool gadget plugs right into your car's OBD port (installed in every car since 1996) to automatically interface with the car's diagnostic computer. Info is downloaded into the included App to give a clear and concise diagnostic on the health of the car. Any issues are highlighted, so he can clearly communicate to the mechanic exactly what needs to be done. You can also set up the App to give reminders for upcoming suggested maintenance. Not sure how often to schedule a maintenance need? No problem – the App comes with a Manufacturer's recommended maintenance timeline for your car. Even better – for multi-car households the App can monitor every FIXD-equipped car owned, allowing you to remotely view the health and status of multiple vehicles 24/7. A few cons to be aware of – 1) it will not detect things like airbag deployment, TPMS or ABS lights and 2) not all all-electric or diesel vehicles are compatible with the system, so be sure to check the website.