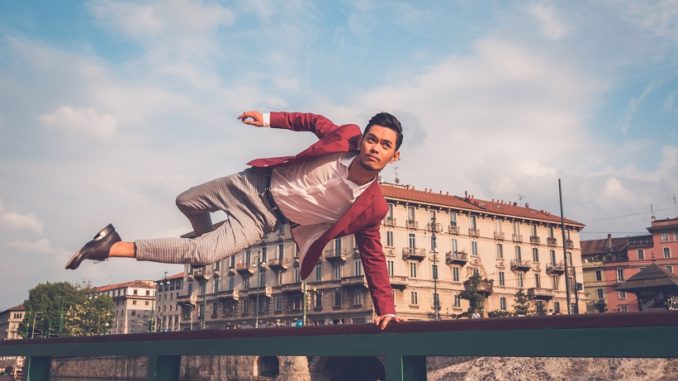 While we're not missing those triple-digit days, packing up our shorts for the season has us feeling some summertime sadness.
But cooler weather awaits, and with it comes this season's best trouser assortments. F/W 22 is seeing some old favorites returning strong, as well as some newbie styles to give your fit some flex.

OFFICE FRESH & FRIENDLY
First up, and drum roll please, for the return of Corduroy. Yes, this old-school material is back with modern looks that feel anything but passé. The key to keeping this fabric office-friendly and fresh? Stick to a classic wale count (the higher the count, the closer and smaller the cords). Needle cord reads best (that's around 16 cords per inch). As for styling, cords slide easily into prep territory, so pair them up with loafers, sports jackets and a woven belt – like these dark olives from J. McLaughlin…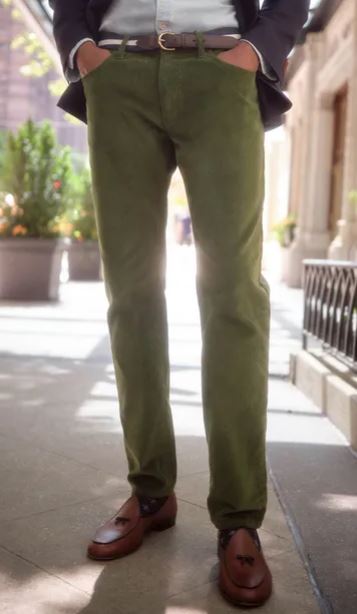 Call it a fashion irony but while our jeans are getting wider, slim fit trousers are still the silhouette to beat when it comes to office wear. With this much body attention, you don't want to mess around with a second best cut. These handsome wool suit pants from Parisian brand, The Kooples, are the pants you need. Satin lined with a slim fit and a tapered leg that ends in a smart bottom cuff. Wear them business casual with a Chelsea or slide into your best oxfords and you're board-room ready.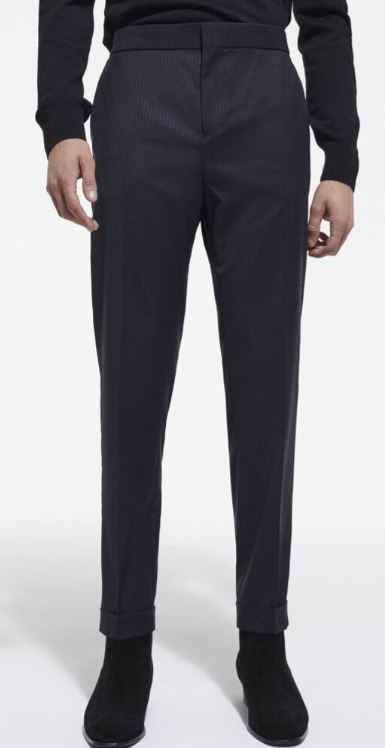 Chinos can have a bad rap for leaning too far into the casual zone. Much of that falls squarely on the cut and color. So while we love those stonewashed, light red chinos, they're best kept for the weekend wardrobe, where they pair beautifully with a loose linen shirt or sporty polo. If you want to ensure your chino is appropriate, here are three rules of thumb – keep to solid fabric finishes, welted back pockets (not patch) and avoid any with flat-felled seams (that's the fancy name for that double-stitch seam you see on jeans). These dress chinos we chose come from the Ultimate 365 collection by adidas. Well-tailored and tapered, they've made with 4-way stretch that keeps its shape no matter how you move. And following adidas's mission to be eco-friendly, they're made from 100% recycled materials.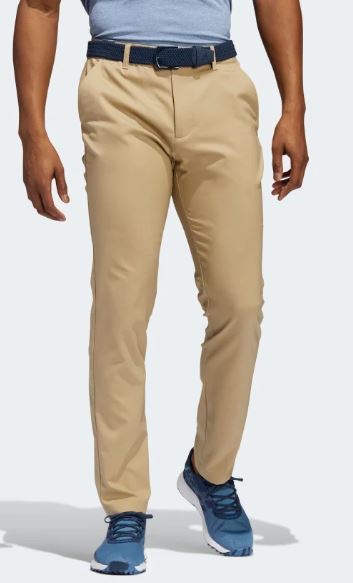 If your style leans more dapper with a dash of maximalism, you can easily mix that in to your office-friendly attire. Start with a silhouette that reads business dress and well-tailored, then you can experiment with slightly unexpected colors and exaggerated patterns. These sleek, dark teal trousers from Bottega Veneta are a good way to ease some dapper into your wardrobe rotation.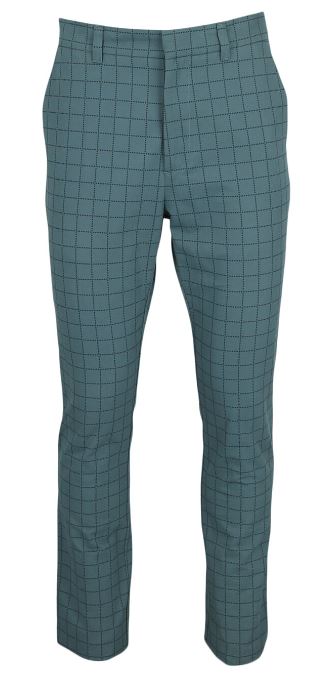 Who knew at the time that one crazy little cop show would bend the entire fashion world to its distinctive South Beach style of Cuban-influenced trousers? But that's exactly what happened when "Miami Vice" premiered in 1984, introducing an entire generation of men to the pleated pant. Fast forward to now, and this once banished-to-the-back-of-your-Dad's-closet look is showing up in force. We're particularly partial to how easily these pair into office wear. Take this seam pleated, checked pattern fellow from Victor & Rolf. A word of note that with the baggy nature of these pants, you'll want to keep a clean tucked look, either with an OCBD or winter knit for the office. For more casual affairs, feel free to sport it with an equally relaxed sweater (as shown below).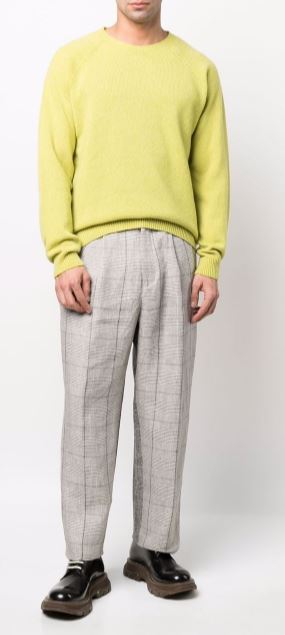 OFF-DUTY ADVENTURE
There have been a few spin offs this season, like cabincore, utility street, adventurecore…we'll get to those a little later. But as of now and for the foreseeable future, granddaddy gorpcore is still going strong. And one of the cornerstones to the look has taken front and center as a major trend on its own – namely, the Cargo pant.
Ah, but there's the catch. There's more than one type of cargo pant. In fact, there are three distinct types of cargo: Classic Utility, Cargo Joggers and Skinny Combat Trousers. And each has its own aesthetic that it works with best.
For all your streetwear looks, the classic utility is a no-brainer. Especially when it's done in one of this season's bold takes on camo. This blue and black woven version from Aeropostale is light on the weight (nylon-cotton blend) and the wallet. Take a cue from the pic below and pair it with your fav high tops and hoodie.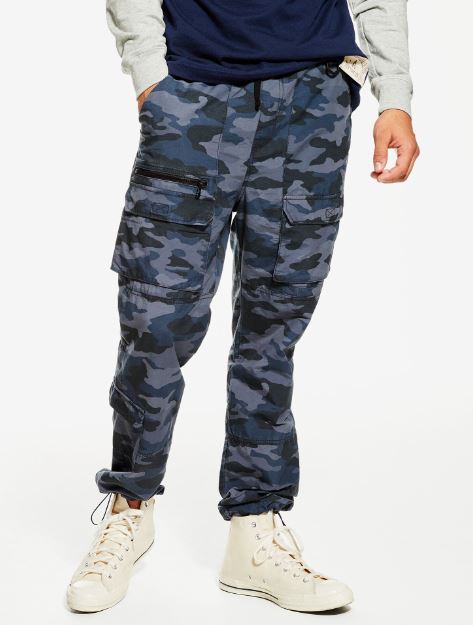 If your tastes run a bit more upscale athleisure, then these cargo joggers from Joe's Jeans will not disappoint. The fit is relaxed but not so baggy as the classic utility. And what really sets these apart and on our list? The cotton modal that's been coated to create just a hint of sheen, giving it a leather pant look with all the mobility and stretch of your favorite sweat pants.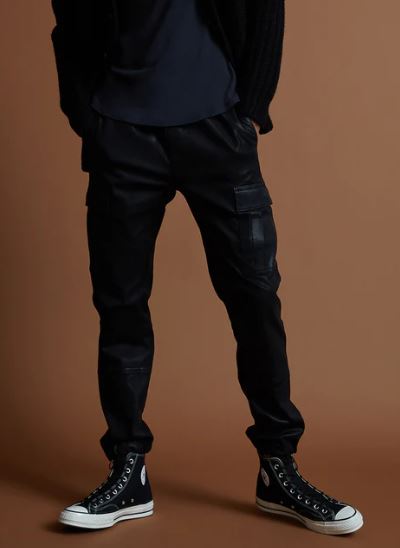 And finally, for something that works for both off-duty and business casual, we have the skinny combat pant. With its trouser-straight legs and moderate pockets, this skinny combat from Stone Island's new season, is a great swap out for your standard chinos.  Pair it with a slim fit button up or keep it casual with a cozy sweater vest.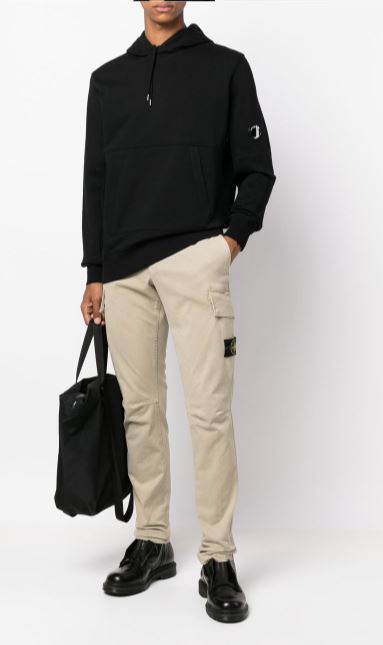 Getting back to all those spin offs, let's start with Cabincore. This trend which started in late '21 has been steadily building since. Formed out of a combination of post-pandemic cozywear and gorpcore, the trend's aesthetic centers around easy-wearing, rustic items…like something you'd wear at a cabin (get it?). One of the biggest items to go mainstream with this trend is raw denim. For those curious but not aware, raw denim is denim in its pure form, meaning the fabric hasn't been manipulated or processed in any way. Besides being eco-friendlier, raw denim has a distinctive, dark indigo look, making it a great swap out option to your regular dark jeans.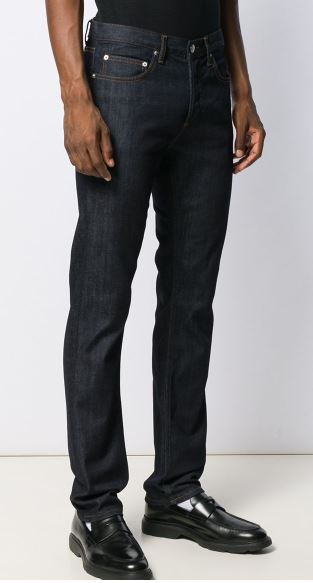 Next up, adventurecore. This is pretty straightforward: while gorpcore leans into streetwear, adventurecore goes strong on the outdoorsy vibe. Adventurecore fabrics tend to be less sporty and more off-grid. These ripstop pants by Carhartt Work In Progress, are a perfect example and a welcome addition to your fall adventurecore fit.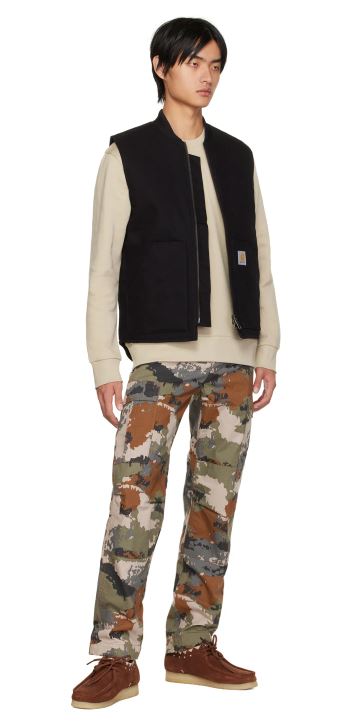 What do you get when you combine gorpcore and a little 80s hip hop thrown into the mix? That'd be utility street. All the tactical fabrics you can think of in unabashedly oversized silhouettes, paired with vibrant tees, and hoodies with all manner of embroidered signage. Perhaps the most unexpected but uber trending item is the return of the parachute pant. First made famous by the legendary rapper and breakdancer, MC Hammer, the utility street version stays more in the neutral tones, like this pair by James Perse in classic olive.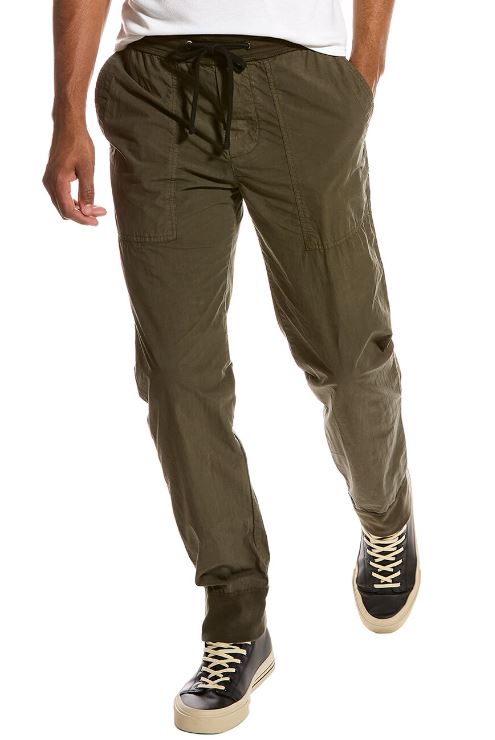 CROPPED SLIMS & WIDES
Love or hate this style, you can't deny it's having a major moment. First intro'ed in 2017, the argument over whether these are short trousers or long high waters has become moot because everyone who's wearing them can't hear it over their fabulousness. There are slim-cut versions and wide leg versions (that Y2K influence again) and come in a variety of fabrics from denim to dress to sweats.
Starting with the classic silhouette, these cropped chinos from Zadig & Voltaire can easily work with some prepster-inspired boat shoes or elegant slipper loafers (sans socks).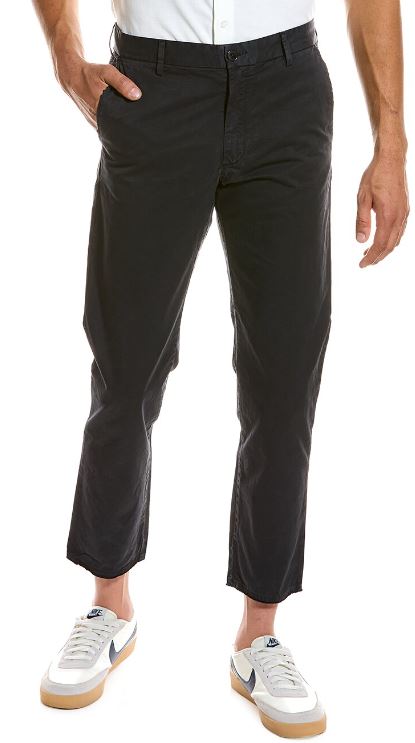 Going wide leg and casual, this cropped cargo version from The Critical Slide Society is giving full on Y2K badass skater boy vibes.
Opting for something a little more on the sporty side? Check out these cropped bottoms from adidas. Performance sweatpant material gets elevated when re-imagined in a clean business trouser cut.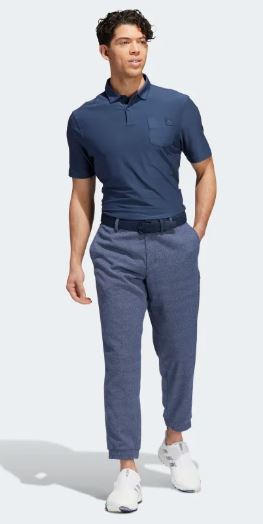 And for our last look, we come full circle with these loose-fit but not too baggy, cuffed corduroy crops. The handsome gray texture lends itself to all manner of fall sweaters.