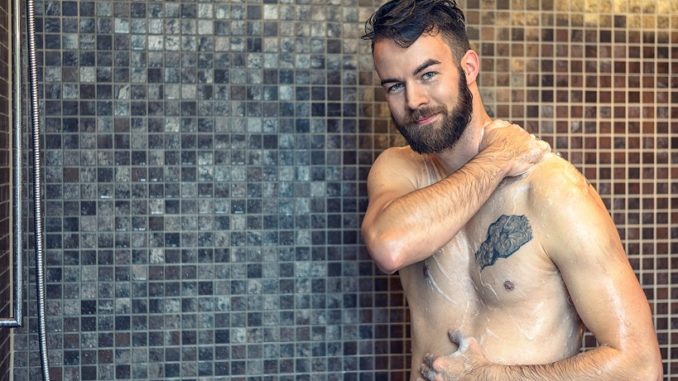 Here's something fun…ever read the ingredients on the back side of that super cheap body wash at the store? You know, the one proclaiming it'll make you smell like a natural grove of musky pines through the power of, lemme see here…methylchloroisothiazolinone…and tetrasodium EDTA…?
WTH are those, anyway?

Well, first off, neither of those items are in any way natural. Not even close. Both these ingredients that show up so prominently in most off-the-shelf shampoos, conditioners and body washes are chemically created preservatives. These and many other ingredients have a ton of groups sounding the alarm on the issues these chemicals create when absorbed through your skin and into your body. EDTA for instance, is made with formaldehyde, which is a known carcinogen. Methylchloroisothiazolinone is a paraben…as in that stuff that was banned in Europe due to studies finding a direct link between it and allergic reactions in skin, such as dermatitis.
Second, there's nothing really good in these products either. Most of them have zero vitamins or nutrients for helping keep your skin clean and clear, or to help with razor sensitivity, or increase your skin resiliency, or anything really.
Okay, that's the bad news. The good news is more and more guys are ditching the five-plus syllable additives in return for natural ingredients that aren't just as good…they're better. Seriously.
Wanna add yourself to this list? Let's get you started with a brand that our Editors use and recommend, Dr. Squatch.
Made in the USA, this brand has been around since 2016. All their bar soaps are made using real glycerin, something the commercial manufactures remove so they can add it into more expensive items like creams and lotions (then replace them with those cheaper, artificial chemicals mentioned above). Dr. Squatch products contain crafted combinations of organic oils, natural exfoliants, moisturizers, and clays. Finally, they only cold press their bars, which helps keep in all that good stuff. Pretty cool, right?
Here's our review of favorites, broken into groups that work best for skin types out there…
FOR SENSITIVE SKIN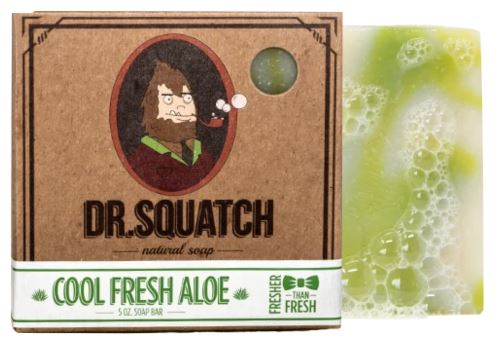 This bar soap is made with real glycerin, olive & coconut oil, aloe and clover which when you put it all together gets you clean without stripping or irritation.
If you're tired of feeling like you just rolled in sandpaper after showering, this super gentle soap is the one for you.
1 Bar for $7.00
Buy it HERE or just click on the Pic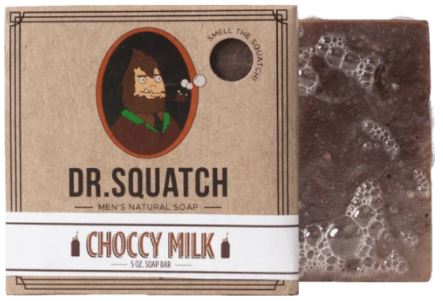 This bar is chock full (pun intended) of all sorts of goodness to get you clean without irritation. Olive, Palm and Coconut oils keep you hydrated while natural Cocoa nibs gently stimulate and exfoliate.
Oh yeah, and did we mention it smells just like Chocolate Milk??
Soap? $7 bucks. Childhood memories? Priceless.
Buy it HERE or just click on the Pic…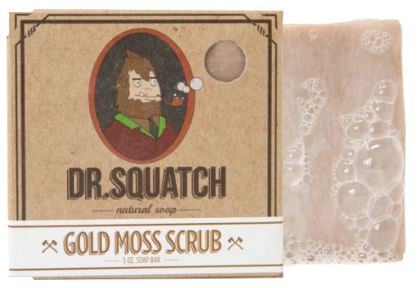 More often than not, sensitive skin products tend to fall flat on scent. A lot of that has to do with the fact that those strong fragrances also include harsh chemicals. If you're a sensitive guy who wants a good fragrance that'll last all day, welcome to the natural alternative. Oak moss has a rustic musk scent to it that lasts, while Shea butter and sea salt even things out.
Buy it HERE or just click on the Pic…
FOR OILY SKIN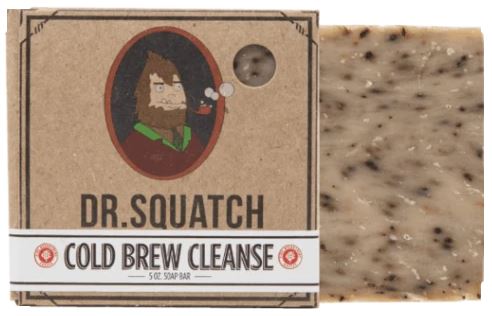 Proper exfoliation is key when it comes to keeping oily skin healthy and under control.
The organic grounds make for a perfect exfoliate while Kaolin Clay absorbs excess sebaceous oils and Shea Butter re-moisturizes without clogging pores.
BONUS! Purchase this bar and a small donation goes to injured firefighters & first responders, courtesy of Fire Dept. Coffee.
Buy it HERE or just click on the Pic…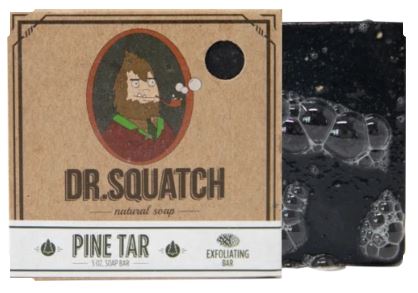 If your skin leans toward oily, you know it also means you're a bit more fragrant that your brothers. It's just the way it is. More sebum means more opportunity for bacteria to set up shop and thus…the stank.
This bar is made with real pine extract…strong, clean and long-lasting. Add in oatmeal for exfoliation and Shea butter for moisturizing, and you've got a combo that'll have you saying sayonara to the axe and hello to the lumberjack.
Buy it HERE or just click on the Pic…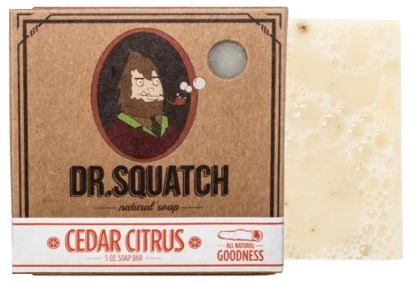 Oily skin can be tricky, especially when dealing with breakouts. You need to exfoliate but too much scrub often only makes that acne worse. Enter the wonder of mint. With strong antibacterial properties, it also contains salicylic acid – both of which help to effectively prevent acne. Mint also contains vitamin A, which controls the secretion of oil in people who have oily and acne-prone skin. Not too shabby. And if you're not so keen on mint as a scent, worry not with this bar, because the fragrance is actually naturally infused cedar and orange. A little woodsy and a little spicy.
Buy it HERE or just click on the Pic…
FOR DRY SKIN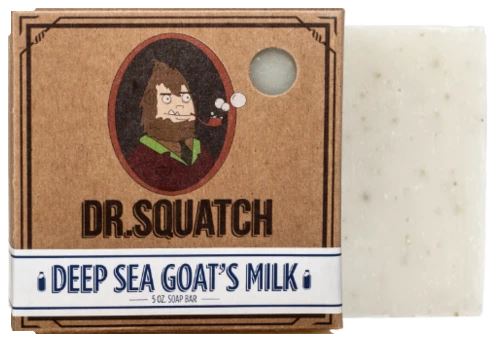 Not just a catchy name, this bar is made with real goat's milk. Why? First, it's a natural PH balancer. Second, the alpha-hydroxy acids help slough off all that scaly skin while moisturizing you all over.
Other doses of goodness in this guy are oatmeal, shea butter, and coconut oil, to name a few.
Not bad for $7 bucks!
Buy it HERE or just click on the Pic…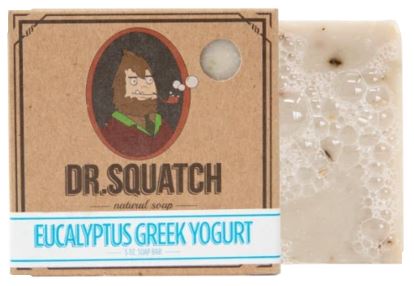 The major star in this bar, Eucalyptus, has been used for thousands of years as a medicinal ingredient to fight bacteria, open pores, stimulate blood circulation, you name it. Combo'ed with exfoliating oats to "shed the dead" and Greek yogurt to moisturize. If you're into the scent, you'll be pleased to find it lasts well after the shower.
Grab one for $7 or 2 for $14
Buy it HERE or just click on the Pic…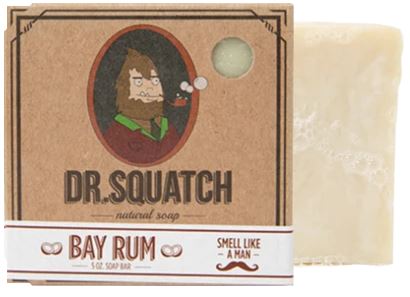 If you're a bit of a Goldilocks when it comes to scent, this sweet and spicy medium scented soap may be calling your name. Crushed cloves, crisp pine, cinnamon and orange blend together for a scent that's complex but not overwhelming. Coconut & olive oil plus Shea butter keep things moisturized. Natural sea salt helps retain that moisture while very mildly exfoliating.
Not bad for $7 bucks a piece.
Buy it HERE or just click on the Pic…
And while for this article, we were focusing on their amazing soap, we'd be remiss if we didn't mention they have a full product line of hair care, colognes, toothpastes, and beard oils. All their items are made with the same attention to high-quality, natural ingredients.
Last bit of awesomeness, if you go to their site HERE, you can sign up for either a monthly or quarterly subscription, plus Save 15% on your favorite soaps and get Free Shipping.