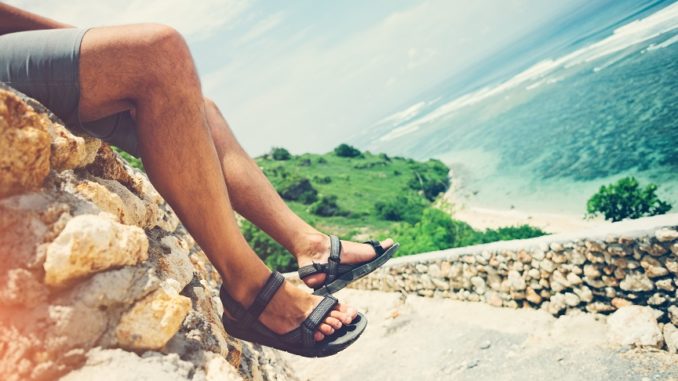 -updated 4/3/2020
Sandals/flip flops are essential for the modern man. They provide a laid-back, comfortable, and cool look during the sizzling summer days.  Sandals and flip flops are experiencing a renaissance and surge in acceptance in polite society. Long gone are the days when restaurants and other commercial establishments would hang signs that read "no sandals allowed".  Old news is the rule of thumb that flip flops are resigned to the beach or pool. As the summer dressed-down, casual look has become stylish, so have sandals and flip flops.  With new brands and sleek, chic designs, sandals and flip flops add style and complete your summer look.

Whether you're going out for a day at the park or it's a night out on the town, it is perfectly acceptable to finish off your look with a stylish pair of sandals or flips flops.  Sandals and flip flops come in various types.  There are rugged outdoor versions, sporty athletic slides, high-end constructed leather versions, and even sleek, upscale chic versions.  While the type of sandals or flip flops to wear depend on your preference and personal style, consider the following when selecting a pair of sandals or flip flops.
For walking about town consider a pair of rugged, hiking sandals or sliders.  For a relaxed beach look consider a pair of stylish slides from Nike or Adidas.  For a casual dinner date consider a pair of sandals from Reef, Birkenstock or Vince.  For a dressy look consider a pair of designer chic leather sandals from Roberto Cavalli to pair with your slacks and even with a suit. A pair of Teva sandals with your slacks and suit also works well for the daring and fashion forward men out there.  Whatever you do, don't wear sandals or flip flops with socks!  White socks are okay to be worn with sporty athleisure slides from designers like Adidas or Nike.
Let us help you complete your summer look by highlighting some of our favorite sandals and flip-flops for this summer.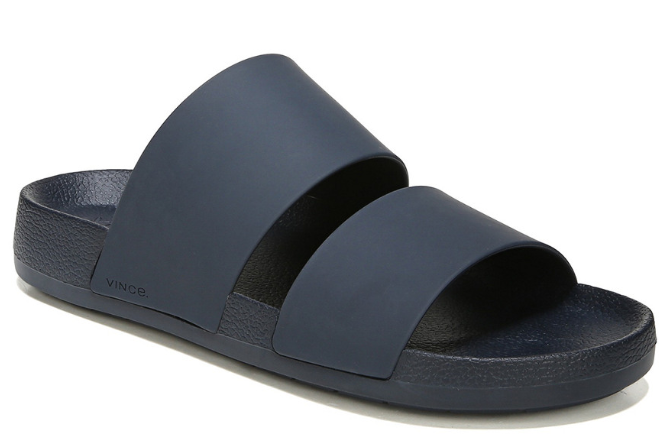 This two-strap sandal from Vince is a great example of new, sleek designs that is making sandals stylish and trendy.  The streamlined designed is a great alternative to the bulky traditional sandals. Whether you dress up or dress down, this sandal provides style to complete your summer look.  This sandal makes the list of top sandals and flip flops for summer for many fashion magazines and fashion experts.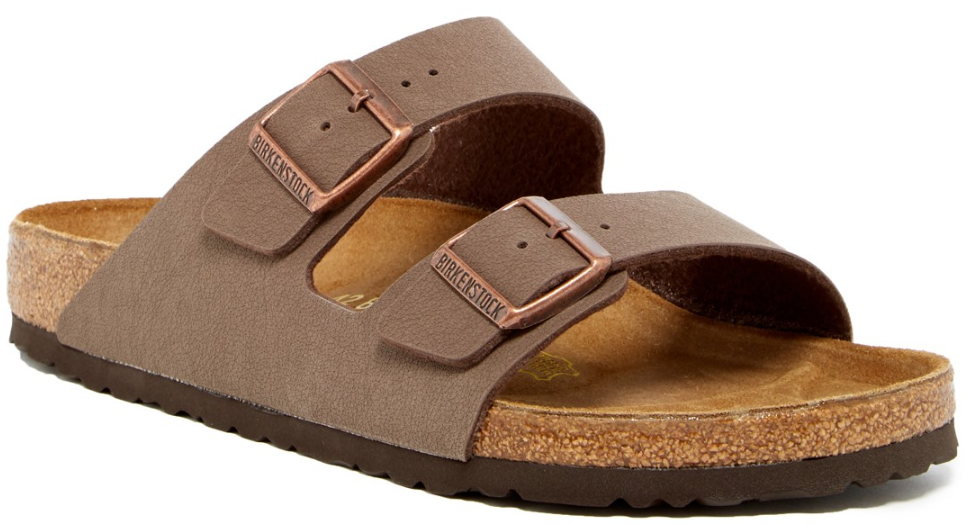 Birkenstock are a classic when it comes to comfort in sandal design.  The Arizona Classic Footbed sandal is designed to provide both comfort and style.  Designed to be worn everywhere, this sandal pairs well with jeans, trousers, or shorts.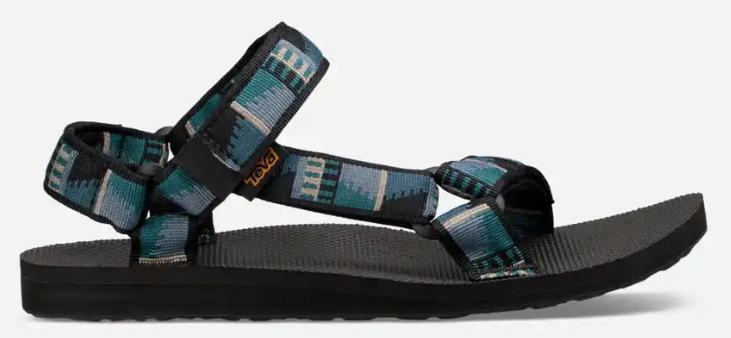 The Original Universal Premier ranks among the most popular sandals from Teva. Teva takes a modern approach to update the look of this sandal while still capturing the classic and adventurous spirit that are at the heart of the Teva brand.  Wear them with shorts, jeans, slacks, and yes, even with suites, this sandal will give your look a relaxed yet stylish visage.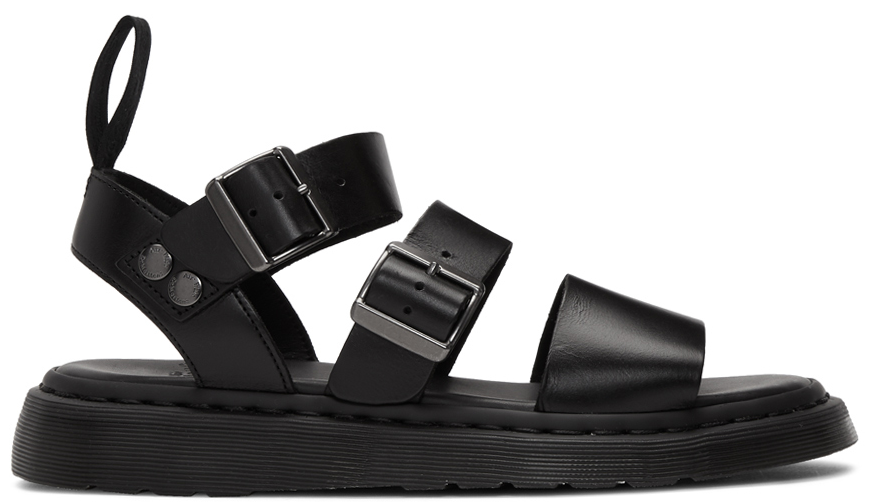 This is truly a high-end leather sandal with a sleek, upscale chic design. Pair with a designer suit or a pair of slacks to give your dressy look a relaxed but stylish feel.

Designed in Italy with leather lining and a man-made sole, this chic sandal goes great with jeans, slacks, stylish shorts.

Men's Journal ranks the Reef Draftsmen as their top sandals and flip flops for summer and describes it as "the perfect party sandal".   Wear to a party, to a beach wedding, and even to your favorite dinner spot.  This sandal is designed to provide style for the beach and beyond.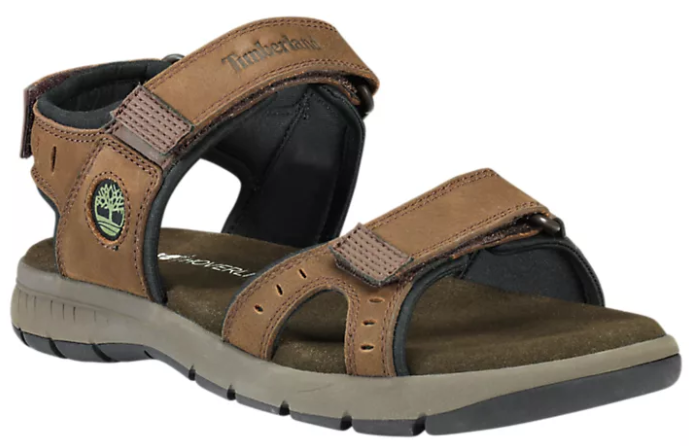 Timberland is an expert in providing great rugged, outdoor footwear.  The Men's Governor's Island Adventure sandal does not disappoint.  Whether your outdoor adventure consists of a scenic hike, a walk by a lake, or simply a walk about town, this is a great sandal for you.  Wear it with a pair of cargo shorts or a pair of sturdy adventure shorts.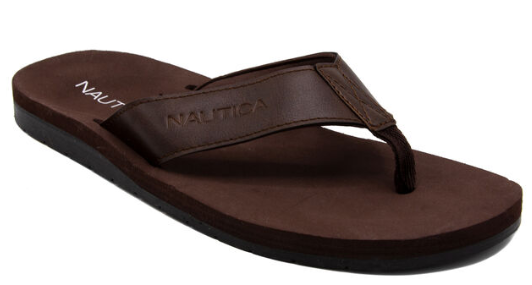 This stylish flip flop sandal from Nautica is designed with faux leather.  The wood brown color gives it additional style and attractiveness.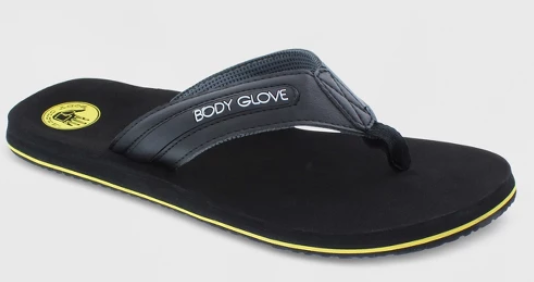 Complete your casual beach or summer look with this affordable thong sandal from Body Glove. The stylish black color pairs great with a pair of swim trunks and a graphic tee.  It's a convenient item for lounging by the beach or enjoying a relaxed summer backyard barbecue.

The Nike Benassi JDI slide sandal ranks among the most popular and top selling slide sandals.  This sandal is great for a relaxed summer look.  It has a Phylon midsole that offers lightweight cushioning for comfort.  With several striking colorways, it sure to match any style.

The Adidas Adilette slide is an iconic slide sandal.  It has become one of most popular sandals for vacation goers everywhere who consider it a poolside essential.  It has recently made its way to streetwear, barbeque parties, and after-game get togethers, worn by guys who want to sport an athletic look.
In summary, whether you are looking for a comfortable, relaxed yet stylish look, a relaxed beachy look, or perhaps you're looking to turn heads as you add an upscale look to your suit and tux, sandals and flip flops have become the go to items this summer.  Summer is still sizzling so buy yourself a pair and enjoy this popular summer trend!