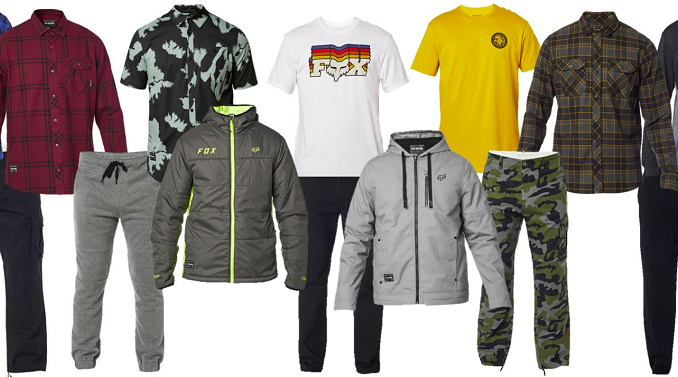 Outdoor performance gear, stomping boots, 90s street influenced, and just about moto-anything are dominating this Fall/Winter season. If you're looking to kick your fit pic up to next level, have we got a collection for you…
One of the OG brands of moto sports, Fox Racing, has been cranking out professional level performance gear for almost half a century. In that time they've collab'ed with some of the biggest names out there, but always stayed true to their base. It's that balance of respect for quality, while pushing innovations that has earned them a fiercely loyal fan base of racers, bikers, extreme sports athletes, musicians, rappers and entertainers across the globe.

Wearing their clothes shows you know the difference between dripping and just flexing. We hit up their latest Fall Collection and pulled together five complete outfits that show you streetwear layering done right…
CASUAL DATE NIGHT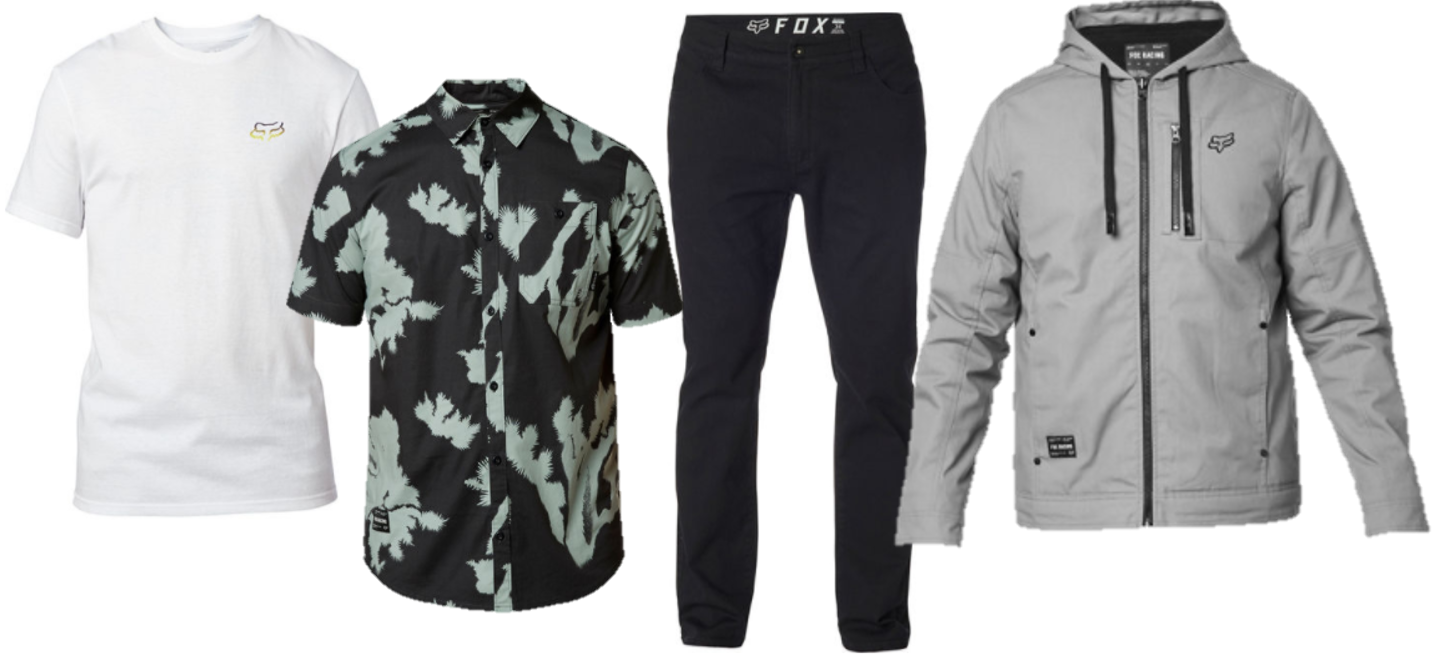 Proving streetwear can be smart casual, this combo will work for a lunch date, meeting up for drinks or any occasion that calls for stylish without looking stuffy. Start with a super soft, breathable layer, like the Honr SS Tee ($16.46). Overtop, add the stretch cotton/poplin Greenhorn Button Up Shirt ($32.97), which also breathes well to keep you cool…and the abstract Joshua tree design just looks cool. The dark wash Daggar 2.0 Pant ($52.46) has a sturdy, 4-pocket jean look but is actually made of cotton and spandex woven twill, so it looks heavy luxe, but moves easy. To keep you comfortable coming and going, the Mercer Jacket ($99.95) is fleece lined inside with a clean canvas twill silhouette outside. We love how the stone color grey pulls the whole look together.
TEMPERMENTAL TEMPERATURES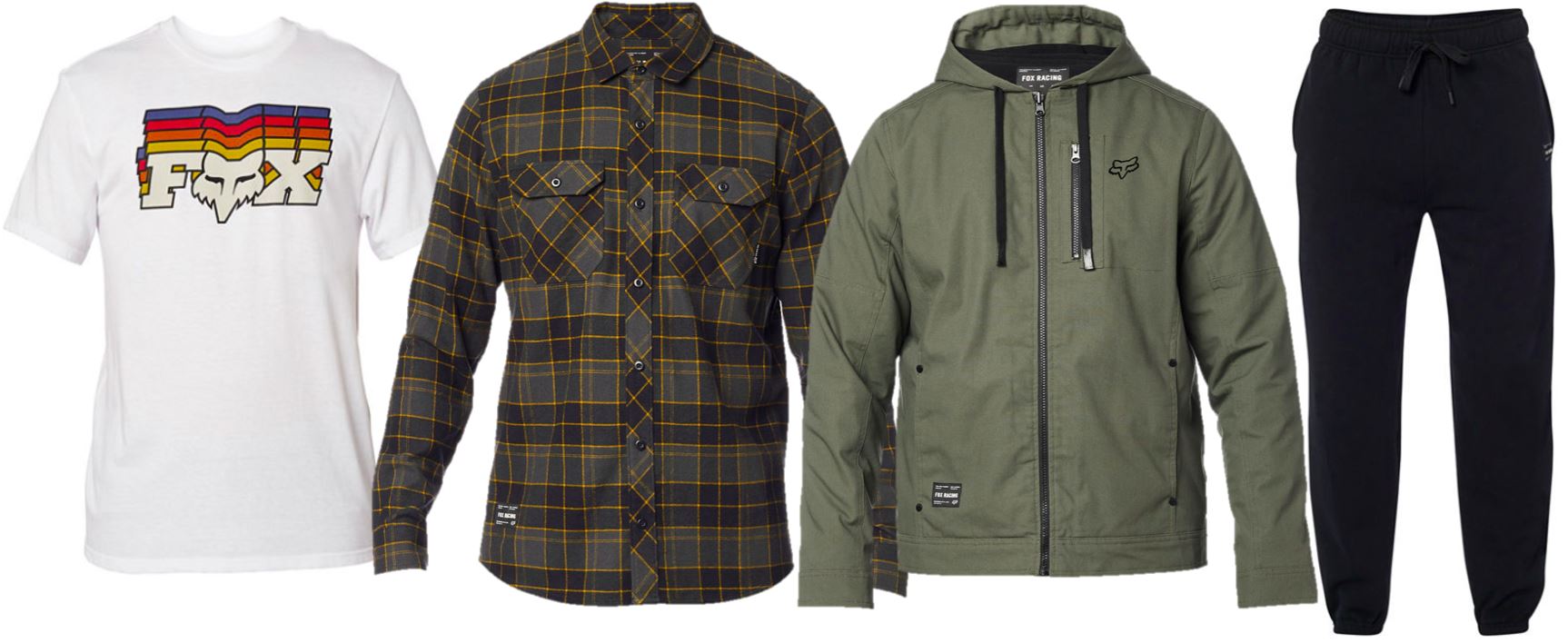 When you've got a day ahead of you that requires a lot of indoor/outdoor combinations, proper layering is a must. So is style, because depending on the temps inside or outside, you'll most likely be showing off every layer at some point. Start your base layer off with the Off-Beat Tee ($21.95). The ringspun fine jersey feels plush and the old school style logo gives fun visual interest to what would otherwise be just a plain white tee. The relaxed fit goes great with the Standard Issue Fleece Pants ($49.95) in black cotton fleece. Add a medium weight flannel, like the Traildust 2.0 Flannel ($29.98) in a nice, large-scale plaid (we chose one with thread colors that echo the tee logo without being too matchy-matchy). When it's time to hit the outside, grab a fleece lined Mercer Jacket ($99.95) in Olive to keep you cozy. And because Fall weather is nothing if not transitional, when the temperature suddenly decides to go Spring-like, you can pop the flannel off and tie around your waist for a swag look.
MELLOW YELLOW FELLOW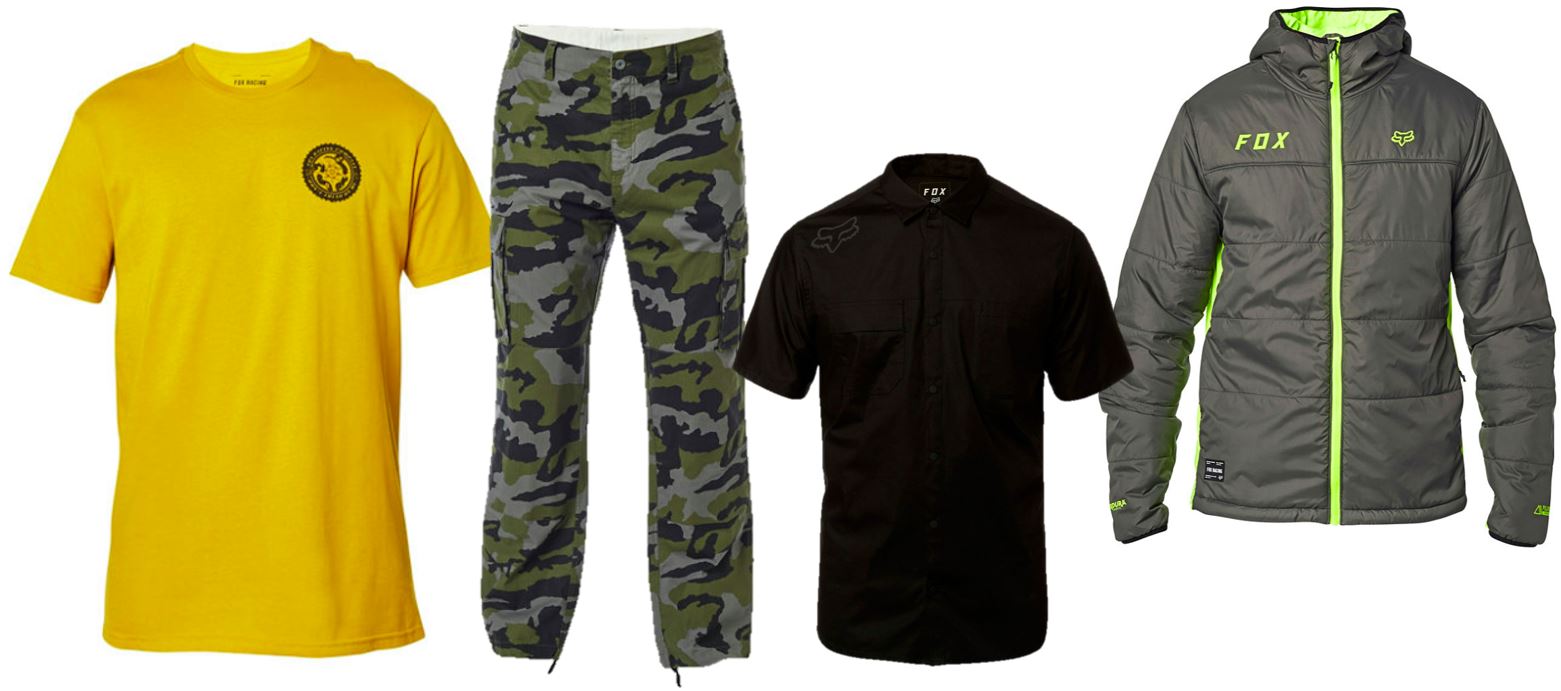 Here's another great example of how to get a daytime layered look right. Starting with the Tread On Premium Tee ($25.95) which, as the name implies, is made with premium fine knit to make it super soft and comfortable. Next, inject a little of the military trend into your wardrobe with these amazing Recon Stretch Cargo Pants ($34.98). Plenty of pockets will give you total freedom to carry your valuables around with ease throughout the day. Move on to your middle layer with a sweet style mechanics shirt, like the Redplate Flexair Work Shirt ($59.95) and top things off with the Ridgeway Jacket ($49.95) lightweight puffer in stone gray with its retro 90s acid green zips and liner.
WITH A CHANCE OF PRECIPITATION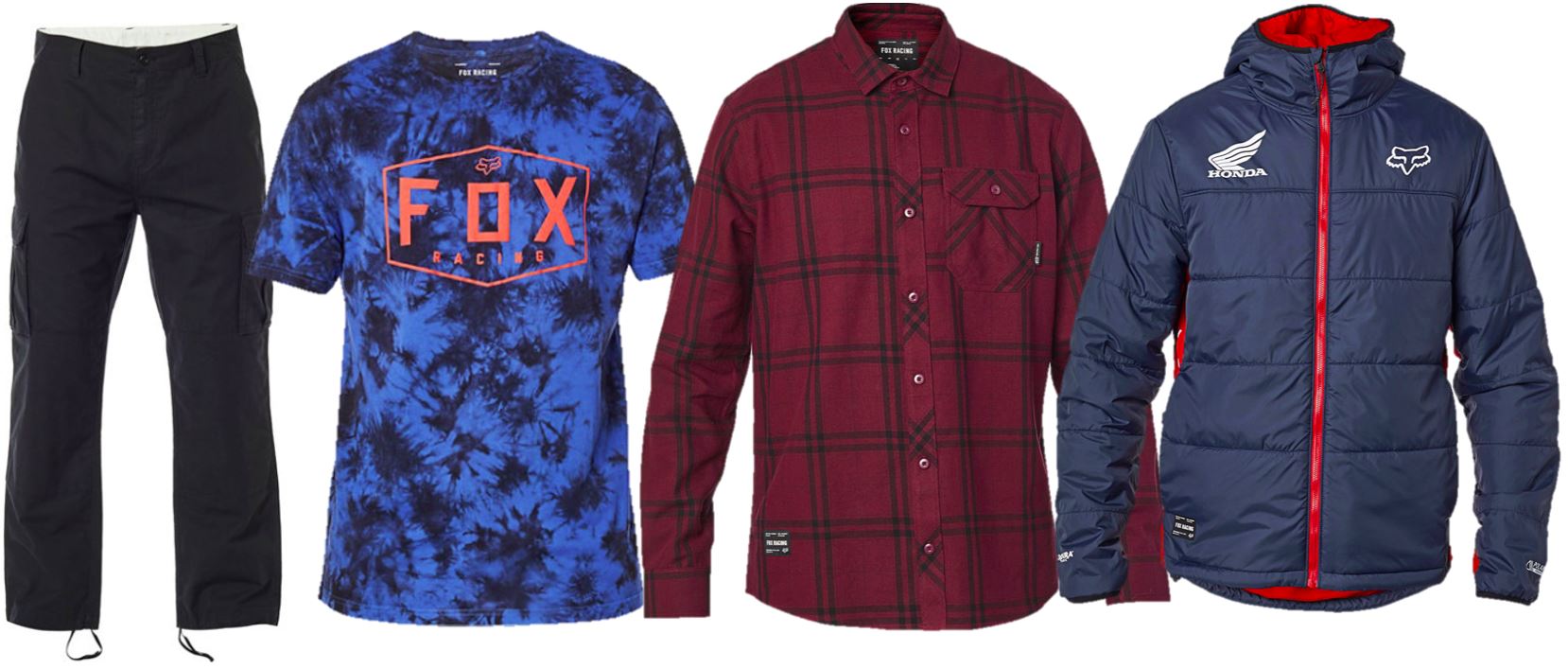 Fall afternoons can be just as changeable as the daytime, and in many cases can include the dreaded drizzle. Hey, it IS the seasonal transition to wintertime, remember? So if your afternoon adventures mean you may have to slog through the sog, and still look presentable, layering is how you do it. The Recon Stretch Cargo Pants ($69.95) are made of ripstop fabric, which makes them much more rain resistant than your jeans. These pants can also tie at the bottom cuff, helping keep that puddle water from splashing up your leg. Once inside, you can untie them to help them dry out faster. You want your base layer to be comfy but breathable, and the Washed Up Premium Tee ($34.95) with its premium knit fabric is just that…plus the tie dye just drips chill. Mid layer, also good to be cozy but breathable (there's enough humidity in the sky, you don't need it in your pits) so we went with the Voyd 2.0 Flannel ($59.95). It's lightweight but gives that much needed extra bit of warmth. Last, we top things off with the Honda Ridgeway Jacket ($69.95). This lightweight puffy's shell is made of nylon ripstop fabric which will help keep the water out while the cuffed sleeves and contoured hood keep the heat in. Plus the 80s throwback logo is just fantastic.
EFFORTLESS EVENING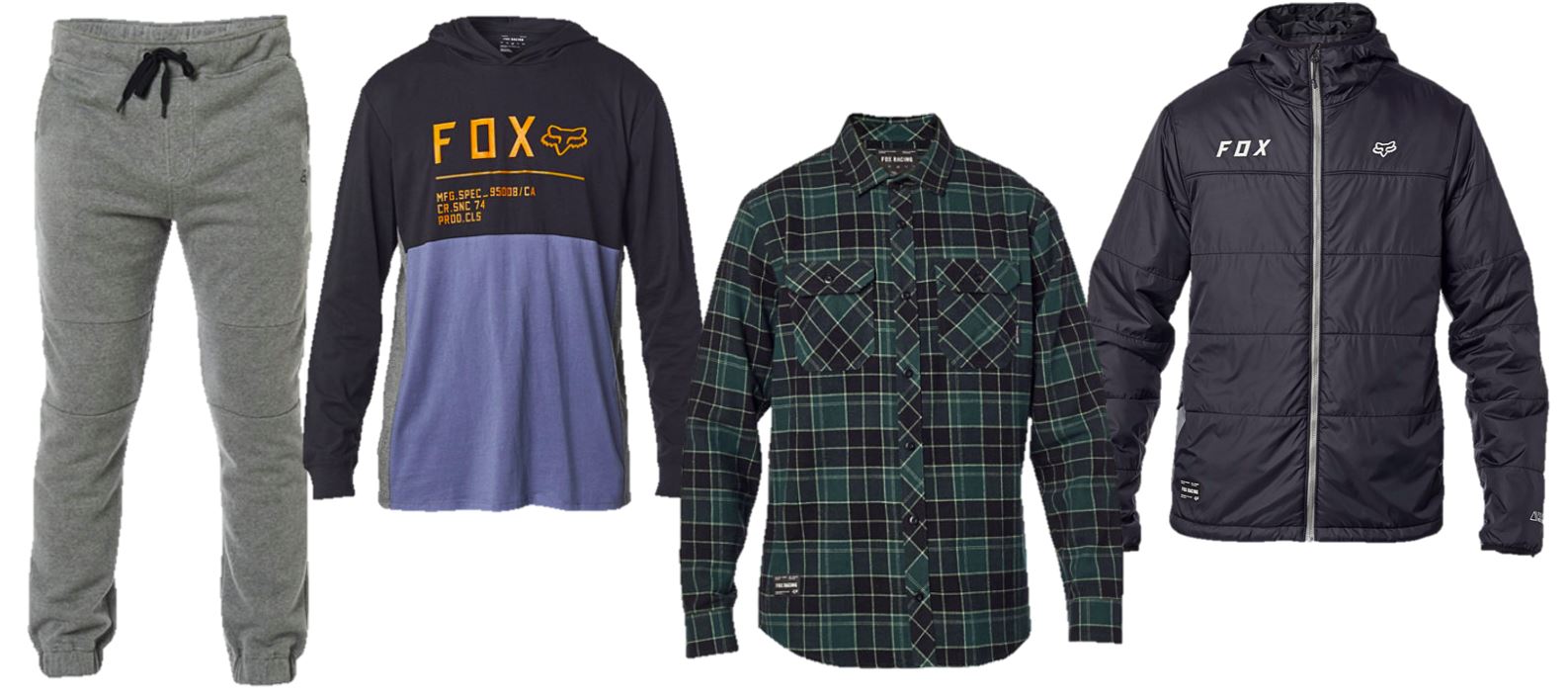 Fall has its fair share of nocturnal activities from outside brews with your friends, to fireside parties, to after-work family events. Looking good while keeping comfortably warm is key. Joggers are a pretty easy way to keep warm and casual. Everybody loves a good jogger, but these Lateral Pants ($59.95) go next level with cool detailing at the knee and a little lift around the butt so you read lowkey caj and not sloppy. Start your base layer with the Non-Stop Hooded L5 ($39.95) with technical knit, then add the medium weight Traildust 2.0 Flannel ($44.96). If the night takes a really chilly turn, top things off with the Ridgeway Jacket ($49.95), a lightweight puffer that carries a Polartec® Power Fill™ punch to keep warm. Getting too toasty by the fire? The Ridgeway jacket rolls up nicely for easy stashing.
That's five complete outfits, all perfect for layering and looking good while you head out and enjoy all Fall has to offer. Like what you see here but craving more? Check out the rest of their new Fox Racing Fall Collection HERE.