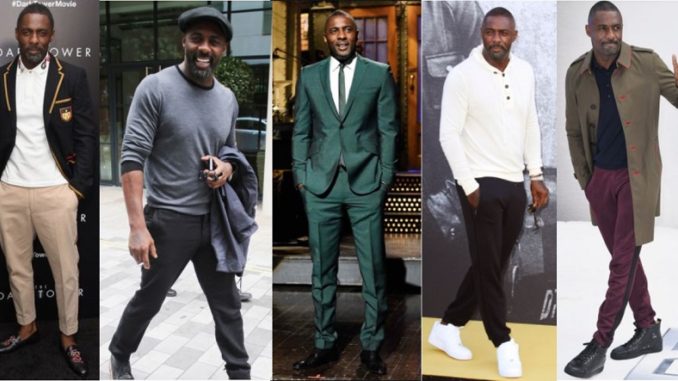 Our September Man of Style, Idris Elba, has worn a lot of hats, both literally and figuratively.
His 25 year career includes intense, driven characters such as John Luther in the BBC One series "Luther", Stringer Bell in HBO's The Wire, and Nelson Mandela in the biographical film "Mandela: Long Walk to Freedom". He's also worked in some of Hollywood's biggest franchises, including the MCU, Star Trek, The Fast & The Furious, and soon will add another to his list – the DCU, when the much anticipated reboot of "The Suicide Squad" hits theaters in August 2021. But that's just his amazing acting career. He's also written and produced both film and music (as a DJ, songwriter and rapper).

Anything else? Well actually, yeah. Last July the multi-talented creator launched his street style fashion brand, 2HR Set. If you're not familiar with the phrase, it's something Elba gives voice to as his personal philosophy: "Whether I'm behind the decks on stage, in the gym, or studying a new script, I'll give myself two hours and really get stuff done. It's my window to go for it, get it done, and get it done well." 2HR Set features gear like hoodies, tees, sweatpants, caps, and slides, and can be found at 2HRSet.com.
With so many successes, let's dive into another big one – his incredible fashion style. Let's talk why we chose this talented man as our Icon of the Month, shall we?
Elba is not a man who delves into passing trends. But that is definitely not to say that his style is one-note. The key to his look is to start with a good foundation, usually a tailored fit and neutral tones. Then he adds his own dash of irreverence with experimental textures, unexpected color palettes. And he's not afraid to get swervy and mix and match street and formal, casual and structured, whatever fits that tall frame and well-proportioned musculature pretty much goes.
Let's do a breakdown starting with formal, to casual dressed to off-duty…
FASHION-FORWARD FORMAL
When Elba walks the carpet, he likes to keep the silhouette clean and classic. We're talking well-cut, two-piece or three-piece suits with standard lapels, and slim cut, flat front trousers below. Classic, but then he gives it a fresh twist with interesting colors, mix-and-match suit separates, multi-tonal shoes, bright ties and even sometimes no tie at all. Yet all done with a carefully crafted eye to create a masterful "it just works" look.
This outfit at the "Dark Tower" premiere is one of our most favorites. Forgoing the usual matching suit and the button down entirely, Elba swaps it out for an all-buttoned up polo instead. Slim cut chinos and yes, those are loafers (sans socks no less).

Looking to take on this look yourself? Full disclosure, this outfit may look laid back, but it's the priciest one on our list. Here's our reinterpretation (as always, swap outs are based on availability and closest match)…

From Left to Right:
Here's another iconic Elba-does-formal ensemble. Appearing on SNL, he takes the traditional smart suit and adds his own spin in an unexpected color of dark green.

Looking to take on this look yourself? Here's some inspiration on where to start…

From Left to Right:
CASUAL DRESS
The casual dressed look is 100% pure Elba. Classic street pieces such as joggers and high top sneaks are supercharged with handsomely tailored pieces of outerwear. The combo is so good, Elba has used this formula many times to turn what could normally be considered an expected, maybe even 'mundane' outfit and make it brilliant.
Here is Elba at the "Star Trek Beyond" Premiere making our case beautifully in this pulled together look.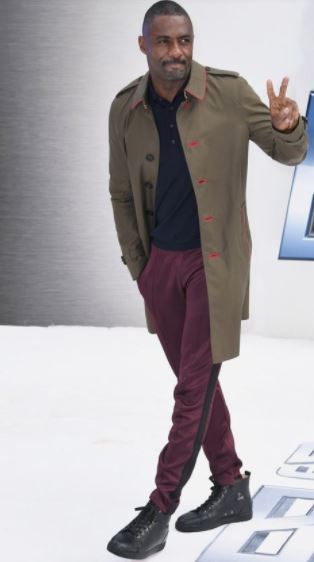 Here's a take on that look that you can wear yourself…

From Left to Right:
Even when he loses the jacket, Elba can put together a casual-but-stylish ensemble. Here is another favorite of his combo's – a well-made long sleeve knit with neutral colored joggers and some all white kicks…

Like this look as much as well do? Here's a great take on how you can wear it yourself…

From Left to Right:
STYLISHLY OFF-DUTY
And last, but certainly not least… his off-duty, which almost always includes some chill headgear, flat front pants and/or jeans, a high quality tee and a smart-fitting, zip-at-the-waist jacket.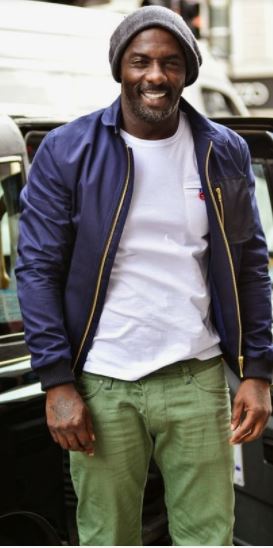 If you're a fan of this look, here's our inspirational take on it..

From Left to Right:
Slightly more gussied up, but still a great off-duty look, here's a fantastic example of monotone dressing.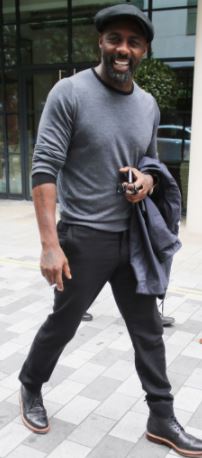 Give this look a try with our take on it…

From Left to Right:
Check back with us next month, as we reveal our October Man of Style.