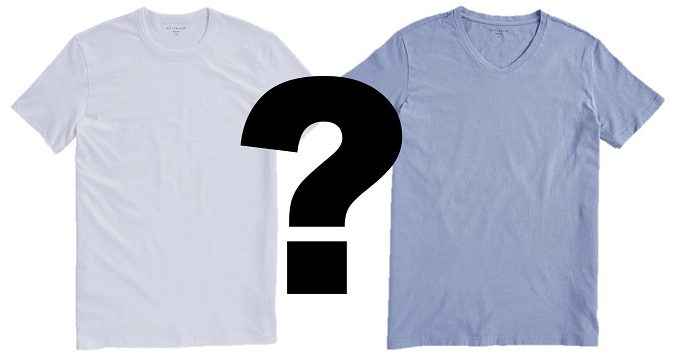 The short answer? Both. But it depends on what you're wearing and the vibe you wish to project. We navigate the rules of when to craft your crew and when a V is victorious.
To say it can be confusing when looking for guidance on these necklines is quite the understatement. Some will insist one is more 'casual' while others insist the same neckline is more formal. Can they both be right?

Actually, they can.
And here's why. Because the correct answer starts with a seemingly innocuous question – Is it a base or a layer?
RULES TO A *T*
Let's start unpacking the shirt answer first. And by shirt, we are referring to that wardrobe staple, the t-shirt. Regardless of long or short sleeve, the way the necklines will read on you remain the same.
WHO WEARS IT BEST?
When it comes to body type, V-neck t-shirts tend to accentuate a muscular chest and are more flattering on individuals with well-defined upper bodies, whereas slimmer men often find crew necks to be a better fit. Why? By not "breaking" the visual line, crew necks have the advantage of preserving the look of square shoulders, lending a more balanced appearance. That said, if you are a slim guy, you can rock a v-neck. Just choose one where the collar stays high and no collarbone exposed.
FORMAL OR CASUAL?
Because of the exposure of skin, v-neck t-shirts are perceived to be more casual. That makes them perfect for events where the vibe is lowkey. Crew t-shirts give a more classic feel and look just as great under a chunky cardi as they do a tailored blazer. As for v-necks and blazers? We think our head apparel editor said it best, "Success here really depends on how you're treating the blazer. If you're pairing it with jeans and sneaks, sure. But forcing a naked v-neck into a formal look? You're trying too hard, and that's not a good look on anyone. Best to stick with a crew."
COLORS, PATTERNS OR BOTH?
When in doubt, stick with a well-fitting neutral. That goes for both necklines.
For patterns, go with a crew. Sure, crew necks can sometimes be called basic and therefore less visually stimulating, but they excel in showcasing graphic prints. That makes them a go-to choice for your fav band tee, abstract designs and/or repeated monogram patterns.
When it comes to bold, solid colors however, the V-neck t-shirts can exude sophistication that might skew more juvenile in a crew. Think of this season's bright blues, apricots and power purples. Of course where you're wearing it matters too. Music festival? Rock that bright crew. Friday night dinner? May want to pass on that, my friend.
Here are a few great examples of quality crews and v-necks our editors like…
Tucked or un-tucked, the Feel Good Tee by Perk is an amazing buy. The mid-weight fabric is 100% Peruvian Pima Cotton (for the record, that's the best cotton fabric made in the world). It's been knitted into a specialized jersey pattern that makes it incredibly comfortable. The fit is tapered, but not snug, and moves great, thanks to 4-way stretch. This crew also gets big bonus points for its Staysmooth™ neck that stays flat, wash after wash. There's fourteen color options, including this handsome Nordic Blue. And you seriously cannot beat the price for all that quality.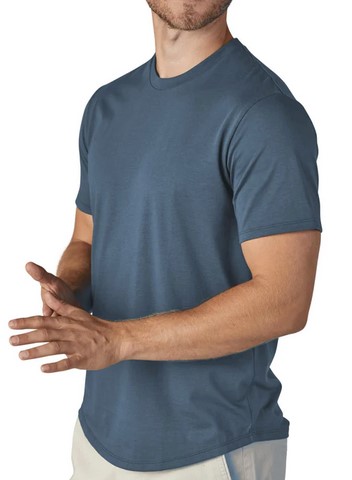 Next on our list, is The Sturdy Tee from Line of Trade. For those who prefer a heavier t-shirt that gives you that substantial feel, this is your huckleberry. As the name implies, the heavyweight Jersey makes it presence known, but unlike other thicker shirts, the Sturdy is 100% ringspun cotton. That means zero "breaking in" period, dealing with any scratch or chafe. It's soft right off the bat. Plus they use reactive dye pigment, which means the color stays uniform throughout. Nine colors to choose from with this beefy boy, including their best seller – midnight blue.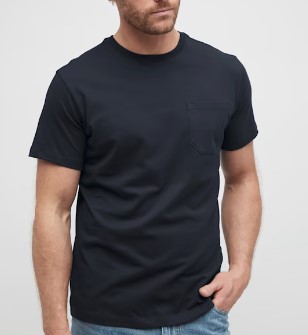 Moving on to the v-necks, we have the Driggs from Mott & Bow. With a near-5 star rating, this butter soft tee is 100% Peruvian combed cotton. Weighing in at 140 grams, it's lightweight and best suited for wearing by itself in the warmer months and as a base layer during the cooler seasons. It's pre-washed, so you know what you're getting, and the sizing stays true. Comes in six color options, but as a staple piece, their universal black is an excellent choice.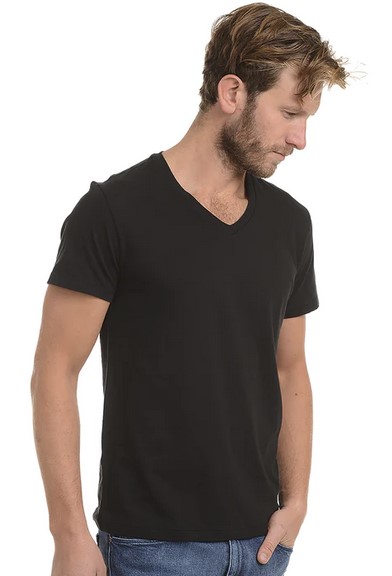 Finally, for those looking for an eco-friendly option, Smartwool's v-neck is a blend of ethically sourced Merino wool and hemp knit. If you're not familiar, Merino wool is what is called a "temperature-regulating" material, meaning it's sturdy enough to keep you warm, but breathes. It's naturally moisture-wicking and odor-reducing – a big plus especially when you're pouring on the layers. Comes in three color options, including this heather blue, which is an editor favorite.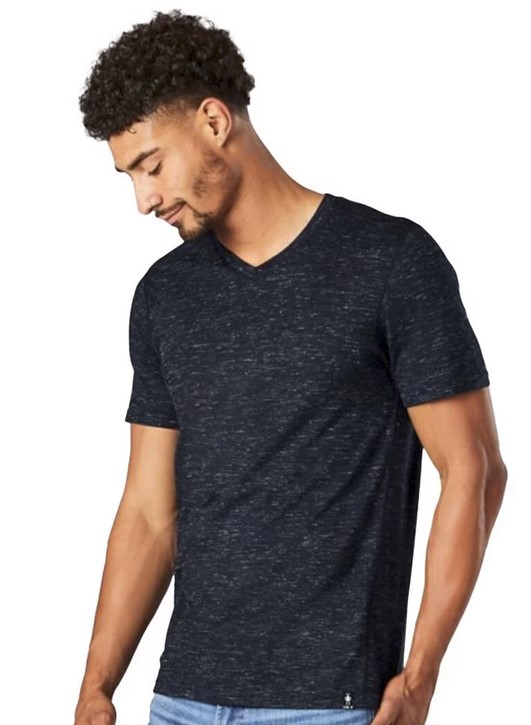 LAYERS CHANGE THE RULES
Now, we move on to the sweaters and vests, which for the rest of this article, we'll be focusing on them as a mid or outer layer. If you're not wearing them as a mid or outer, i.e. like a shirt, then head back up to the T rules, because they will apply.
Otherwise, as you'll see, the rules flip quite a bit, and a lot of that has again to do with that added exposure from the v-neck.
WHO WEARS IT BEST?
Things get interesting when you're using either a v-neck or a crew as a layer piece. In the case of the v-neck, the open area around the collar bone now gives a great venue to show off your shirt and/or tie beneath. The added material showing underneath actually helps create a slimmer, longer silhouette, especially when paired with a collared shirt. This is because the "v" formed by the collared shirt plus the v in the v-neck forces the eye down and gives the illusion of elongation. This elongation can also help if you're on the shorter side. The crew, much like the crew shirt, still gives a broader shoulder look, so for guys who have less muscle up top, the crew may be your way to go. Also, a crew can help balance out a longer torso, so there's another plus.
FORMAL OR CASUAL?
A collared shirt with a v-neck is a classic formal look, especially when adding a tie into the equation. Crews definitely win the more casual vibe with the collared shirt. Oh, and for the record, we don't recommend wearing a tie with your collared shirt and crew. Sorry, mate, that just really reads 'stuffy librarian'. But wait, you ask, what about something more casual, say, like a crew t-shirt? So glad you asked because here we flip again. A crew neck shirt under a v-neck is pretty much the best off-duty uniform out there. The crew-on-crew look however? That actually leans more business casual. And just to close the loop on this, v-neck shirt with a v-neck sweater…no, just…no.
COLORS, PATTERNS OR BOTH?
Whichever neckline you're wearing, the rule of thumb should be balance. If your sweater is patterned, keep the shirt plain. If the shirt is patterned, keep the sweater plain. Of course, if you're going to incorporate a tie, that can be either patterned or plain, just so long as it is within the color family of either the shirt or the sweater.
Here are a few great examples of quality crews and v-necks our editors like…
This luxe wool/cashmere blend from Dries Van Noten offers an easy, relaxed collar with a major color pop, perfect for all those chilly days ahead.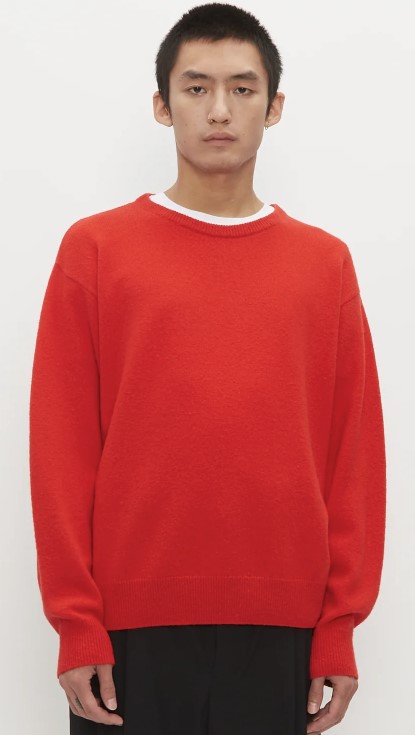 For a classic pattern that lends itself very well to the crew neckline, Line of Trade's Bergen sweater features an authentic fisherman's birdseye jacquard pattern that truly pops in midnight blue and white knit.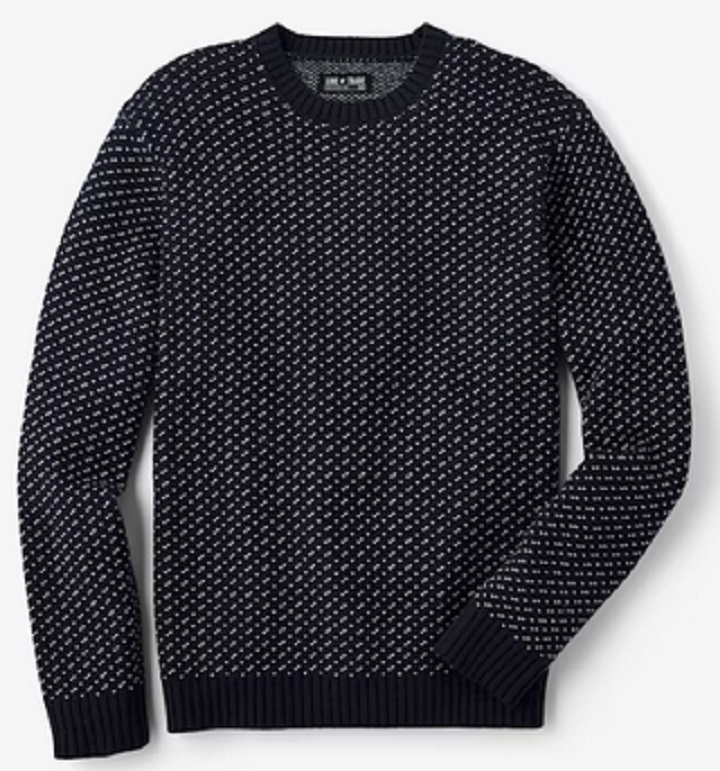 Finally, for the dopamine dresser in us all, this slightly distressed, Alpaca wool sweater from Barrow's new season is the burst of fun we could all use on a cloudy, winter day.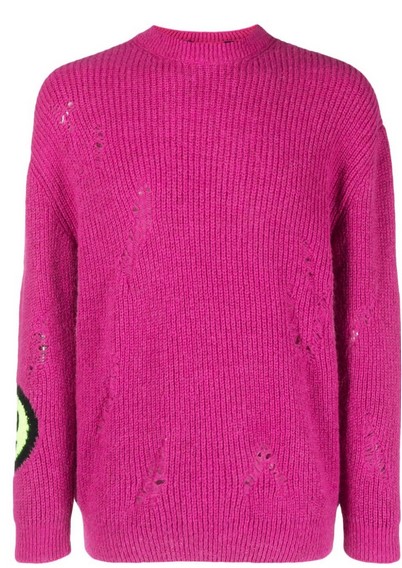 Moving on to v-necks, we have this lightweight, but warming, sweater from Mott & Bow. Made with midweight, 100% Cashmere knit, it makes for a fantastic mid layer under a tailored blazer or long coat. Comes in three colors, including this go-with-everything charcoal heather.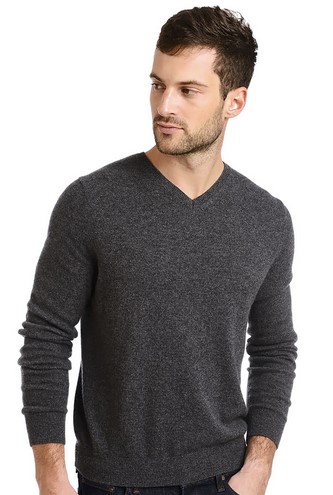 A classic tennis v-neck sweater in navy with a cable-knit design and contrast ribbed trim? We must be talking about Brooks Brothers…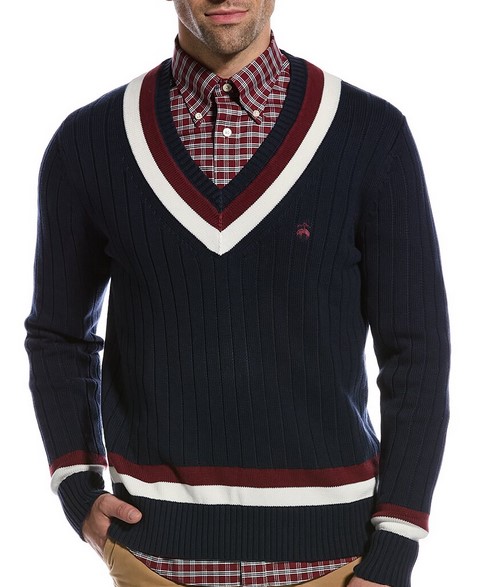 (on Sale NOW from $128)
Finally, while the brand is probably best known for their jeans, X Ray's Basic Sweaters have quite the review list on sites such as Amazon, Nordstrom, etc. The silhouettes are classic (ribbed collar, cuffs and waistband) and the materials are pretty straightforward (midweight, blended knit) but the quality is there, including moisture-wicking, wrinkle-free fibers and a touch of stretch. Choice is pretty amazing – we're talking 21 color options, and when you take into consideration the price point, these are a solid staple piece buy.