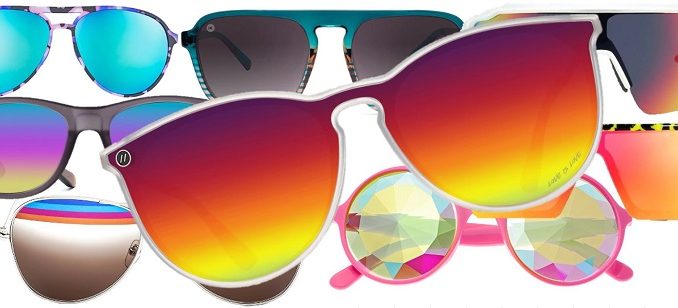 It's been a minute since we've had the pleasure of pride parades, but 2022 is seeing the return of the party, and here at SLHim couldn't be more excited for everyone to get out there and celebrate!
From parades to parties, a great outfit should represent and slay. Whether you're repping the rainbow, dangerously daring or strongly stylish, our editors have pulled together their ten fav must-have sunnies to put the glitter on top of your already amazing look. Here they are, in no particular order, other than fabulous…

New for 2022, Blenders Eyewear's North Park X2 Pride Edition sunglasses are bold and beautiful. These shades combo the superior strength and clarity of their PureBlend lens with bold, joyous color. A crystal clear frame emphasizes a sunset rainbow mirrored lens, and the durable metal temples contrast dazzling rainbow tips. They even laser etched "Love Is Love" on the lower lens edge. And best of all? 100% of profits from your purchase support the San Diego Pride organization.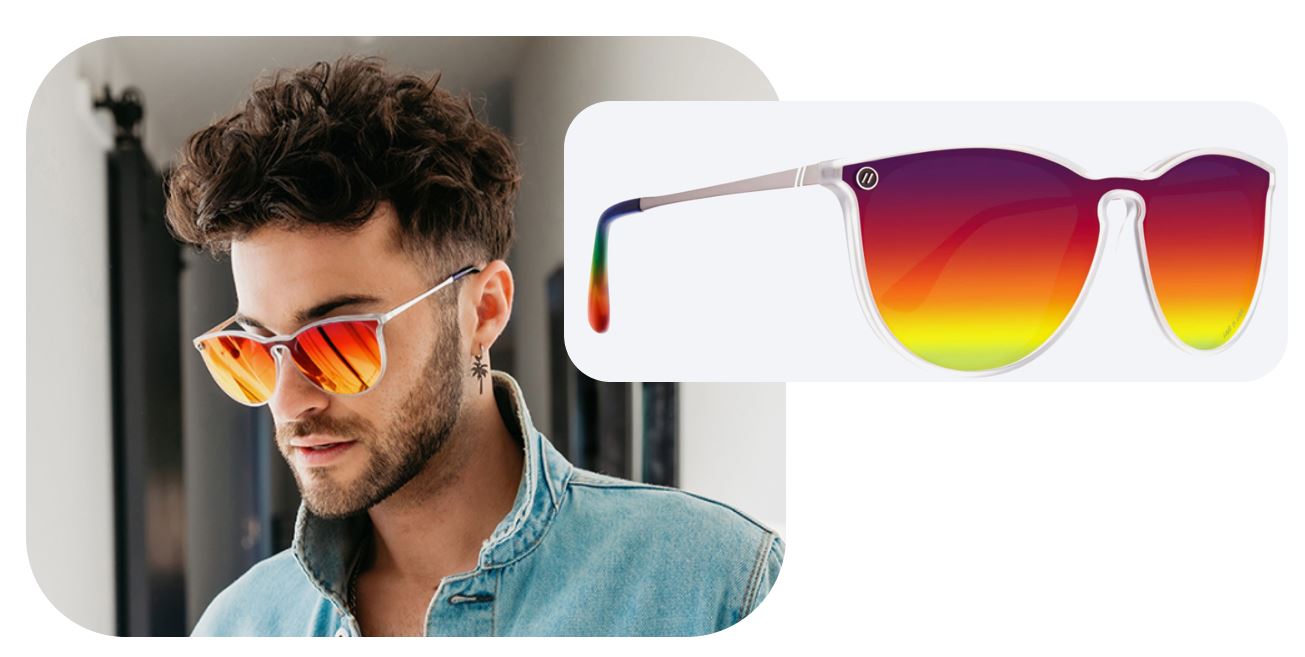 Show off some genderfluid vibes with these gorgeous Goodr glasses. Super lightweight but oh-so-sturdy (both the frames and the lenses are scratch and sweat resistant). They have a grip coating on the nose and ear pads to keep them firmly on your face, no matter how crazy your dance moves get. Plus we dare you to find a sweeter name than this: Flamites, God of Flamingos…yes, that is the actual color name.

Why settle for stylish when you can be Transtastic? These frames from Knockaround have a dripping cool, 70s pilot  feel at a price that's pretty insane for what you get. Polarized, impact resistant, oversized lenses offer UV400 protection with super-glossy, turquoise and pink frames. The quality on these earned them a 4.9 out of 5 customer review rating. Try a pair and see for yourself.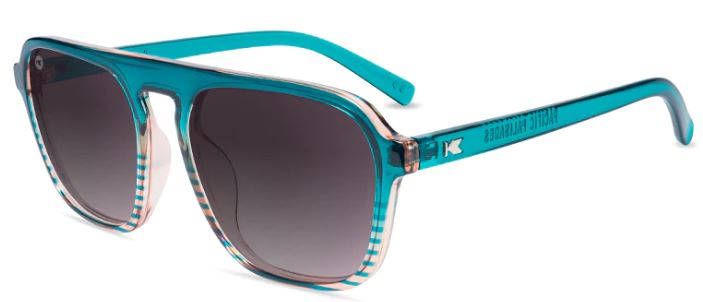 If you're going all out this year with leather and feather, don't let your sunnies be an after thought. Bring equal bling to your look with Carrera's Hyperfit 10/S sunglasses. Rimless lenses and oversized frames, these are meant to be seen. We're also big fans of the pinpoint breathing holes along the top and the sides, which will keep your eyesight safe, not steamed over, as the temperatures climb. Normally closer to $200 we found them on sale on Farfetch for far less. YW.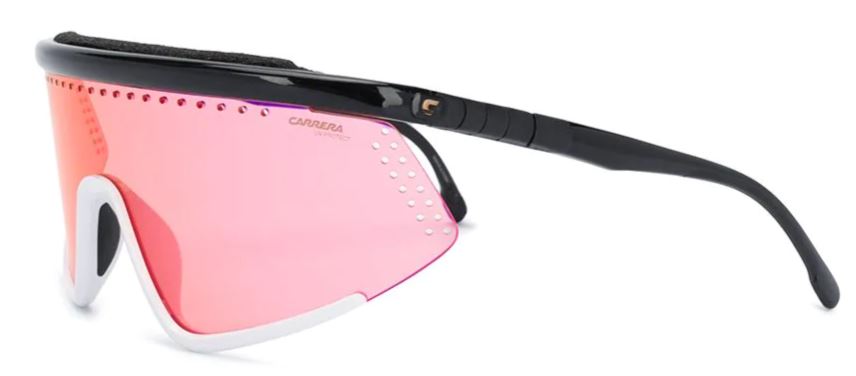 This pansexually inspired pair of sunglasses is deliciously named "Royal Blitz". The crystal gray frame is accented by semi-transparent lavender on its interior, and rose-gold-colored Life in Forward Motion stripes sweep across the temples. Best of all, a polarized rainbow lens shimmers and fades from lavender to champagne. *chef's kiss*

Sigh…ordinary is just so, well you know. Not this fine fellow. From our good friends over at Tipsy Elves comes this pair affectionately called "Jungle Juiced". As they put it, these glasses will show you as the King (or Queen, TYVM) of the jungle…urban or otherwise.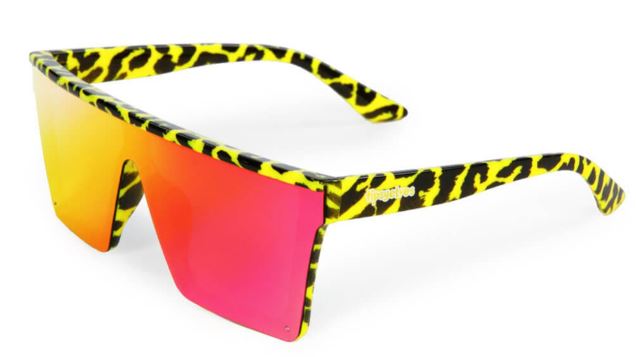 Talk about a double-rainbow! This custom made pair of shades from Knockaround has a cool, retro rainbow print on the frames and super fun polarized rainbow on the lenses. Like all Knockaround sunglasses, they're impact resistant and give you a UV400 protection for your peepers. Eat your heart out, Rainbow Brite!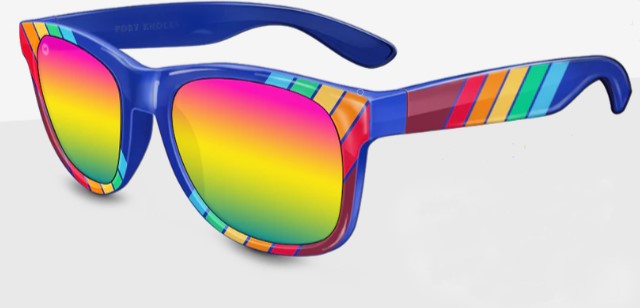 Why wait for après par-tay to channel your inner snow bunny? These shield-style sunglasses are semi-rimless with rubber end on the temples to keep them in place while you strut your best "just got back from Val d'Isère" look. We're also liking the low price point that won't cause you major drama if you manage to lose them in all the fun under the sun.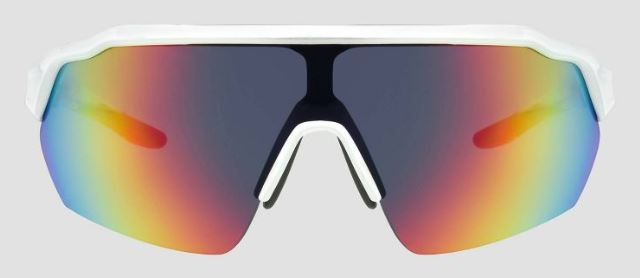 Lucy in the sky will have nothing on you with these Xperience shades from Sixty One. Besides looking amazing, our editors love that the manufacturer made sure that others looking at you see only the kaleidoscope lenses, while the wearer has perfect vision looking out. Try getting that from those 'amazon specials'!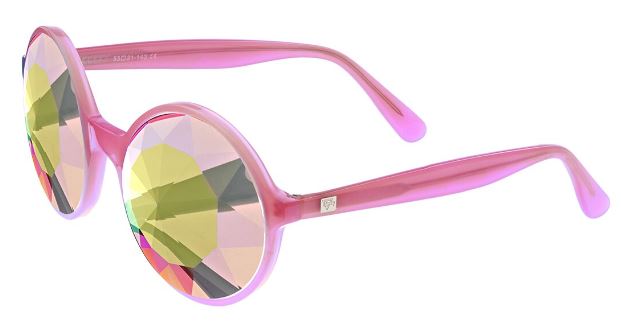 Finally, we present these sleek and chic aviators from Salvatore Ferragamo. Italian made, they will be the perfect complement to any outfit. Bring them to brunch, show them off at the parades, then slide them on for the after parties. These marvelous multi-taskers can do it all – just like you!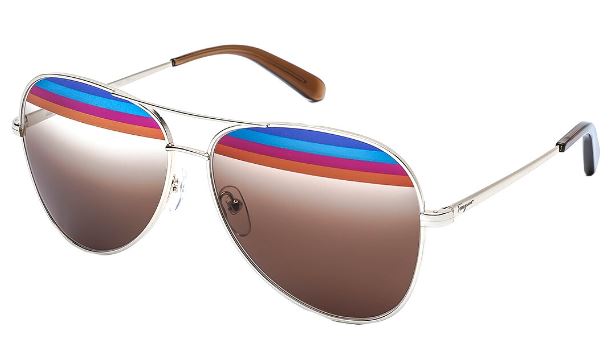 That's our list! We hope you found something fun and fabulous, and from all of us at SLHim we wish you a fantastic, safe and phenomenal Pride Month!