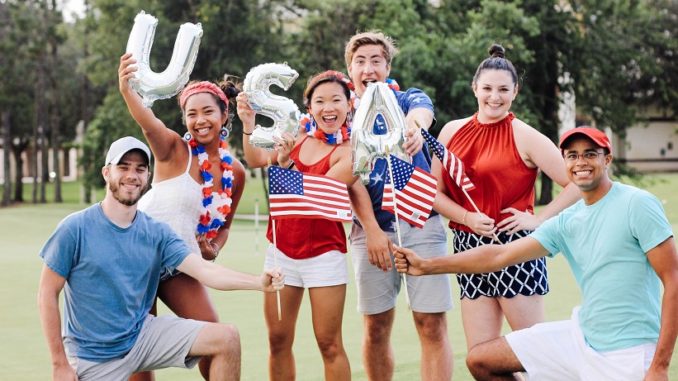 Bring on the BBQ and the brewskies, this year's Independence Day is time to reconnect with friends and fam. Show 'em how handsomely you can handle looking for the Fourth.
Our editors have put together a whole range of fits, from lowkey and chill to boldly partying like it's 1776. Whatever your effort level is, you're gonna find items in here that you'll want to score…

Let's ease into our patriotic with this first fit. The star of the show (no pun intended) are Knockaround's Fort Knocks in their limited edition Star Spangled. You could easily wear these shades with just about any outfit and be Fourth ready, however we love putting it together with Tipsy Elves Island of the Free button down. Vuori's Aim short pairs nicely with it's faded americana color and tailored modern fit. These shorts are also made of 4-way stretch with anti-odor material so you keep your cool even when the temperature starts to rise.  Of course with all the events you're planning, it's a good idea to grab yourself a small pack for around the chest to keep all your items together without dragging down your shorts. This neoprene version from Dagne Dover is an editor's favorite, not just for being the perfect size but also because it's made of recycled plastic.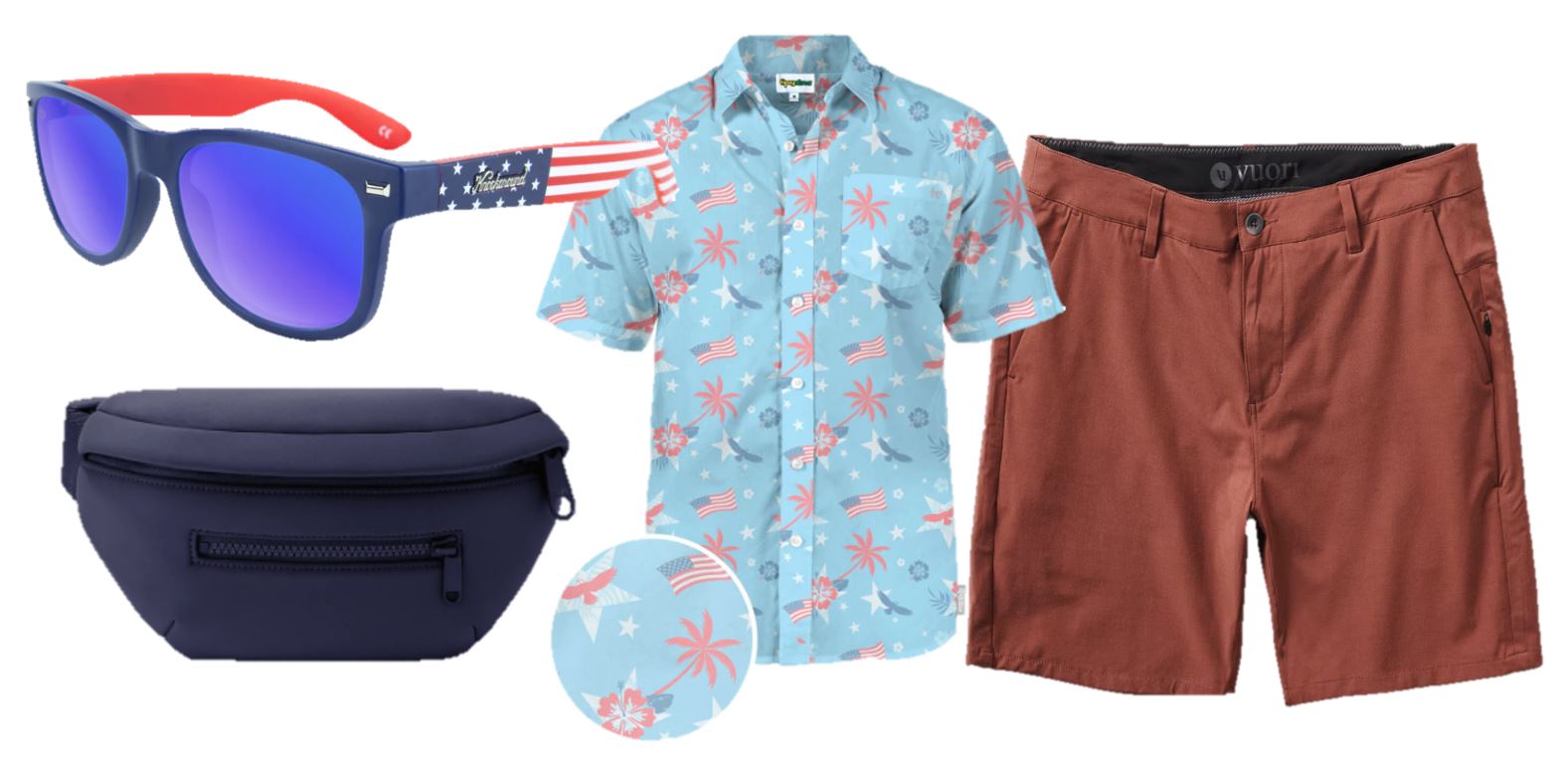 From Left to Right:
If you hail from the east coast, this next fit is for you. What could be more americana classic than an official Nathan's 4th of July Hot Dog eating contest shirt? Wear that sucker proudly with Critical Slide Society's blue seersucker shorts and an Eagle Freedom trucker hat by Goorin Bros. Don't forget the down below bro, and slide on some Happy Socks and finish with another great American classic – the original Stan Smith shoes.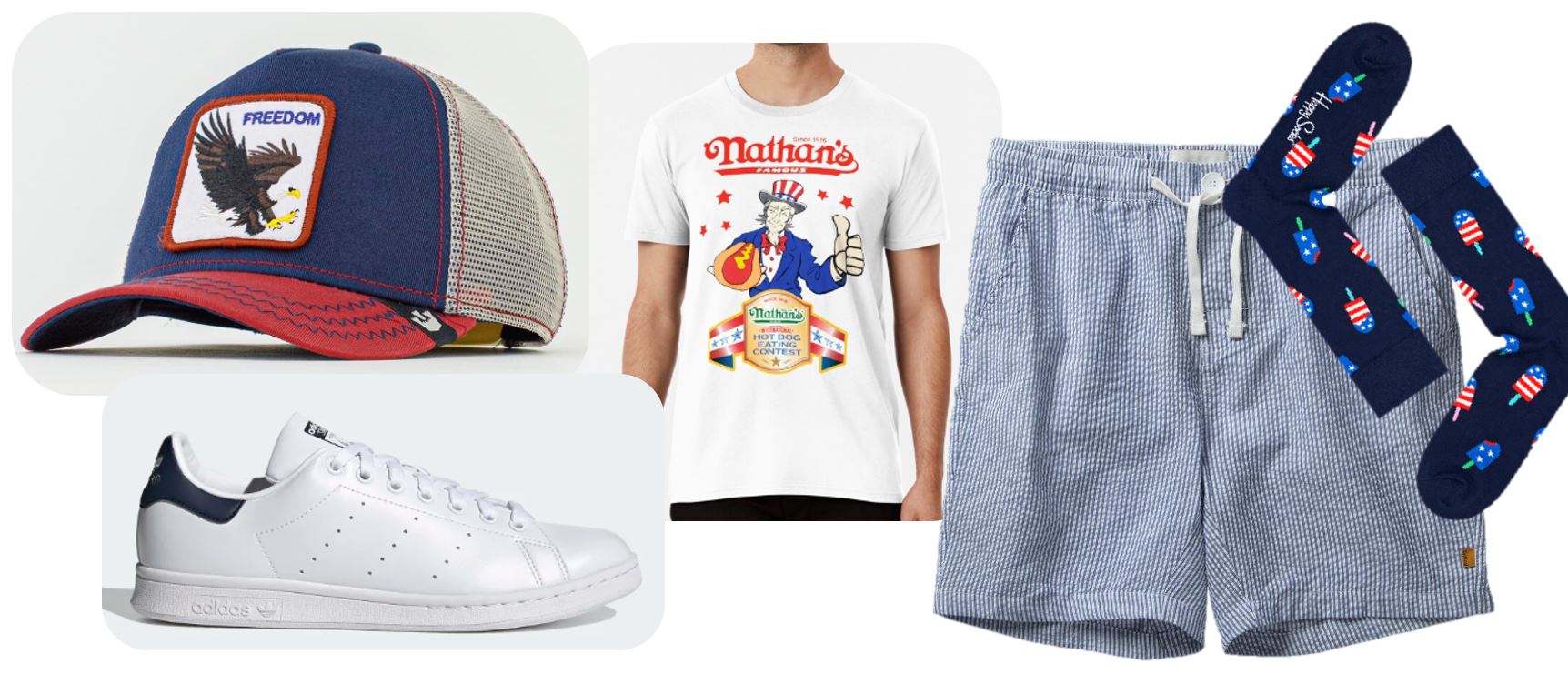 From Left to Right:
Feeling patriotic but maybe not all those stars and stripes? Check out this minimalistic look with Nautica's classic polo that's carefully color-blocked in RW&B. Equally stylish when you pair it with JJ's one and only The Brixton Trouser short in dark navy. Wear them with handsome accessories including GV2's Giromondo watch and Knockaround's Pacific Palisades shades. All that's left is to slide on some iconic Puma slides and you are ready to join the party in style.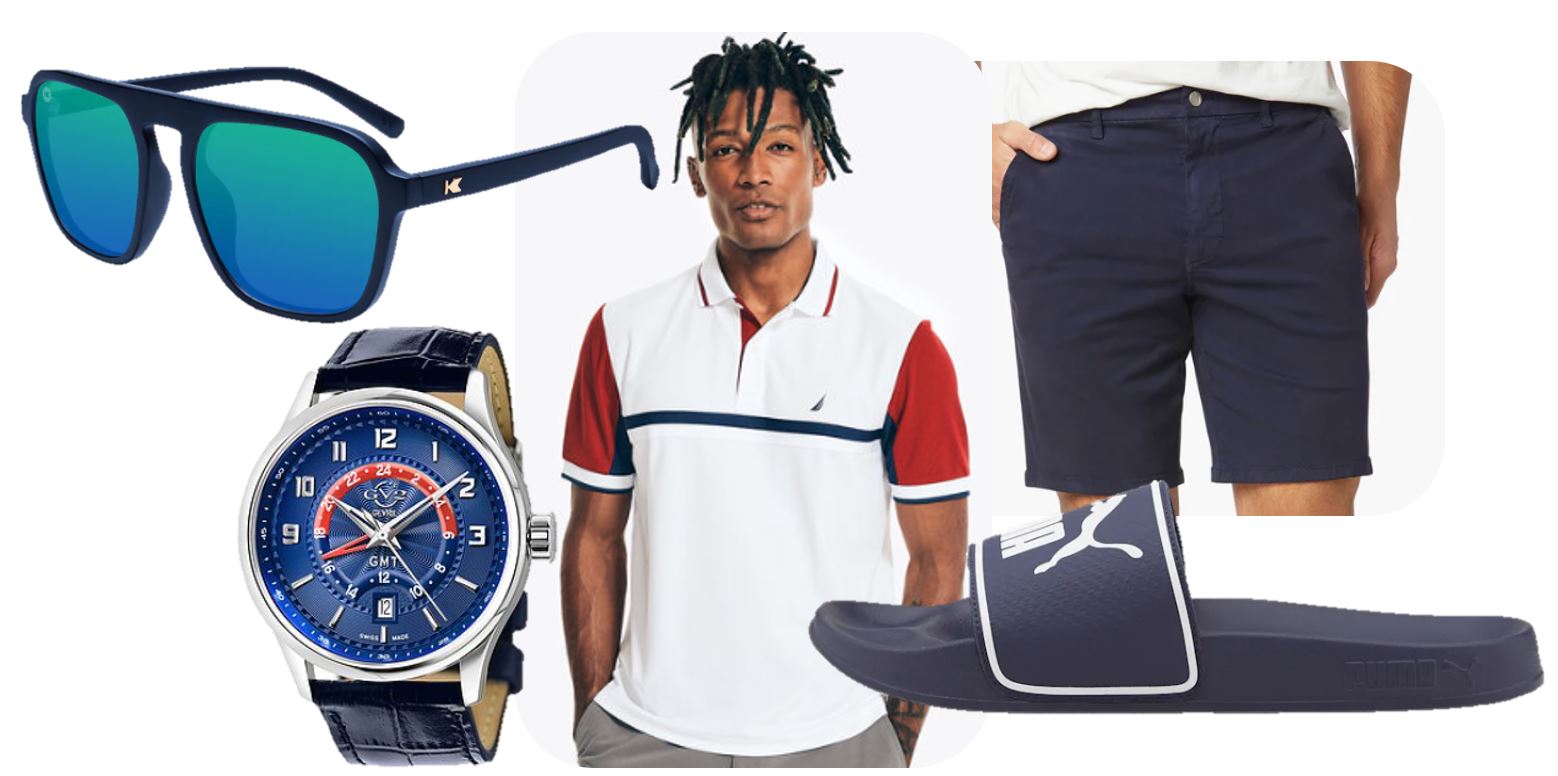 From Left to Right:
Is life a beach for your Fourth celebrations this year? Keep your independent spirit with our water friendly options. Legends Luka are made for fun in and out of the water, as is Patagonia's Wavefarer bucket hat and Blender's Float 2O shades which (as the name implies) are made to float and come with an anti-salt coating. And for the RW&B win we have Reef's holiday edition Jamison tee and Jean Claude's Tibetan spiritual bracelets for some patriotic bling.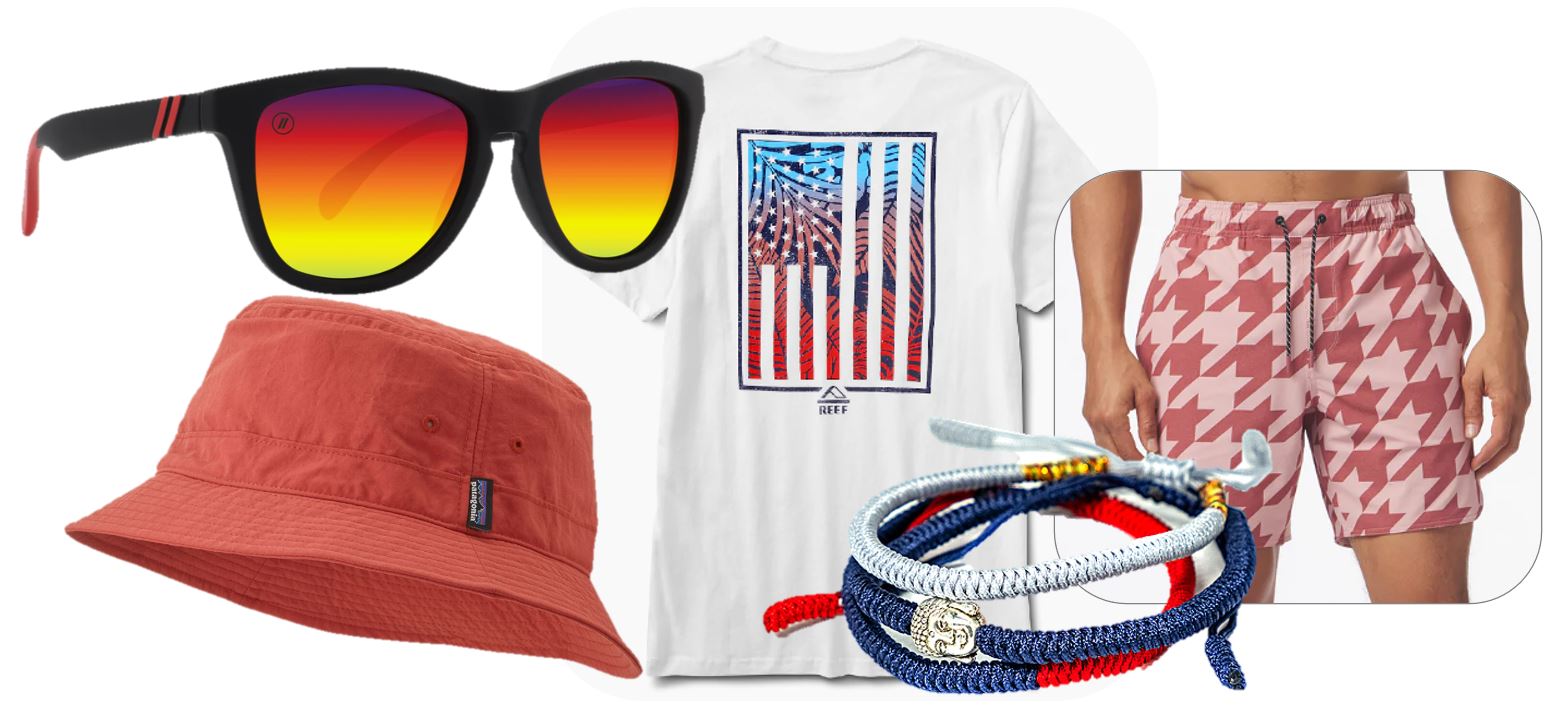 From Left to Right:
Drum roll, please…our last but definitely not least look is for all those bold and boisterous boys who look at Homelander's costume and say "meh, it could use more". Here is your yankee doodle dandy, my friends. Courtesy of Tipsy Elves is your star-spangled top and shorts set that leave no doubt whose flag you fly. Topping that is our own custom made Knockaround shades in Patriotic Polka (we used the Customized feature on their site to create this masterpiece). As for what's left, we finish things off with a fab collab between Puma and TMC Everyday Hussle.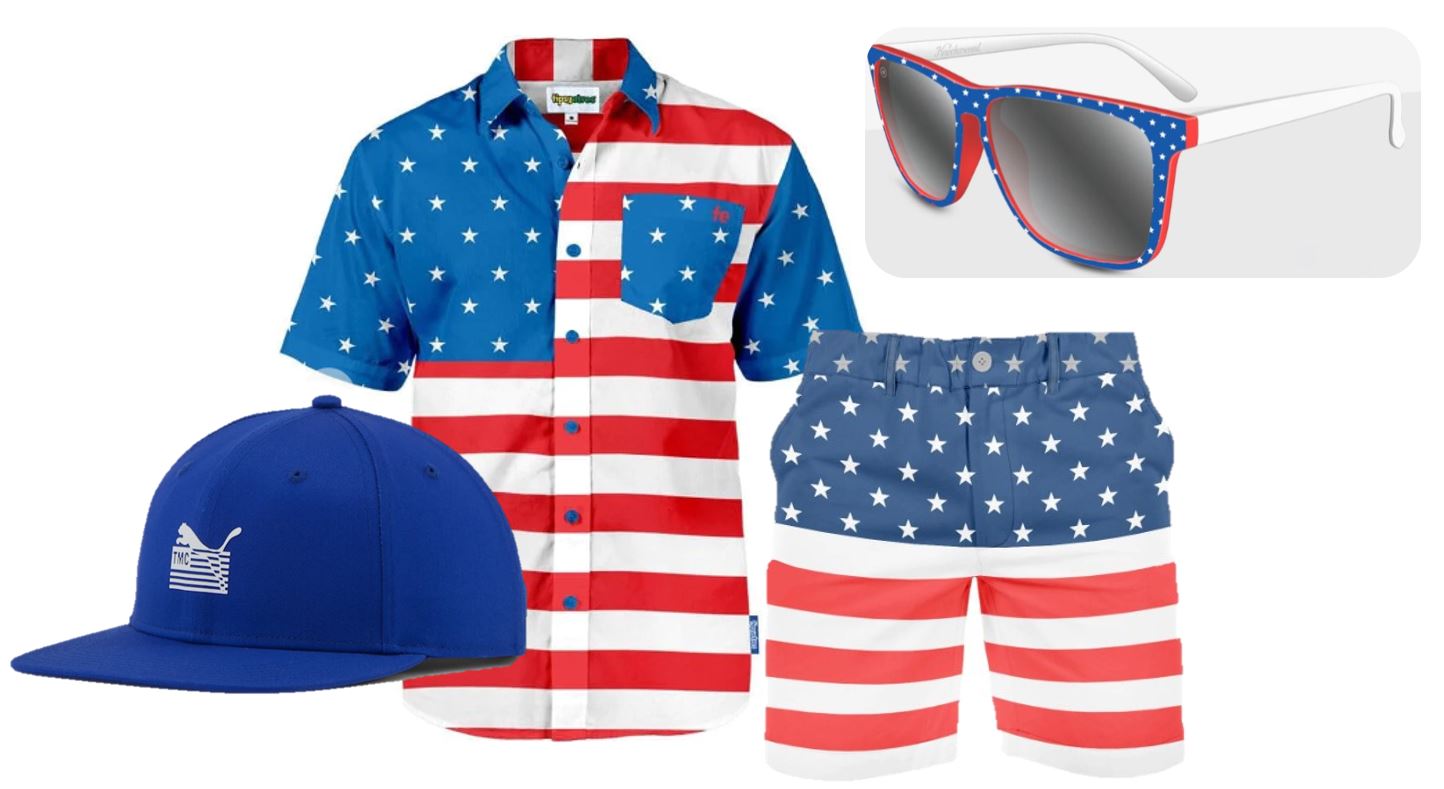 From Left to Right: