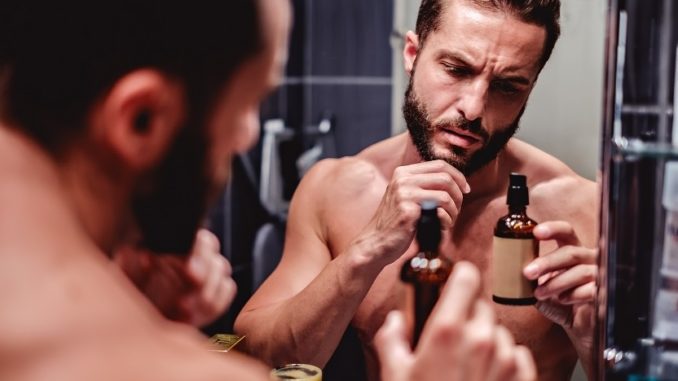 After decades of demise, the celebration of men's facial hair is once again strong. Whether you're beard-curious, just starting out or if you've been actively sporting your gentlemen's coif for some time now, you know there is a plethora of products out there. Some of them are good, some not-so-good. And while price point generally leans toward higher $ = better quality, that's not always the case.
One steadfast rule you can take with you – no one wants a hurricane of chemicals on their skin, let alone their hair, let alone their beard. That's not a good way to treat your glorious face mitten.

Another good guideline is to be mindful of your fragrances, especially when you're dealing with strong, natural products. Great for your beard health, but add too many layers of scented wash, oil and creams and you may waft like a pine-scented car air freshener.
For these reasons, the SLHim team has put together their favorite list of both scented and non-scented (or very light scented) products for every step of your healthy ritual…
BEARD WASH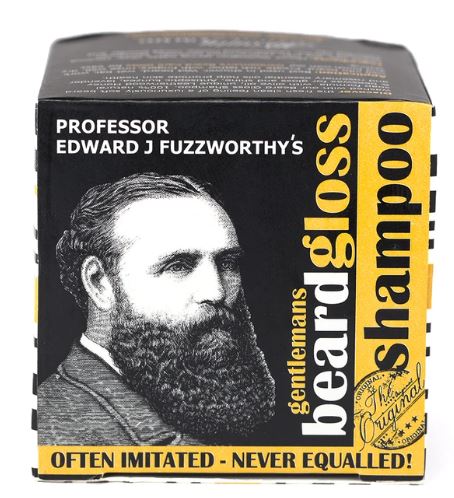 If you are looking for a wash with some scent to it, you'd find Professor Fuzzworthy on just about everyone's top 10 list. Yes, it is a bar, not a liquid wash but believe us when we say it will gently clean your beard with organic olive and castor oil, beeswax and honey. Kunzea (an oil from Tasmania) and Lavender join antiseptic forces to also keep your skin underneath healthy. The scent is slightly musky with leather overtones, but light and therefore not overpowering when combined with other products.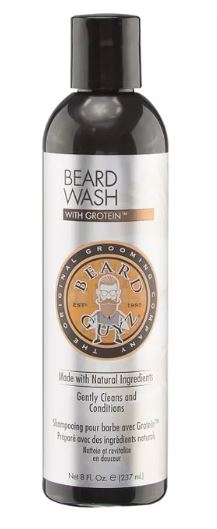 There are plenty of heavy scents going on your beardscape already with oils, conditioners, balms, etc. Things can start to pile up, and frankly when you need to take your beard back to starting position, you're not always interested in how your wash smells. You just need it to work. At 8 oz a bottle, the Beard Guyz give a pretty generous portion for the price. The instructions say you can use it daily, but we all know that shouldn't happen. Twice a week at the most is best, regardless of the wash. All ingredients are natural and organic, no sulfates or other usual shampoo chemicals to be wary of. Overall it does a great job in cleaning off whatever product you have in place. And the best part is, it leaves you clean and not smelling like anything more than what you'd like to add via your other products.
BEARD OILS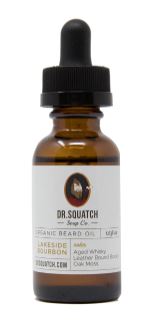 With a rich mixture of oils including Jojoba and Almond, essential oils of Sandalwood, Bergamont, Coriander, Basil, Vetiver, Grapefruit, and even some Frankincense and Myrrh thrown in, this beard oil from Dr. Squatch comes with a 100% satisfaction guarantee (or it's on them). Comes in 2 scents, including Fresh Fir, but our editors preferred the summertime, kickin' it scent of the Lakeside Bourbon.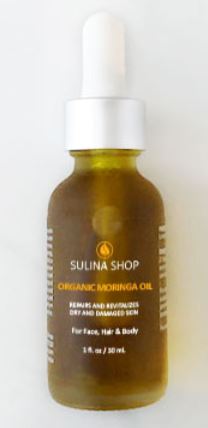 This seed oil, made from organic Moringa is high in both Behenic and Oleic saturated fatty acids that hydrate, lubricate, sooth and strengthen both skin and hair. It's been used for centuries for skin care and hair care. While it is an oil, it absorbs super fast and won't leave your hair or skin feeling one bit oily or greasy, as other conditioning products can. Just 3 to 4 drops is recommended, and the scent is nothing but clean.
BRUSHES AND COMBS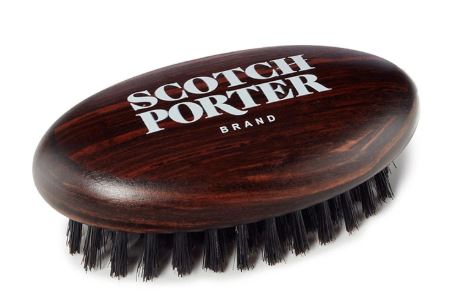 With its Beechwood handle and boar bristles, this brush from Scotch Porter has enough gentle strength to keep your face coif tamed but also stimulate your natural facial oils to keep your beard clean, healthy and dare we say, shiny.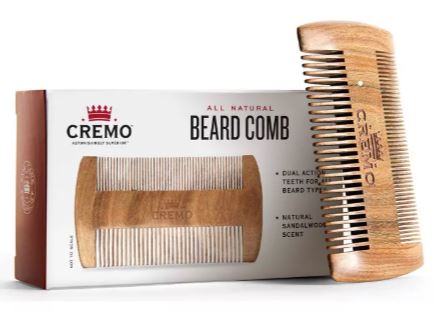 Made of 100% Sandalwood, this dual-sided comb will help distribute your natural oils as it removes loose hairs. It comes with high marks from reviewers from Amazon to Youtube. Most beardmen will tell you it's best to add a little beard oil before combing and start with the larger comb teeth side before moving on to the smaller set. It's also anti-static, which is nice. Your bristles will thank you.
BEARD BALMS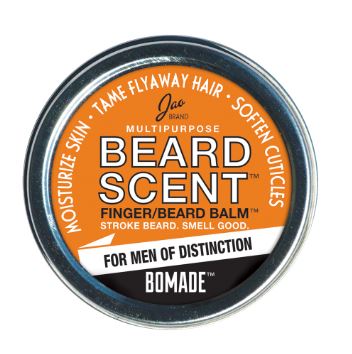 A beard balm is similar to a leave in conditioner plus styling product. A lot of guys will use it in conjunction with beard oil. Both should contain high quality ingredients with vitamins and nutrients to condition post wash. Balms not only help condition but they also work similar to a styling gel. Using a balm will keep those stubborn hairs in line and allow you to 'shape' your beard into a silhouette you like. With beeswax to aid in styling, and about 16 different natural oils (including Hemp, Coconut, Cedarwood and Patchouli, to name a few) this balm gets rave reviews. It's a medium weight styling hold, so pretty much perfect for that balance of shape and movement.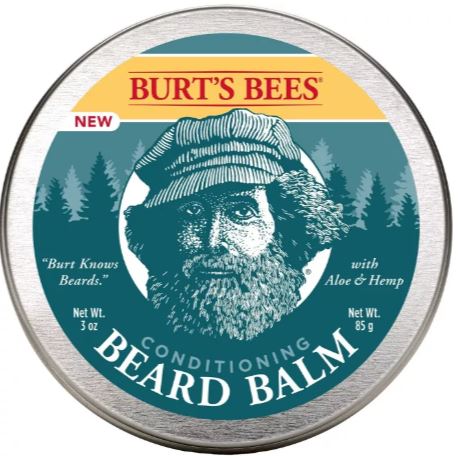 Using a combination of light scent fruit oils, olive and hemp oils, and of course – beeswax, this light hold balm won't weigh you down in heavy scent.
BEARD MASK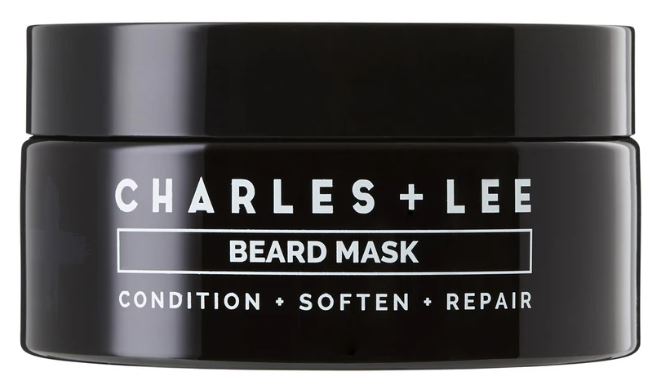 If you haven't tried a beard mask, you're missing out big time on some major advantages. They do require some extra time to your routine, but the upside is you normally only need to apply them once every 2 weeks. Oh yeah, and the other upsides? Fuller, stronger and longer beard hair that's much more resistant to breakage and thinning.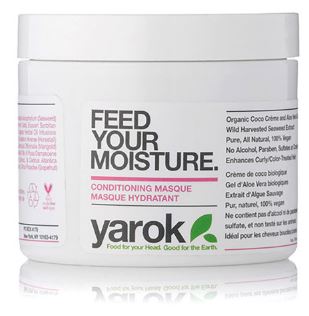 The sheer amount of healthy ingredients in this little jar is pretty staggering. Virgin Coco Crème, Sea Buckthorn and Rosehips for antioxidant power. Seaweed extract, Horse Chestnut and Sage for strengthening hair follicles. Aloe Vera, Sandalwood and Cedar Atlas for anti-inflammatory/anti-fungal/anti dandruff. Plus a whole slew of Omegas, Vitamins and Minerals. If this Mask were a super hero, it would hail from Krypton. Use it once a month (bi-weekly if you're dealing with really damaged beard hairs). Apply post shower, leave it on for 3 to 15 minutes with a hot towel wrap, and then rinse. You will seriously not know how you got along without it.
KEEP IT IN YOUR DOPP SACK
Okay, this last one is just some extra credit. If you travel a lot, and are serious about your beard maintenance, remembering to pack all those needed items from your shower, medicine cabinet, bathroom cabinet, etc, etc..can lead to problems. Like say, realizing upon arrival, that you left your favorite beard wash at home.
Hey, it happens to all of us. Skip the paranoid drama altogether and keep a good stash of quality beard products in your Dopp bag, ready for the road. The two options below are ideal for the task, one if you're checking your bag, and the second if you're going solid carry-on.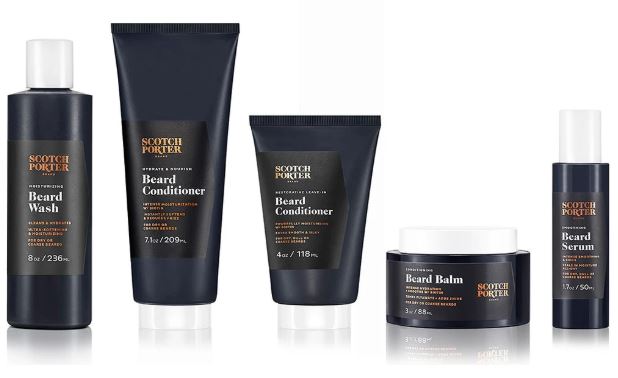 With a 5 star rating from over two thousand reviewers, this collection will not disappoint in covering all your bases. It includes a wash, conditioner, leave-in conditioner, beard balm and a beard serum. The wash and conditioner are sulfate-free. The products all contain various concentrations of essential fatty acids, organic oils, vitamins and soothing Aloe, Avocado and Jojoba to help feed and grow your beard to its fullest.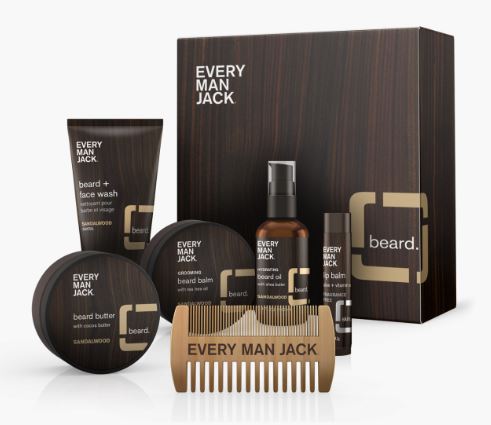 This travel beard kit by Everyman Jack includes TSA-approved sizes of Sandalwood beard wash, beard butter, beard oil and beard balm. Plus a Sandalwood beard comb and Fragrance Free lip balm. That's a lot of product in a small package. Perfect for that business trip or weekend getaway.