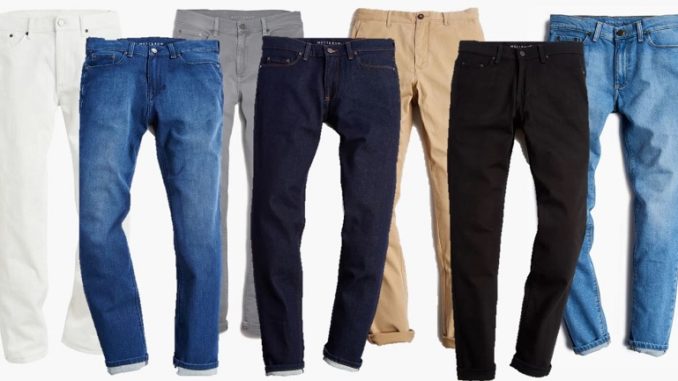 For Alejandro Chahin, founder of the Mott & Bow brand, terms like "quality at fair pricing" and "eco-friendly" aren't just passing sound bytes. These are at the heart of his company and guides the philosophy of everyone involved with the making of the brand's premium denim, tees and other products.
Coming from a generational family of denim manufacturers in Honduras, Alejandro was raised with a strong work ethic and the understanding of what quality materials and construction means. Of course, when he moved to the United States for college, jeans weren't exactly the only thing on his mind. First he enrolled in New York University, where he received an MBA in Engineering. Those combined skill sets helped take Mott & Bow from a 2014 kickstarter to a fully-fledged, and cult status brand.

What makes this brand such a success? First, it disrupted the industry with a seemingly simple premise that resonated with customers – create quality clothing at a reasonable price. Second, it's vertically integrated business model keeps everything in house, from design, to manufacturing, to washing and treating, all before sending out to the consumer. That means no big retail mark-ups, no unnecessary waste, and high value materials that look and wear as good as they feel.
So what do our editors think of this brand? They've tested, worn and washed several Mott & Bow items, and came away with their fifteen absolute favorites that are sure to be yours as well. Let's get to their list.
BEST ALL-AROUND
Let's start strong with the jean that received unanimous praise from all our editors, the Straight Wooster. In the words of one style editor: "There's always that one pair of jeans every guy should have at the top of your stack. The one you reach for first because you know it'll work for just about anything. These are those jeans. The fit is classic loose, the dark blue works for casual or work. I wore them to work with a button up and my Blundstones, then switched them out for the weekend with my tee and Common Projects."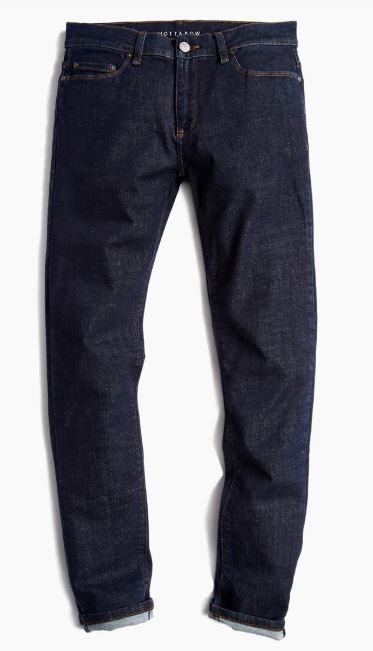 BEST STAPLE WHITE TEE
Essential and yet frustratingly elusive…of course we're referring to the 'perfect white t-shirt'. Something that's not too thick (i.e. bunchy under your button down) or too thin, perfect tuck/untuck length, fits in the chest and the arms, oh yeah and not prohibitively expensive. The Classic Crew Diggs Tee passed our test. Our accessory editor summed it up with: "This tee was unbelievably soft and fit great straight out of the box, which actually had me worried how it would do after a couple washes. Being pre-washed already made all the difference. The large was just a bit tight, so I'd recommend ordering a size up. But the weight impressed me, as it was an easy fit under my dress shirt, yet was thick enough I had no issues wearing it alone (what can I say, I'm Italian so the struggle is real)."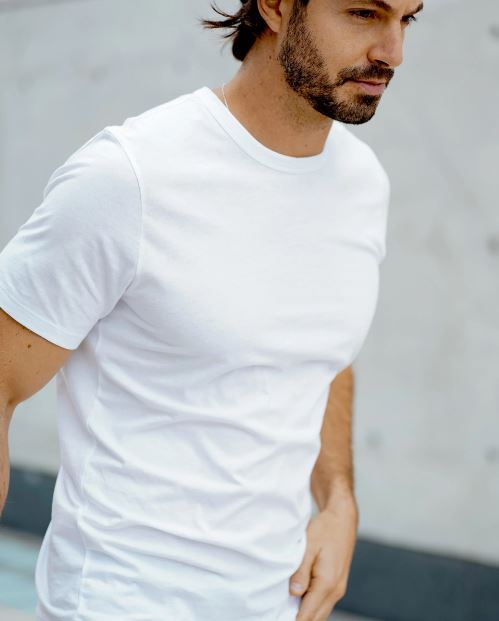 BEST SKINNY FOR THE SWOLE
Never skip leg day? Neither does our Gear editor, so when we asked him to try the Slim Broome jeans, he initially was a *little* less than thrilled. In his words, "Finding a good pair of slims that don't make me feel like I'm toothpaste in a tube isn't easy. Often it's an either/or situation, like the thighs are okay but the calves aren't, or vice versa. I did not go into this with high expectations. Gotta say though, the mix of 4-way stretch in these really sold me. I also liked that the leg was a bit tapered and there's good space in the mid-rise. Wore them out for date night with my fiancé, who gave them a solid 10 in the 'I love watching you move in those' [laughing] so obviously, I'm going to have to buy many more!"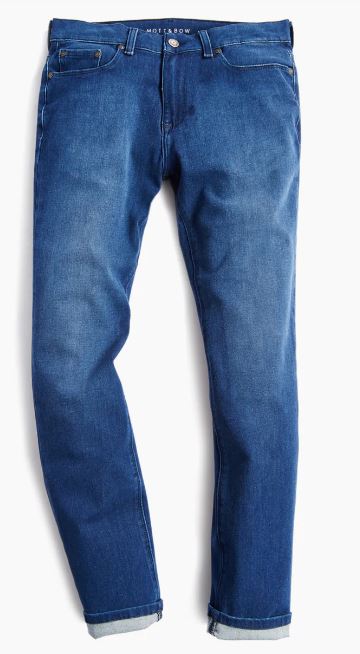 BEST FOR THE BLACK JEAN GUY
Not quite as ambitiously difficult as the Perfect White Tee, finding a great pair of black jeans that stay dark, wash after wash, can be a challenge. Enter Mott & Bow's the Barclay jean. With a heavier medium weight, the Barclay's fabric has 'Stay Black' technology woven in, allowing it to resist fading. It comes in Skinny, Slim and Straight fits, though we're partial to the slim (shown below) since it works well in a variety of wardrobe options.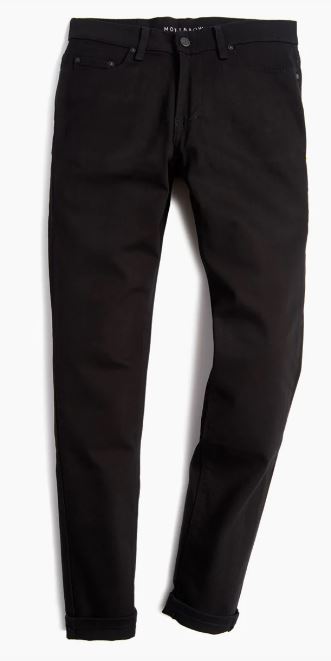 BEST FOR GOING GRAY
It's an evergreen mainstay that's re-emerged as a huge front runner for your day-to-day off duty. Of course we are referring to the gray jean. In particular, gray jeans give your dark shirts and tees a whole new refresh (not to mention they look amazing with a bomber and dark sneaks). But everyone likes a range option, some guys prefer a dark charcoal shade while another's go-to is faded and light. Meet the Stone jean, with three shade and silhouette choices so you can really mix and match. Our preference shown below, is the light gray in slim.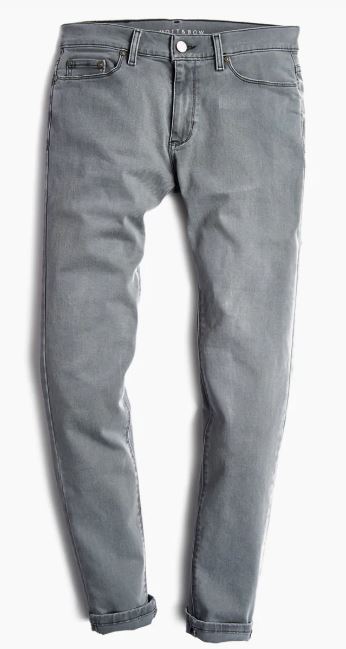 BEST FOR THE TRADITIONALIST
For some guys, they like their jeans to feel like the jeans they grew up loving. Traditional vibes, like a solid color and that dense, heavy weight just hit the spot. One thing no one really wants to revisit though is that stiff, unyielding constriction caused by fabric with zero give. Sure, you could argue that they'll "break in" after a few years, but who's got time for that? Especially when you can grab a pair of Oliver jeans and have all that nostalgic, heavy fabric feel with enough stretch you can bend and swivel with ease.
BEST FOR A CAPRICIOUS SPRING
Ah, spring. One minute we're basking in the glowing warmth of the season and the next…yeah, you get the picture. Transition times like this require clothing that can pull double-duty, as in, keep you comfortable when the temperature drops but not swimming in sweat when mother nature hikes up the heat index. One of the best natural materials out there for these unpredictable days is cashmere. Of course scoring a cashmere sweater for under $200, let alone one made from Grade A cashmere (the highest quality grade there is) seems pretty impossible. Except we just found it for you. And it's on sale. YW.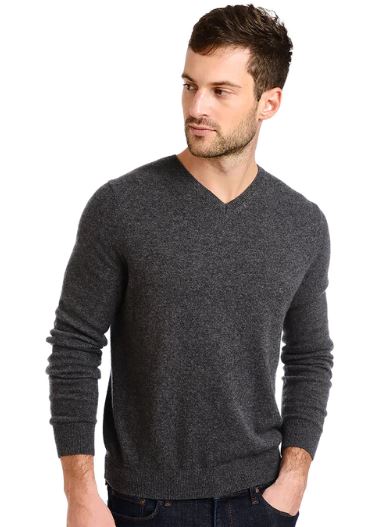 (on Sale NOW from $149)
BEST FOR THE ECO-WARRIOR
Here's a not-so-fun fact: as of 2023 there are now over five trillion pieces of plastic in the ocean. What's worse is over half of that is what's called 'single use' plastic (as in bottles, bags, straws…anything that's used once and thrown away). Those are sobering numbers. Mott & Bow's Fulton jeans are made with recycled polyester that would otherwise end up in, you guessed it, landfills and the oceans. If you love the planet as much as you love your comfort and style, these are your feel good (and feel good in) jeans you need in your wardrobe.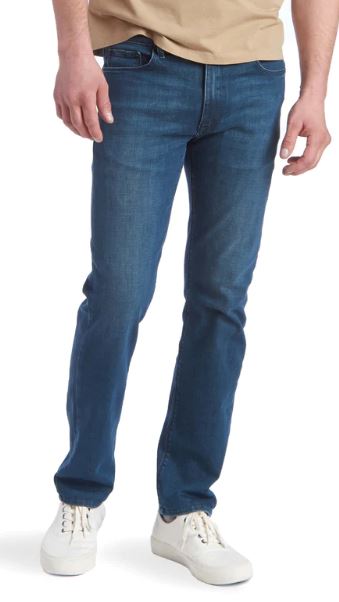 BEST FOR THE NEATNIK
A pair of jeans that's naturally anti-bacterial and anti-fungal? Mott & Bow's Charlton jean is made with hemp, which in addition to being a great sustainable fabric option, also has a natural resistance to microscopic organisms. Add to that a modern, slim fit cut in this season's lighter blue shade, and you've got a solid fashion favorite that'll give you just that extra bit of clean comfort.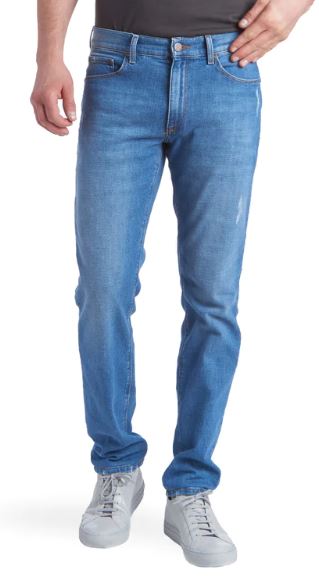 BEST FOR MR. SENSITIVE
All jokes aside, sensitive skin is no laughing matter. Lots of fabric production and manufacturing, especially in the denim world, use chemicals in their processing that can really rub you the wrong way (okay, guess we did have one more joke in there). Grand jeans are made with absolutely no chemicals (as in ZERO). Made instead from 100% organic cotton, they are hypoallergic, odor-free and low maintenance. Plus they're super soft and come in four color options, including this timeless light blue.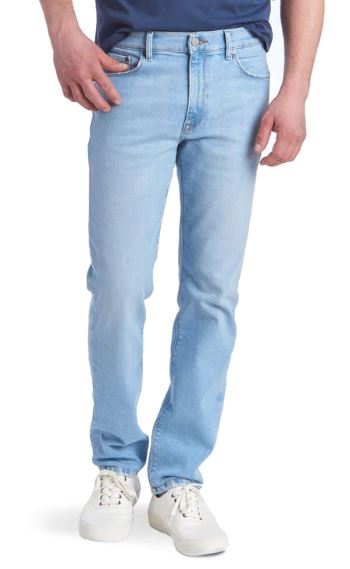 BEST FOR THE IN-CHINO MAN
Jeans, especially dark solid fellows, are totally acceptable for smart casual. Business casual though? That's the realm of chinos. So what about the man who loves the fit and aesthetics of a great jean but needs an appropriate cut and fabric of a business casual chino? The Twill Chino Charles comes in six color options, including traditional khaki (shown below). Made with pre-washed, super soft cotton and just the right amount of spandex you find in most stretch jeans, these aren't your father's stiff chinos. They do however, have the classic pocket placement (2 front seamed pockets and 2 rear pockets w/o buttons) so while they'll feel like your favorite pair of jeans, they are 100% office friendly.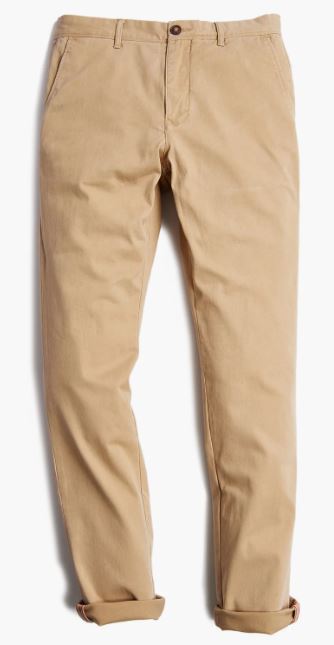 BEST FOR THE PICKY POLO GUY
Speaking of business casual, a great polo shirt is fantastic office staple that you can wear year round. So stock piling a few into your wardrobe rotation is a must. One to add to that roster is Mott & Bow's Jersey Sueded polo collection. Made from 100% premium brushed cotton, they are preshrunk and designed to give a tailored fit. So the sleeves hit mid-bicep, there's structure to the collar (so it stands up a bit and doesn't spread out), it fits well in the chest with room around the stomach. Comes in four color options including the iconic navy blue shown below.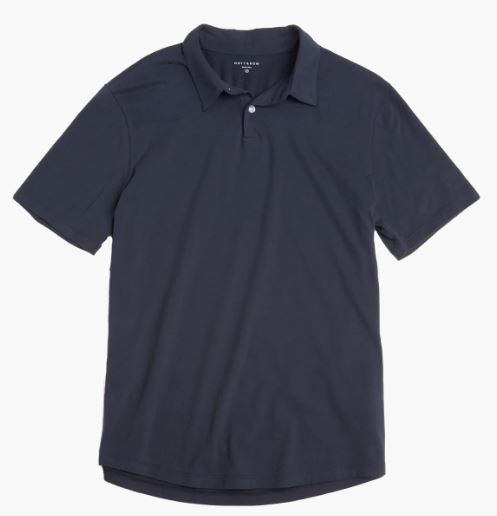 BEST FOR THE ROAD WARRIOR
When you're racking up those travel miles, you want to look good and feel comfortable. Seems like a simple ask. And it can be with the Staple jean (yes, as the name implies, these are gonna be your go-to going forward). Soft and luxe Italian denim mixed with a substantial dose of Dynamic Stretch (the same stretch technology they put in active wear). These have all the stretch you need to tackle an international flight and the flex to head right out into the fun once you get there.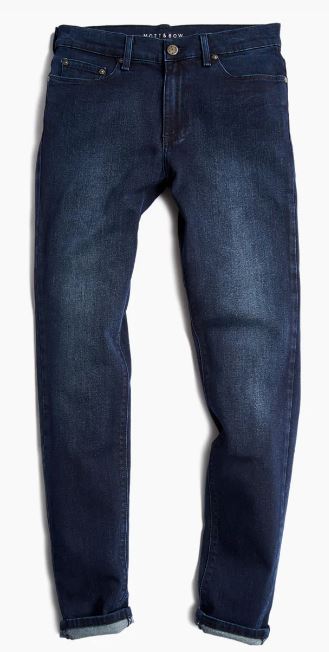 BEST FOR THE WHITE JEAN GUY
Okay first off, let's put to rest that antiquated idea that white jeans can *only* be worn between certain national holidays. If this is news to you, please join us in the twenty-first century. Now, that said, wearing white jeans well can sometimes be tricky. Too baggy and someone may ask how much you charge to paint a house. Too tight and you're unofficially in jeggings territory, bro. Welcome the Mercer jean. It's a modern slim fit, medium weight (no see-through here) and plenty of comfort stretch. These are ready to synch up with your favorite pair of loafers and a half-tucked dark v-neck tee.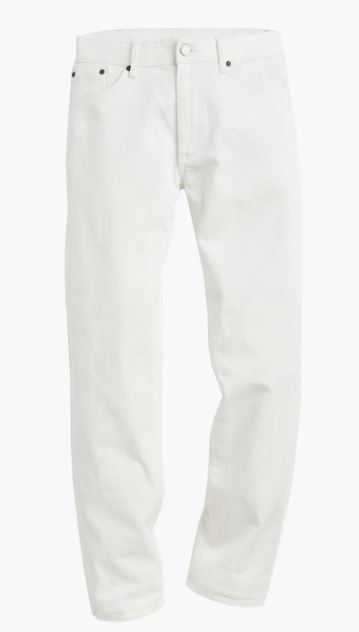 BEST FOR SUMMER WEIGHT
Why is it some jeans feel just fine in warmer climes while others seem to make you swelter? Well, simply put – jean weight matters. Your standard pair of Levi's, for instance, is usually around 12.5 ounces. That's a medium weight, which makes it good for all around cool to colder days. But when the temps start climbing, a lightweight jean can make all the difference. That's why we love the Mosco jean. At a mere 10.6 oz fabric weight, it breathes extremely well, but remains resilient enough to handle your everyday activities with…wait for it…no sweat.