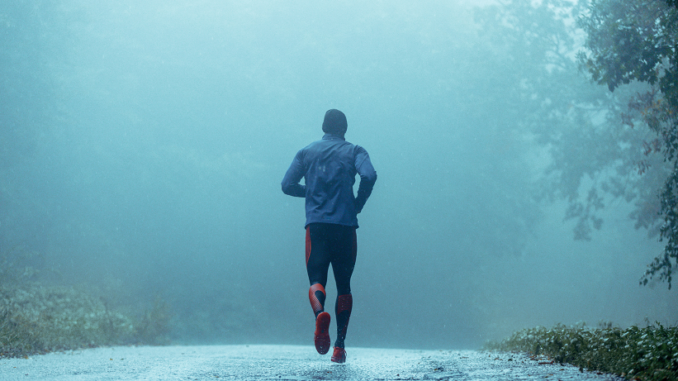 Good on you for powering through your winter workouts like a boss.
But now we're heading into the chaos of winter-to-spring where it's snow one minute and slush the next. That can make it doubly hard on trying to figure out what to put on and what to leave. We've got fifteen pieces from layer to base that will keep you looking hot, not over-heated.

Ready to roll? Let's go…
SLUSHY
Ah spring, where the warmer climes beckon us out onto the open road…and where the melting combo of snow and ice can make for treacherous exercising and chilly runs. Don't get us wrong, that sharp intake of cooler air can really put some pep in your step. Just make sure that step your taking  is with a good shoe with a solid, grippy sole. One of our favorites for just such a journey is the adidas 4DFWD shoe. The folks at adidas took 17 years in the making of this excellent midstride runner with superior traction on its rubber outsole. Keep your feet dry but breathing with the AlphaSkin Hydro-shield training socks. They're breathable, with a water resistant coating on the yarn that helps prevent absorption of water, as well as reducing slippage inside your shoe. You'll want a good base layer that'll keep you warm while wicking away any sweat that might be dragging you down. SmartWool makes a great 3/4 sleeve that'll do the trick. Top that with a lightweight, but warming jacket. Adidas' has a half-zip running jacket that suits us just fine, and it's made from Primeblue which is recycled plastics. For your legs, go with woven athletic pants, such as Reebok, with bungee adjustable cuffs to block out those cold breezes.
From Left to Right:
RAIN
Rain can throw a curve ball in your workout routine if you let it. So don't. Keep prepared with a few choice items that will make you say "what rain?". Keep your foot firm on the ground with a grippy shoe, like the TerrexAgravic from adidas. Bonus, it's made with Gore-Tex which will keep your feet from getting soaked. To keep yourself from getting soaked on the inside (as in, from sweat), grab a base layer in the form of a good technical shirt. Timberland's Pro Wicking Sport tee is breathable and the flatlock stitching will keep away any potential for rubbing. Top it with a wind jacket that is meant for running. Adidas has a great one called, aptly enough, Own The Run. It's bright to keep you visible to vehicles as you navigate your run. Speaking of navigation, keeping the rain off your face and out of eyes is easy with a Dri-Fit head tie, such as Nike's 3.0, and for good measure down below, grab Nike's 5.0 Dry Short which wicks away moisture and won't cling to your legs when things get sodden.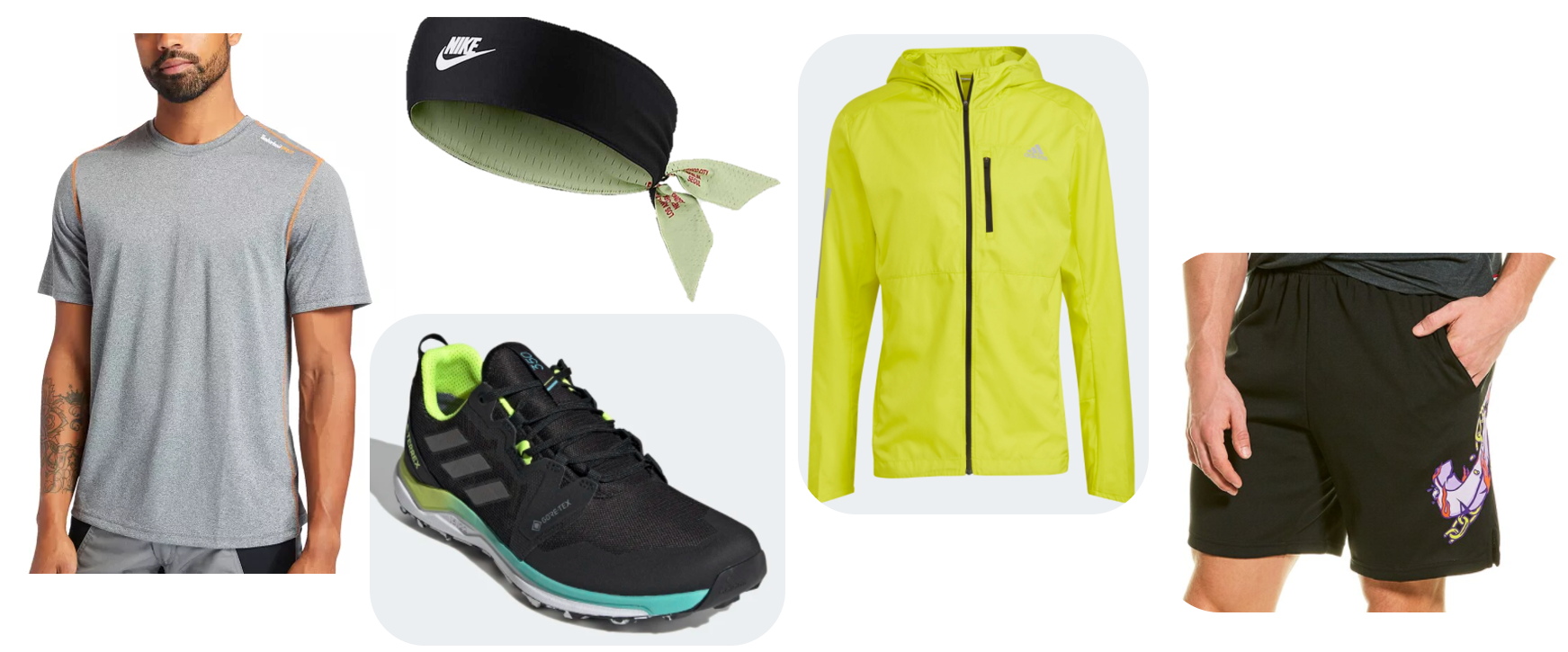 From Left to Right:
WINDY
While maybe not as daunting as a downpour, wind can be (here comes the pun) a real drag. On the flip side, it can also improve your stamina by giving you one thing more to work against and through. So while we can appreciate the increase in effort level, we also want to make sure we're not losing too much body heat…especially with those spring breezes which can feel like you just rolled right back into winter.  Protect yourself with a solid performing wind breaker, like the Terrex Parley Wind.RDY from adidas that's made from lightweight, upcycled materials.  Underneath, get yourself a good technical shirt to keep you from getting soggy. Backcountry's Houdini Dynamite tee will do the trick nicely. With all that billowing comes the potential for dust and other particulates to get in your eye and hamper your ability to see properly. Don't let that happen. Keep a clean line of sight with some Premium Sport frames by Knockaround. Embedded rubberized nose pads give these glasses extra grip and polarized lens will ensure you see your way clearly. Lastly, those legs are going to need some protection and ventilation. Terrex Agravic Tights from adidas have a wind-resistant overlay to block the breeze but is still breathable to ensure you don't get over heated. Plus it has ankle zips for easy over-the-shoe removal if you need it.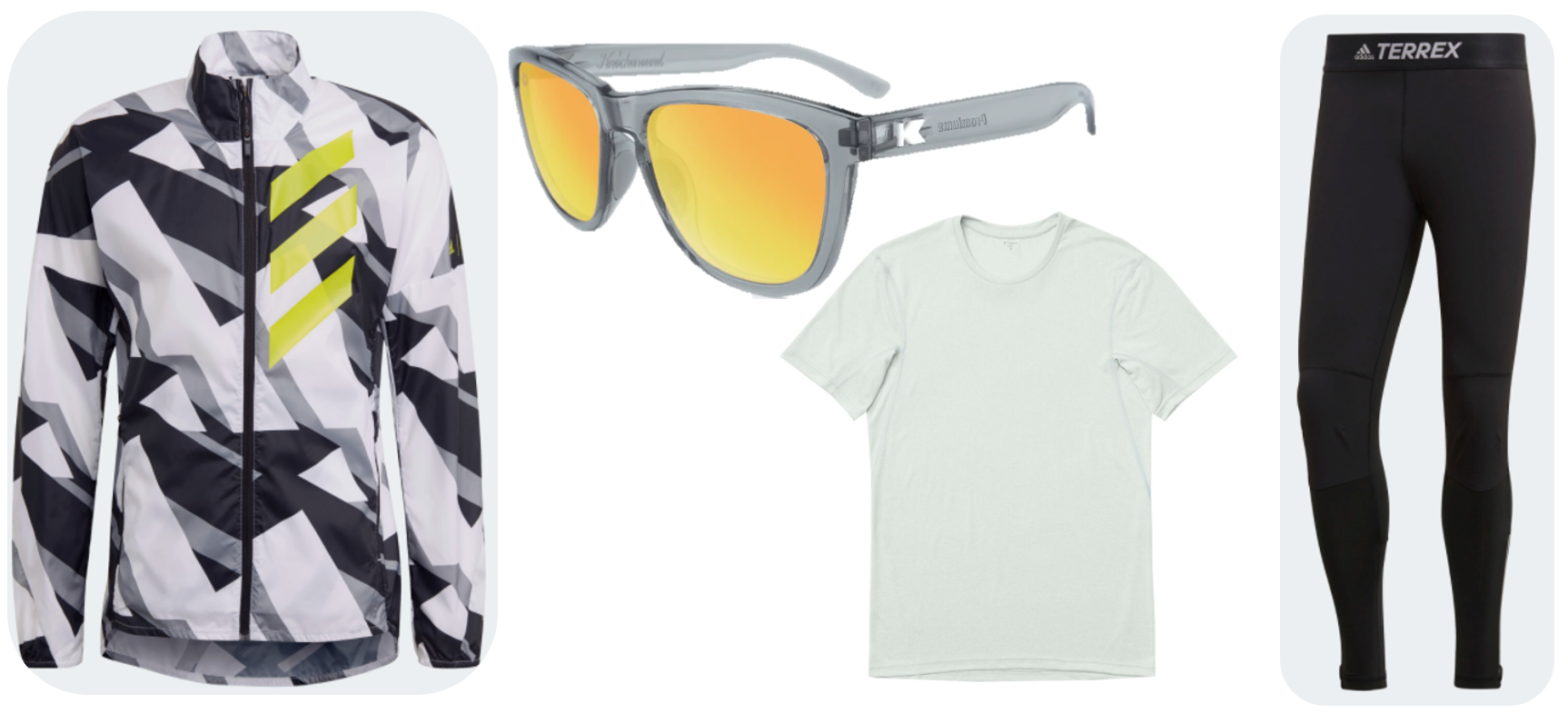 From Left to Right:
SUMMER HEAT
Spring does lead into summer, after all, and you can be sure that you will be in good company when that first really warm day hits. Everybody gets the workout bug, but not everyone is prepared to properly deal with exercising when the temperature is rising. You, on the other hand, will be feeling comfortable with the right wardrobe. Start with a super breathable tech shirt. The adidas' 25/7 Rise Up N Run Parley tee not only has moisture-wicking material, it also has mesh inserts along the side to really help keep you cool. Don't just stop there though. Pick up a pair of adidas Heat.RDY Techfit shorts. The material is designed to maximize airflow and wick away moisture. That'll keep you cool through all those lunges. Keep your feet moving with Puma's Nitro COOLadapt running shoes that are designed with hot weather in mind. Plus the performance Nitro foam is super cushy. Warm days almost always come with plenty of sun, so keep your eyes shielded with running shades. Our pick is the Torrey Pines Sport
Victory Lap sunglasses by Knockaround. Not only does it come with UV400 protection, its spring hinges and rubber nose pads will make sure they stay put, no matter your pace. And if somehow you do manage to dislodge them? Their lens are impact resistant. Lastly, while your trusty baseball cap could work in a pinch, you really ought to invest in a  running hat. A good one will be made of mesh or other breathable material, have a nicely curved brim and be lined inside with some moisture-absorbing fabric. adidas makes a really great one, called the AeroReady Runner Mesh Cap.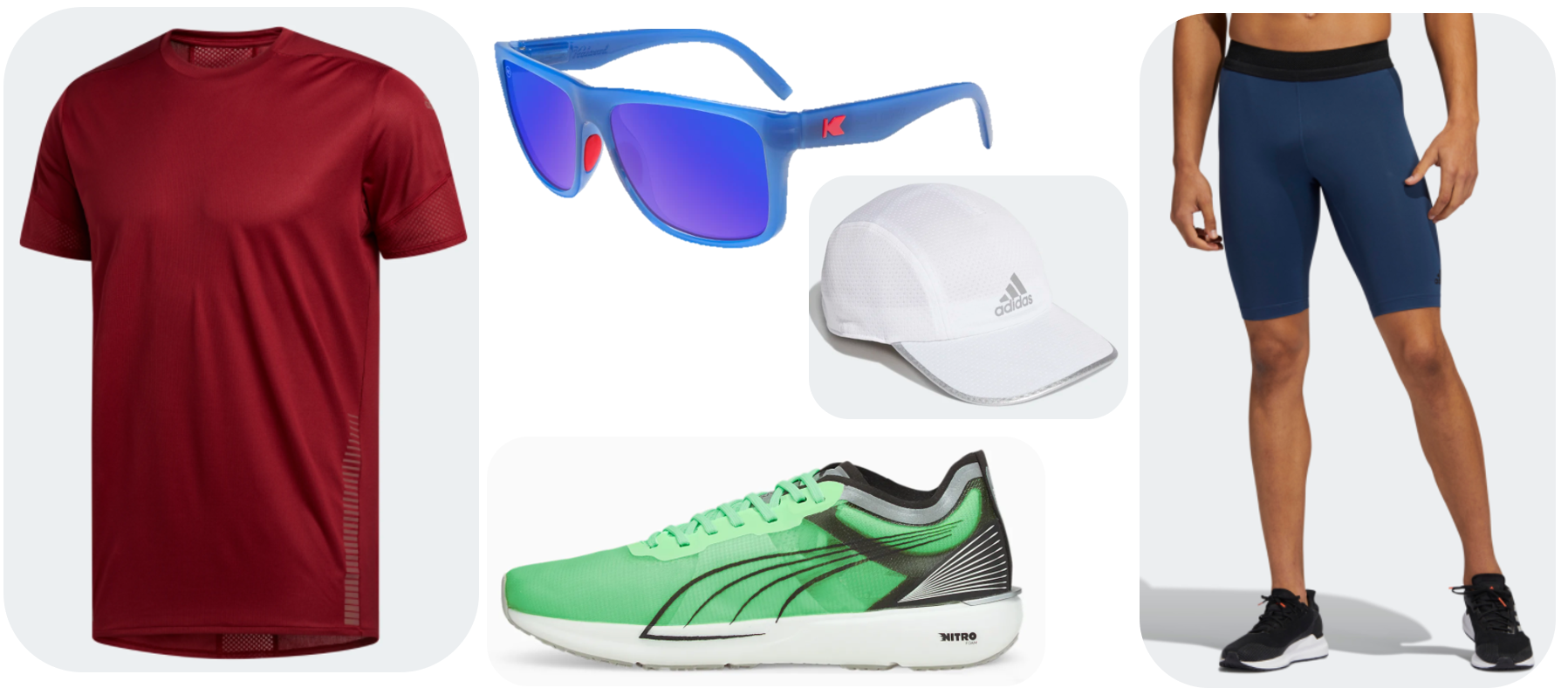 From Left to Right:
A LITTLE BIT OF EVERYTHING
Ah, the best part of a transitional season…it changes. When you started your run, it was one temperature and now, mid way through it's changed. Most likely it went from looking like snow to looking like summer, but it can go the other way too. Whatever your point A was, your point B is looking mighty different. The secret to mastering your look? Layers of course. Adding some choice items into your rotation can make a world of difference in how you'll perform. Your big gun for this is a proper running belt with plenty of zip pockets to stash items when you need to peel off, or retrieve items when you need to layer up. The adidas R.Y.V. sling belt has three outside zip pockets for quick grabs and a large single pocket behind them that's perfect for stashing larger items (or your phone, etc). A good base layer should be fitted for comfort and easy movements. The Runner Long Sleeve tee from adidas is moisture-wicking to handle the heat, but also comes with thumbholes in case you need a little more warmth on your hands. Top that with an ultra light vest for running, like the one SmartWool makes that is super insulating but lightweight enough to fold into a shirt pocket sized container. Transitional trickery may have you questioning between shorts and leggings. Split the difference with Puma's 2-in-1 woven running shorts and Meister's running leg sleeves.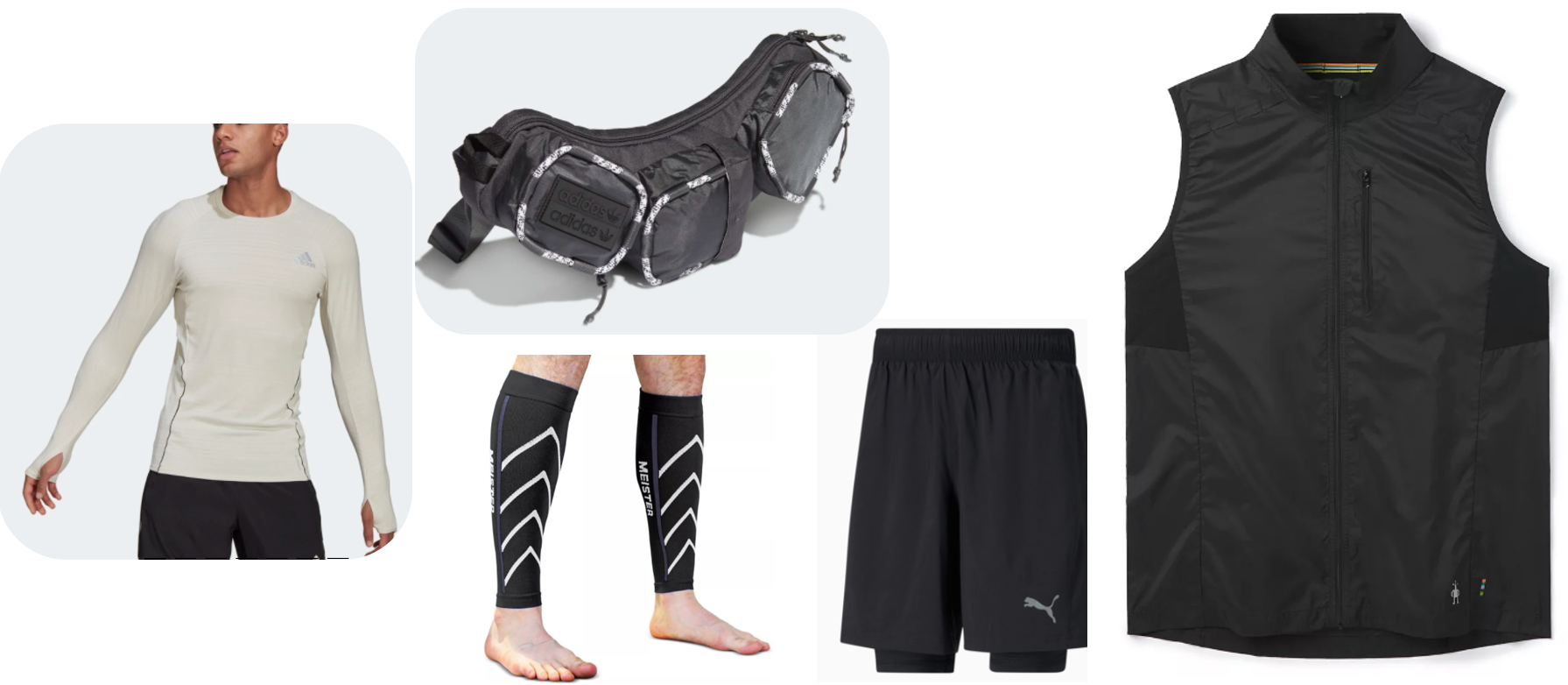 From Left to Right: