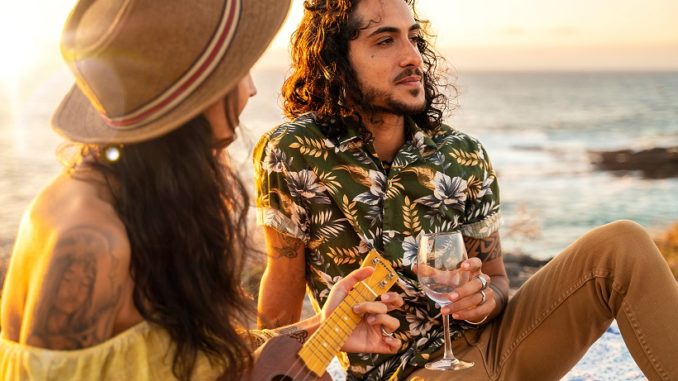 Whether you're hanging poolside, tourist-ing some beachside boulevard or planning some fun by the sea, we've got 5 full fit outfit ideas that will take your resort game to the next level.
Flower prints and beaches go together like Queen B and Jay Z. Whether it's bright tropical, vintage aloha, or fun & funky, a great flower print shirt and/or shorts give you instant chill vibe. Here's five full outfits we pulled together that'll have you relaxing in no time…

Starting with this fresh look. Notice anything interesting about that shirt? You're not hallucinating, this amazing camp collar floral print shirt is from FOCO, the Fan Gear site. They have a whole new collection of team logos + aloha prints. The example below is the Milwaukee Bucks but they also have various NFL, MLB, College, NBA and even NHL to choose from. A great shirt like this deserves an amazing tee (this one by Wilson has engineered ventilation in those high-sweat areas) and some awesome shorts like adidas' Ultimate 365 Cores. We didn't stop there though. Slide on a pair of Knockaround's super popular Pacific Palisades sunglasses (we're loving the cognac brown called Pierside). Be the hero of the party with Reef's Draftsmen flops that actually have a built-in bottle opener in the bottom. Lastly get yourself some lowkey bling with Adornia's Mariner chain bracelet in 14k plated gold.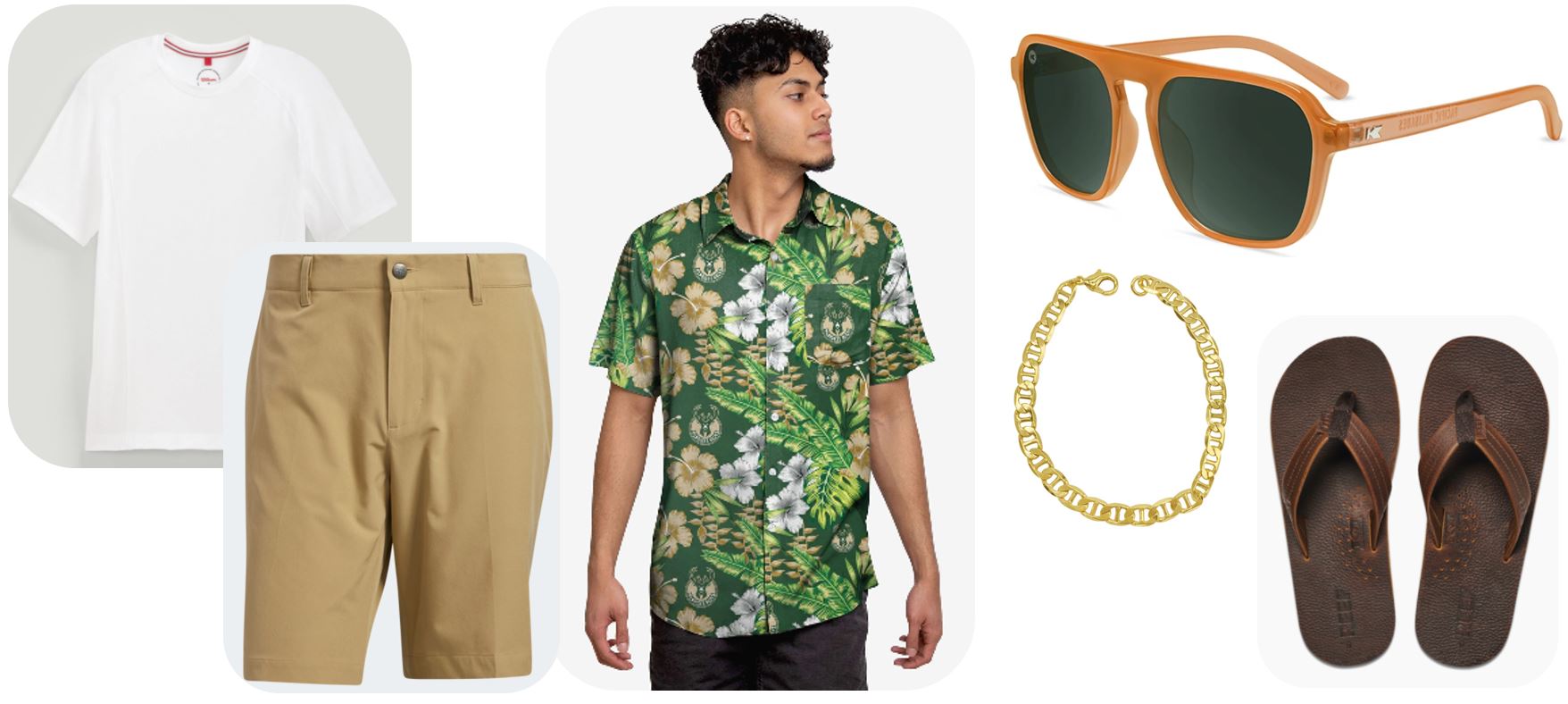 From Left to Right:
Right after palm leaves, the second most common flower you usually spy on aloha shirts is the Hibiscus. Flip the script and wear this heady floral on your shorts. This leaves your real estate above all freed up to sport this season's newest Carhartt WIP summer tees. For accessories, go for the bronze, as in John Varvatos' braided bracelet and Krewe's champagne and rue glasses. Finally, check out these croco print sandals from Karl Lagerfeld.

From Left to Right:
We love a look that doesn't take itself too seriously. That's why as soon as we spied this shirt from Tipsy Elves we knew we had to include it on this list. Why settle for palm trees and flowers when you can have raptors? Play off that punchy pink and add Aeropostale's classic chinos to the mix. Cool things down with Vuori's perforated performance tank and Knockaround's Mount Evans in sky blue. All that's left is to slip into some Nautica slides and slip on this Roger Black titanium screw cuff bracelet by Eye Candy LA.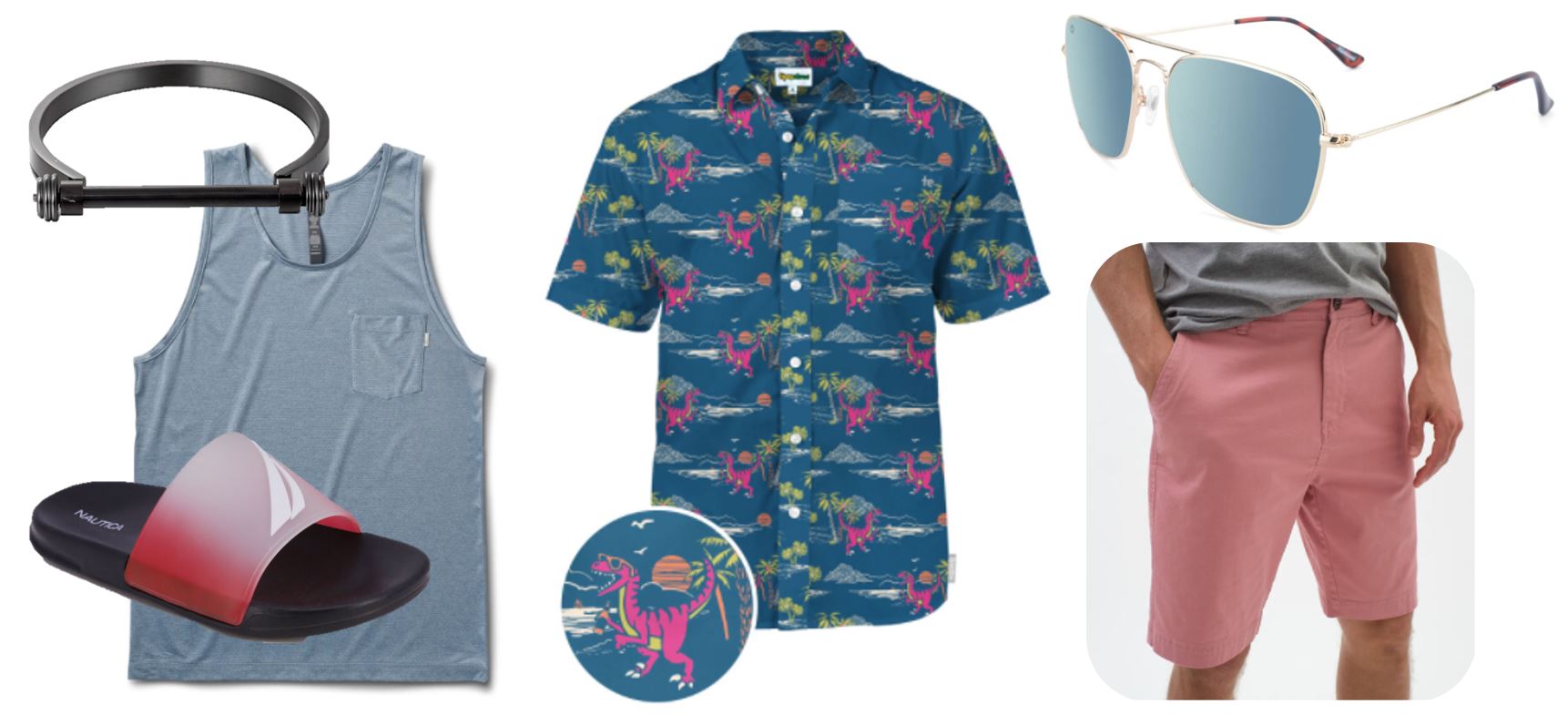 From Left to Right:
Are you more into your classic prints? The great thing about the aloha look is it can span from retro to new season and still look amazing. Here's a great example of a classic blue-and-white stylized flower motif. Give it a super fresh uptake with a camp shirt from Stussy. Next give your look a one-two color punch with Superdry's bright red slides and Enso's silicone bracelet in Japanese Strip, which is a collab between the company and the iconic skateboard brand Santa Cruz. Last, not least, slide on a pair of Ray-Ban clubmasters and you, my friend, are good to go.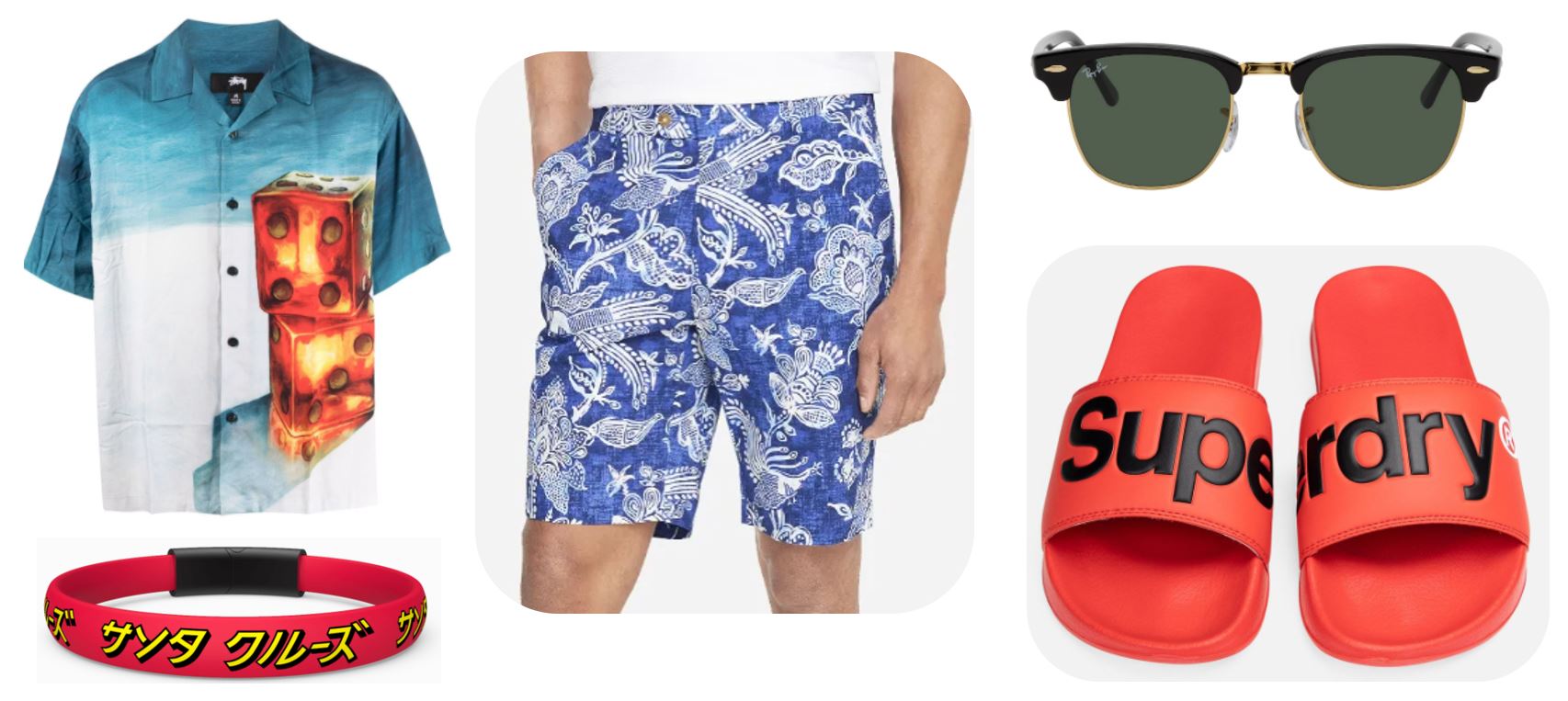 From Left to Right:
Okay our last look really embraces a vintage aesthetic that looks as good now as it will for years to come. This hawaiian shirt from R13 fits right in with the brand's mission statement of 'authentic american traditions and history'. The re-envisioned take on the classic print when paired with contemporary UK artist and illustrator Tony Neal's "Play That Beat" shirt looks like a match made in jazz heaven. If you're a fan of the Brixton line of jeans by Joe's Jeans, you're going to love their shorts line. Here we grabbed ourselves a pair in light stone. Joinng the ensemble are Timberland's original slides. Water and stain repellant with an oh-so-comfy foodbed. Last, add a few choice accessories, like Jean Claude's colorful stretch bracelet (found on sale…you're welcome) and a marble wash bucket hat from adidas. Spot-on.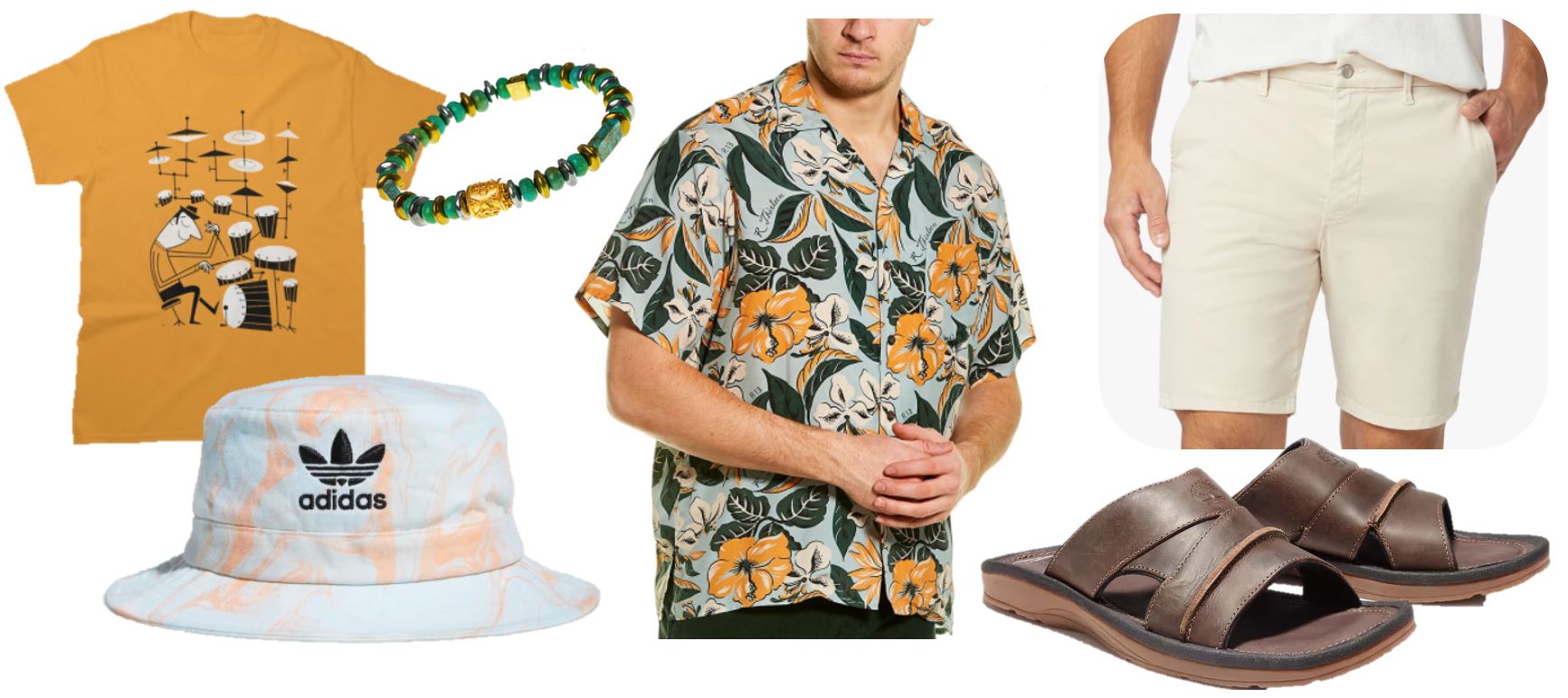 From Left to Right: