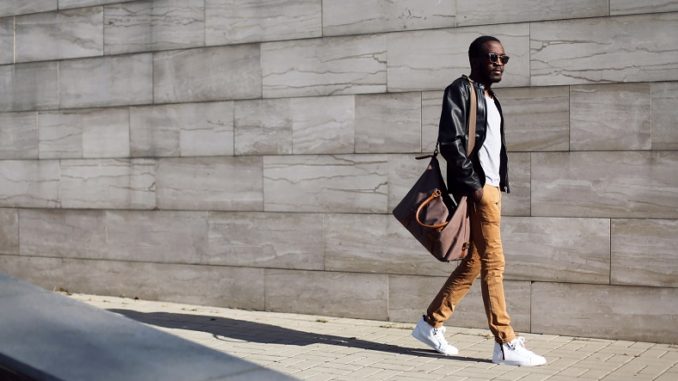 Consider this your material warning. Jeans may be eternal, but this season's slacks are tailored and terrific.
Between quite luxury and old money aesthetic vying for equal space in our closets, tailored pants for men are now more popular than ever. From chinos and straight leg dress pants to wide cut trousers, to wildcards like elevated track pants – there's something out there for everyone. So whether it's a cool and comfortable, or sharp and sophisticated, this season it's all about the slacks.

So let's dive in with some of our editors favorite options.
CHINOS
Chinos are a great casual pant option that can be dressed up or down depending on the occasion. The cut should be slim but not too tight, offering a middle ground between comfort and class. The length should ideally end just above the shoe, providing a clean, crisp line that enhances your overall silhouette. Too long, and they can look sloppy; too short, and it can disturb the proportions of your figure. As for the tailoring, well-tailored chinos should hug your waist without pinching and should have enough room in the thighs for comfort. The tapering towards the ankle should be subtle, maintaining a balanced look.
Construction is what differentiates a regular pair of chinos and a pair that look made just for you. These chinos from Perk Clothing understood the assignment completely. They offer a slim fit leg that feels amazingly comfortable thanks to their ultrasoft cotton twill in 2-way stretch. The durable stitching with reinforcement tacks means you'll be wearing them for a good, long time. And with a slightly curved waist, these are perfect for giving your butt a little boost. Comes in eight color options, but our Editor recommends going for the black. It'll give you maximum versatility from, swapping out your black jeans with these to elevate your off-duty, or when you're pairing them up with a business blazer.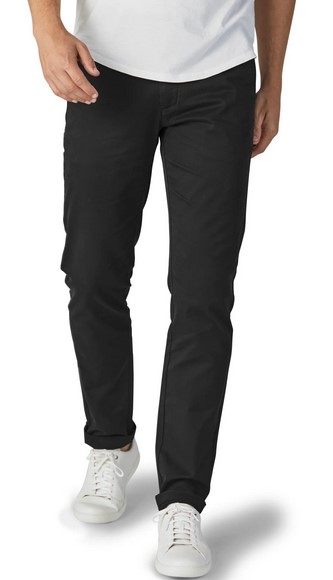 Next up is a brand we've been working with for years. Mott & Bow has earned plenty of accolades from our editors for their great jeans and polo shirts. Using the same diligent tailoring methods, their chinos also earn a top spot in our list. Made from medium weight twill, they offer a slim fit with just a bit of stretch. And for guys who crave a bit more roominess in the waist, these offer a center back waistband V-notch, which gives some added ease while sitting. Comes in six color options, but our editor favorite is the dark navy, which will be a handsome companion for all your on-trend academic looks this season.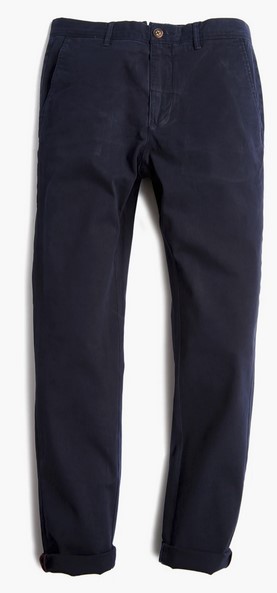 Chinos have a long history of being the mainstay of all-things-Prep. And in case you've been trapped in a cave with no wifi, you should know prep 2.0 is everywhere this fall. That brings us to J. McLaughlin's "The Taylor" pant. Being one of the OG preppy brands out there (as in since 1977), this brand knows how to create the classic chino silhouette and freshen it up for 2023. The luxury Italian cotton is garment dyed for extra color depth and though they're crafted abroad (in Portugal), the cut is pure traditional Americana. Comes in three color options, but our editors absolutely favor the true khaki, which when paired with a chunky sweater vest pretty much oozes ivy league.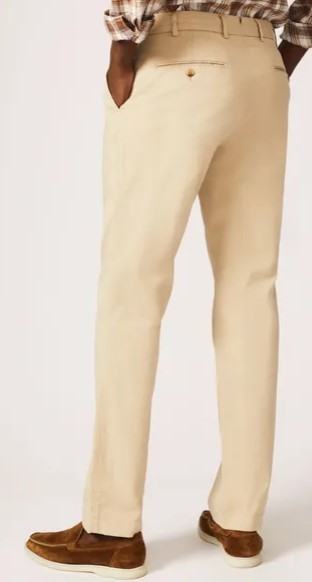 STRAIGHT LEG
For straight leg dress pants, it's important to choose trousers that are comfortable yet still form fitting. The trouser length should be just right, with the hem reaching the top of the shoe, the waistband should sit comfortably at the waist without digging in or sagging, and the rise of the trouser (the distance between the waistband and the crotch) should be appropriate, i.e. neither be too high nor too low, ensuring a comfortable and flattering fit while standing and sitting. Outside of that, there's plenty of material options to hit your personal style.
Case in point, these black and gray striped dress pants from Parisian brand, The Kooples, are pure sartorial elegance. Made of medium weight wool that's perfect insulation for those fickle fall days, they'll look incredibly posh paired with a cashmere crew and your Common Projects.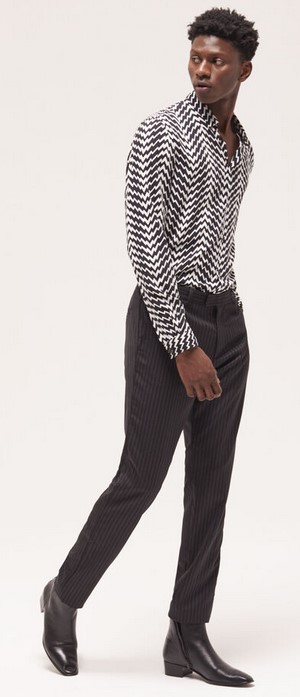 (on Sale NOW from $265)
A polished, straight fit pant for the large and tall man without the hefty price tag? If you're a brand whose been making quality slacks for almost one hundred years, the answer is – absolutely. Check out Haggar's Big & Tall active series. These offer a flat front, straight leg pant that looks great and feels comfortable thanks to 4 way stretch fabric and an active flex waistband. Sizing runs from a 44 to 60 waist and inseams from 29 to 34. Comes in three color options, but our editors like how the heather gray option works across a variety of casual to dress looks.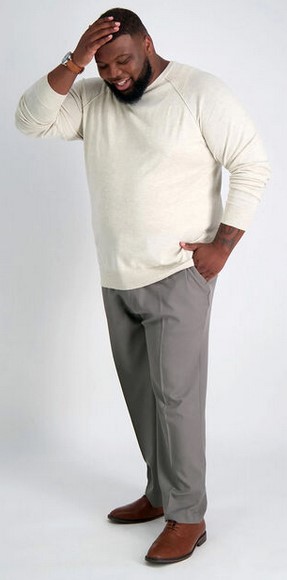 Another favorite preppy brand, Ralph Lauren's straight leg trousers have just the right mix of business and pleasure. These dark navy ones offer a mid rise with a concealed front fastening and enough stretch-cotton construction to keep you moving with ease. As perfect with a knit polo and chucks as they are with your button down and chelseas.
RELAXED
To be clear, when we say relaxed, we don't mean baggy. This slack styling takes its cue from the pants and suits of the 40s and 50s (try googling Cary Grant, Humphrey Bogart, or just about any Hitchcock movie with Jimmy Stewart). The rise of the pant should be neither high nor low and the leg should taper gradually, to create a slight hourglass shape. The fabric should have enough room to drape without looking sloppy. Classic detailing, such as pleats and cuffs are also encouraged to bring a sense of nostalgia. Finally, look for strong construction with high-quality materials that will stand up over time. Quality tailoring is essential to giving these pants a timeless look, no matter what you pair them with.
Case in point – the Ely Pants from John Varvatos. While it might be brand new to their fall collection, it has a silhouette that's a grand study in relaxed, retro appeal. The waist is belted (to allow for extra shaping), the front has moderate pleating, and the wider leg allows for a full brake at the ankles. The material is medium weight, with a generous mix of 53% recycled polyester and 43% wool (the rest is stretch material for even more comfort). Comes in three color options, but the royal blue version was our editor's favorite, and will go especially well with your favorite band tee and sherpa-lined trucker jacket.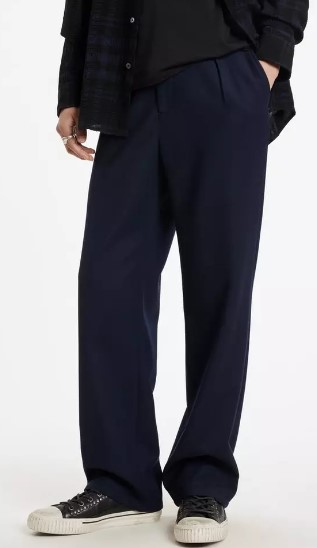 Cut from a cotton linen blend straight from Duca Visconti in Italy, these heavy cotton + linen mixed pants from Queens-based company Knickerbocker have modern double-pleating down to a science. The dark brown version will blend with all your autumnal favorites, or throw it on with this season's big brights to balance some neutrality with your fit.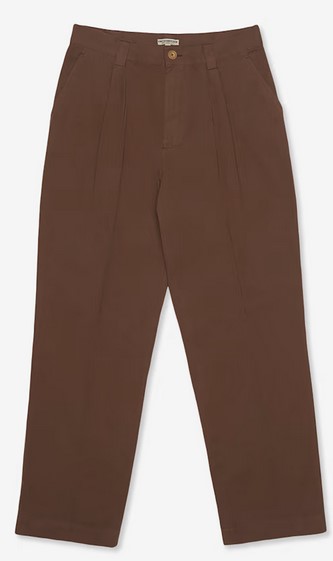 Finally, for more casual, but equally stylish, our editors have honed in on the Baker Pant from Barbour. With waist adjusters up top and generous cuffing with a "no break" at the ankles (i.e. ankles will show when standing), this dark navy blue pant is made for your weekend adventures or comfortable hang times with friends.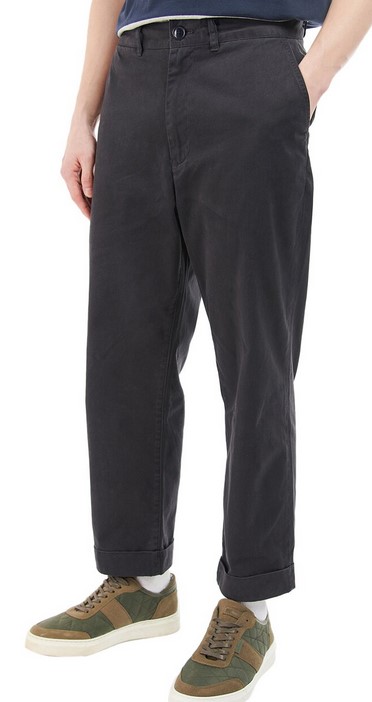 (on Sale NOW from $200)
WIDE LEG
Now it's time to go wide! But again, everything comes down to the right cut, lest you look like a middle schooler trying to wear his dad's suit. Wide cut men's pants need to be fitted to the waist so they can hang loosely around the hips for a relaxed yet stylish look. Moreso than any of the other pant styles, a wide cut will almost always require a proportional shoe to go with it. Cropped and no break pants (again, ankle showing when standing) looks great with a standard sole shoe or slim soled sneaker. Slight and medium break pants (pant leg ends at top of shoe or slightly covering top of the shoe) looks better with a heeled boot or dress shoe, or a standard sneaker. And for those embracing the full break (anything that hits the floor when standing) this is the time to pull out your luggiest loafers, chunky chelseas, and dad sneaks.
Off-White knows how to make statement pieces, and these grey virgin wool trousers are no exception. The materials and the sleek cut reads high fashion while the roomy wide legs and full break are pure streetwear. Chunky loafers and a sweater vest will elevate, or toss on a hoodie and your fav chunk sneaks and head out for the day.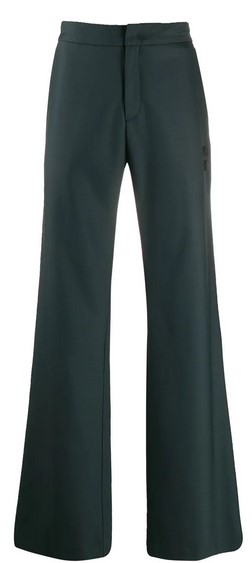 (on Sale NOW from $1,098)
When in doubt, you can't go wrong with corduroy in fall. These cropped cords by Hong Kong fashion brand Izzue are all about fresh style. These will go fantastically with this season's oversized blazers, grunge-inspired cardis and long coats.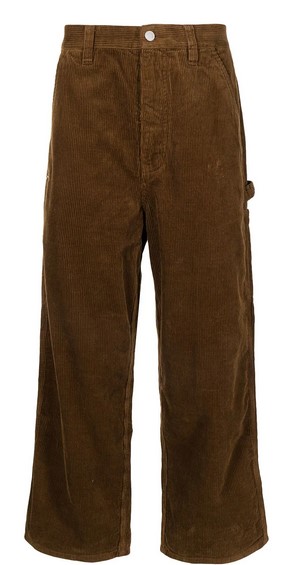 (on Sale NOW from $211)
A sagging waistline is telltale sign of a poorly made wide leg pant. These dark blue pants by Carhartt WIP have a very defined waist that allows for a flat front silhouette that doesn't require belting (unless you want to of course). Perfect for an oversized tee and bomber jacket, or make use of the nipped waist with a long sleeve slim knit top.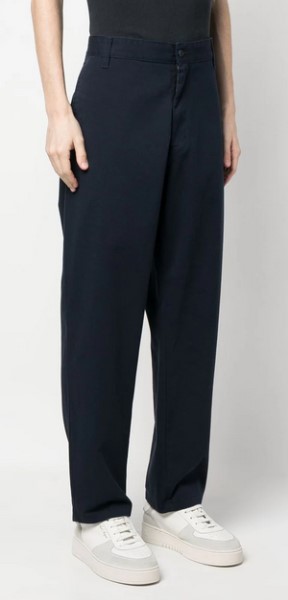 (on Sale NOW from $114)
WILDCARD: ELEVATED TRACK PANTS
Finally, we have the latest fashion glow up of the year – the elevated track pant. As the name implies, these aren't for your everyday squats routine. Designers are taking the well-known silhouette, with its tech and performance fabrics, and mixing in high fashion logos, luxe materials and even non-athletic patterns to create something that goes beyond simple athleisure and into an item that's up for date night, business casual or even formal events.
With a handsome plaid that would look right at home on any dress trouser, these elevated track pants from Karl Lagerfeld give homage to their gym rat counterpart with their drawstring and side stripes. But with a simple addition of a cashmere crew and a pair of Johnston & Murphy chukkas, these track pants are all set for a night on the town.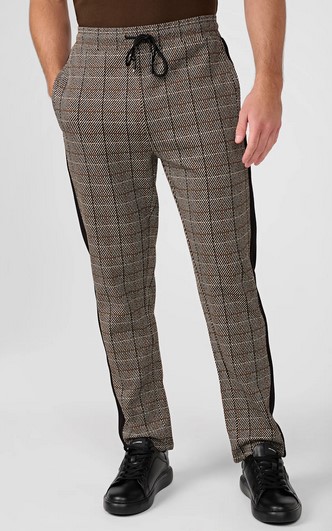 Well known for their ski clothing, French brand Rossignol is evolving several of their sport styles into fashionable clothing for off the slopes. This straight leg track pant from their new season shows off that DNA but these dark blues are definitely more après than ski.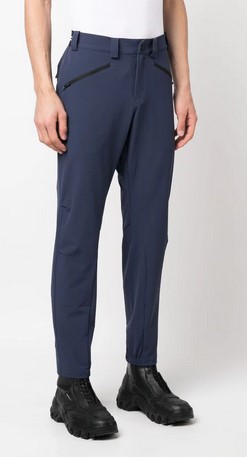 Finally, these Dolce & Gabbana track pants, with tapered leg and trouser-material cotton, could be an easy swap for your usual black dress pants at just about any event from casual to dressy.