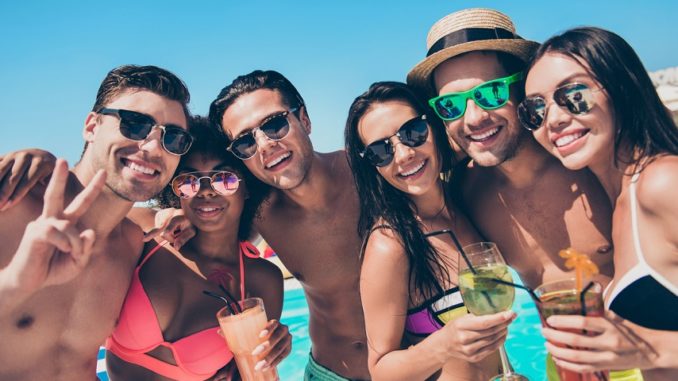 We're giving summer a proper send off with seven outfit options perfect for the festivities. Including apparel, accessories, sunglasses and shoes to get you in the holiday mood.
This summer has been quite the scorcher, and we're not done yet. Labor day is coming up soon and as the official last holiday of summer, we're all in for all the backyard BBQs, parties on the beach, and maybe even that one last trip up to the lake.

Speaking of fun in the sun, our first fit starts these exclusive shades from Blenders. Part of their Meister X2 collection, the Orange Circuit Special Edition are a collab with Oracle RedBull racing. With a clear gloss frame and polarized orange mirrored lenses, these brilliant beauties are meant to be seen. Grab a pair and instantly level up at your holiday festivities. To this we add Stoic's Fresh Air tee, with some equally fresh Feel Good shorts from Perk Clothing. They have a great slim fit with plenty of stretch for comfort. We round things out with some choice accessories, including the newly dropped New Balance x Teddy Santis 990s, a crisp check print bucket from Barbour and a handsome jasper bracelet from Satya Jewelry.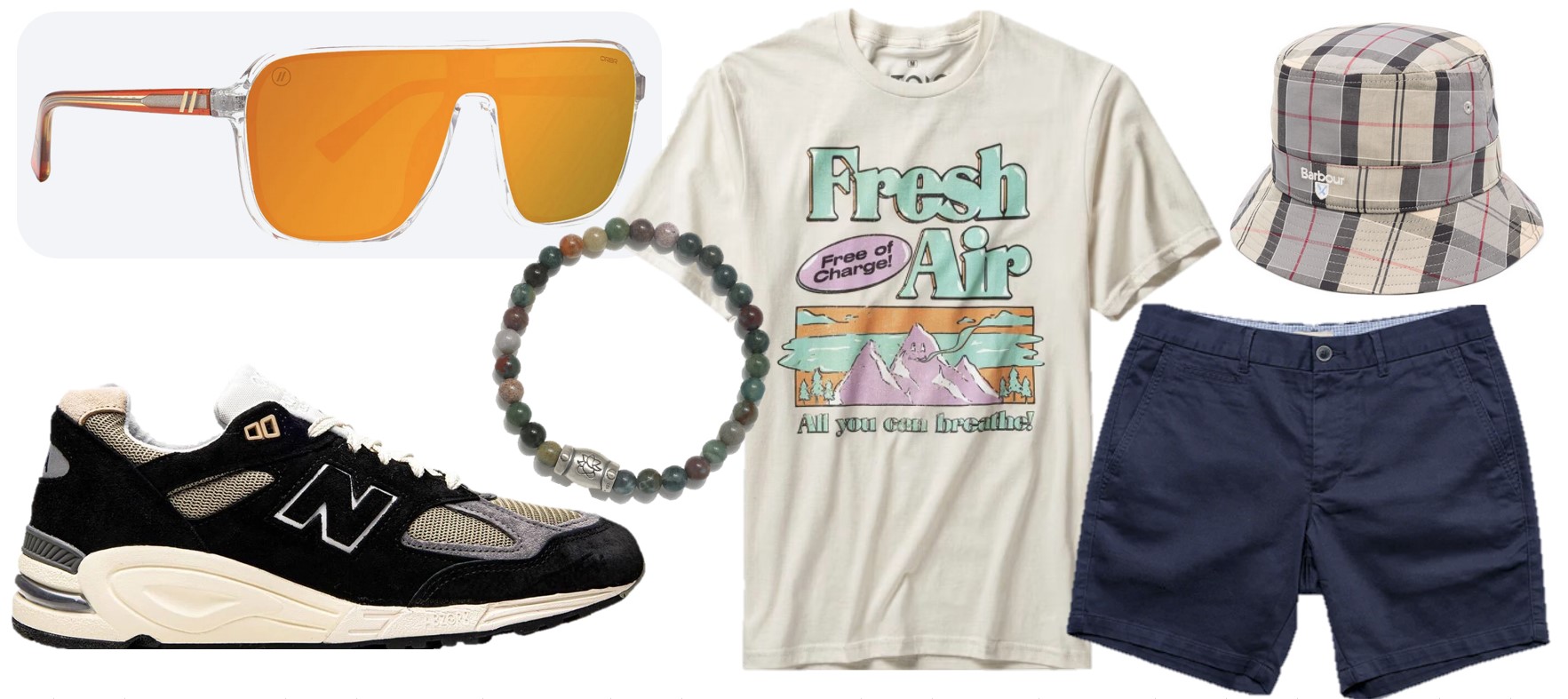 FROM LEFT TO RIGHT:
Next up, here's a water-friendly fit that drips and dries (ooh, bad fashion pun there). We start with Roark's cool moody graphic 2.0 water shorts. Patagonia's quick dry tech shirt and Reef's water sandals will continue to keep the water-friendly vibe going while we accessorize with Knockaround's polarized moonshine shades, the iconic adidas Beacon hat and some visual interest with Yield of Men's silver feather pendant necklace.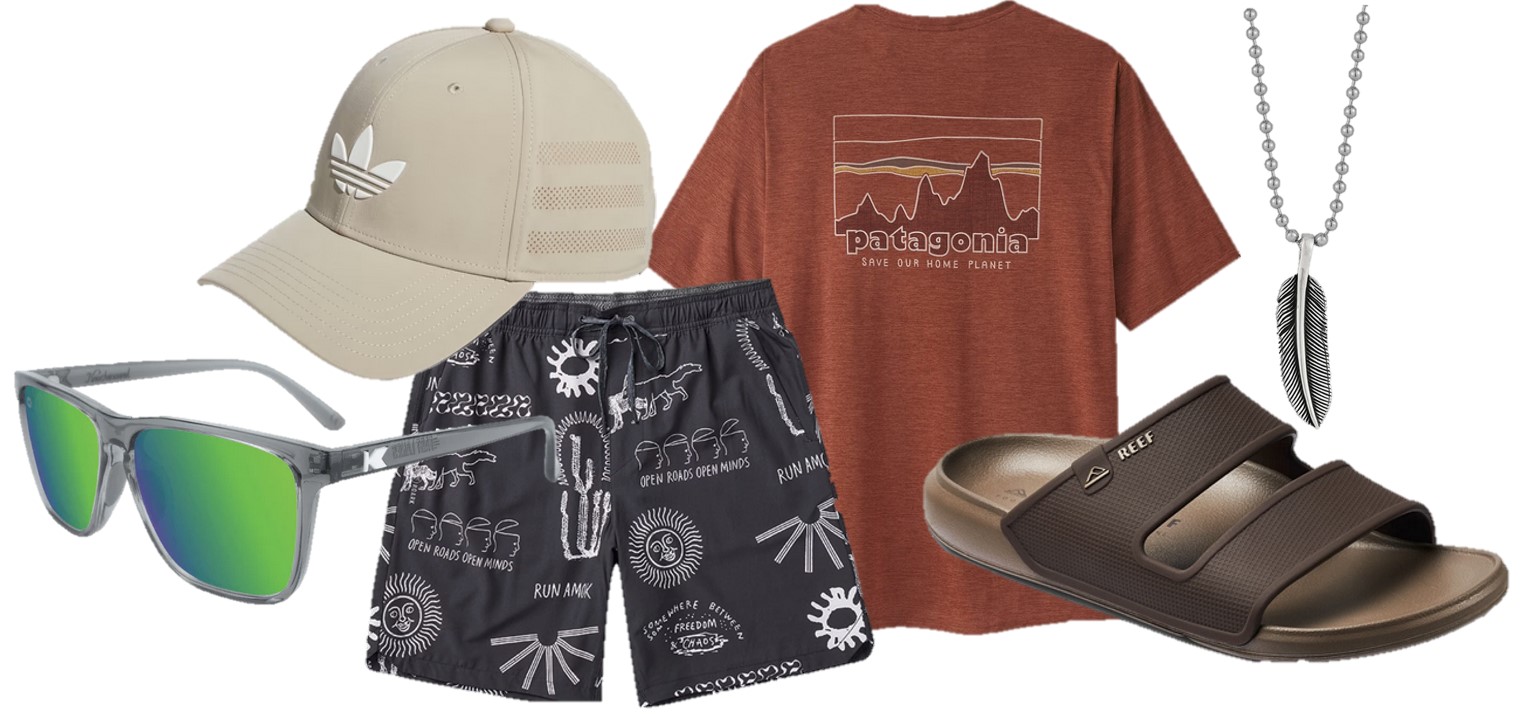 FROM LEFT TO RIGHT:
Looking to dress to impress at your gathering? It's the little details that matter. Like starting with a great tee. We chose the The Feel Good from Perk, which lives up to its name. Made with super soft, drapey Pima cotton, it has a tapered (not snug!) fit that reads quality from across the room. We're also big fans of the Nordic Blue shade that's not a color you'd find just off the rack. To this we add a 100% Irish Linen pant from Key West clothier Madda Fella. The sail white color and vintage style has major Dickey-Greenleaf-in-Mongibello energy. Keep things from getting too fussy by rolling those legs up and sliding into the classic Birkenstock Arizona in dark brown. Ray-Ban's aviators in tortoiseshell and a hefty onyx ring finish up this look nicely.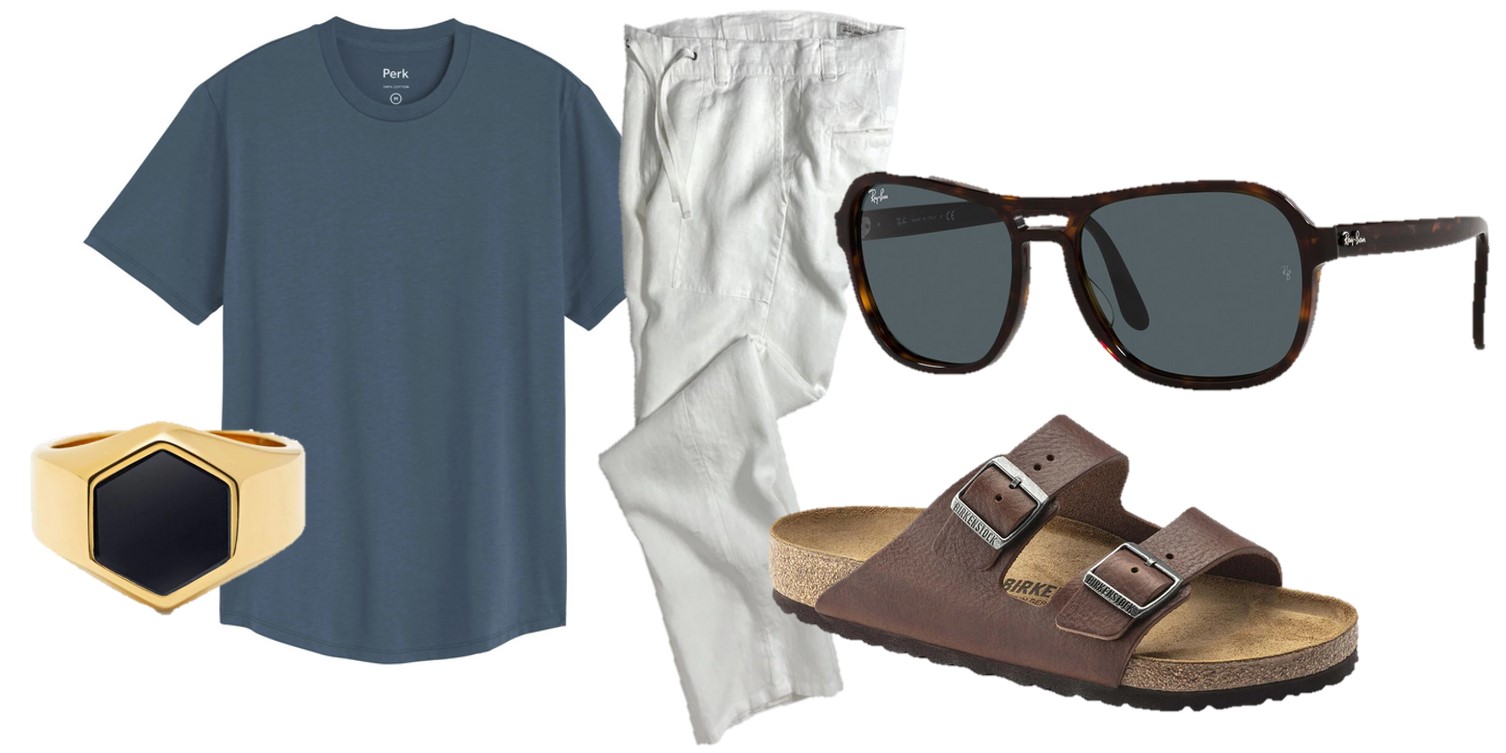 FROM LEFT TO RIGHT:
If a lowkey hike is on your Labor Day agenda, get your fit off to a good start with Mott & Bow's lightweight but sturdy Mercer jeans in military green. With 4 way stretch, they'll keep you moving in style. A lightweight, breathable boot, with a high-grip rubber sole for traction is always welcome on the trail, and these Pallasiders from Palladium Boots are all that and waterproof (in case things get soggy). Next, skip the expected tech tee and add some flair to your hiking game with Smartwool's printed short-sleeve button down. Not only does it look amazing, it's made for hiking, with four-way stretch-woven fabric and breathable Merino Sport underarm panels. A pair of Tifosi's shatterproof and scratch-resistant polycarbonate lens sunglasses give a little more swank to your look. And if you don't have one already, get yourself a fitness tracker and make those steps count. We found the iTouch Air 3 on sale for you. YW.
FROM LEFT TO RIGHT:
Backyard barbecuing with your friends is an easy and enjoyable way to celebrate the holiday. But you can still up your game. A pair of Joe's Jeans Brixton shorts in a cool Capri blue starts things off nicely. Then *mix* in some fun with a 50's inspired cocktail pattern polo, courtesy of Tipsy Elves. An equally inspiring pair of sun shields from Blenders keeps the party vibe going, along with a pair of newly dropped GV Specials by Puma. We finish up with a beefy box chain from David Yurman.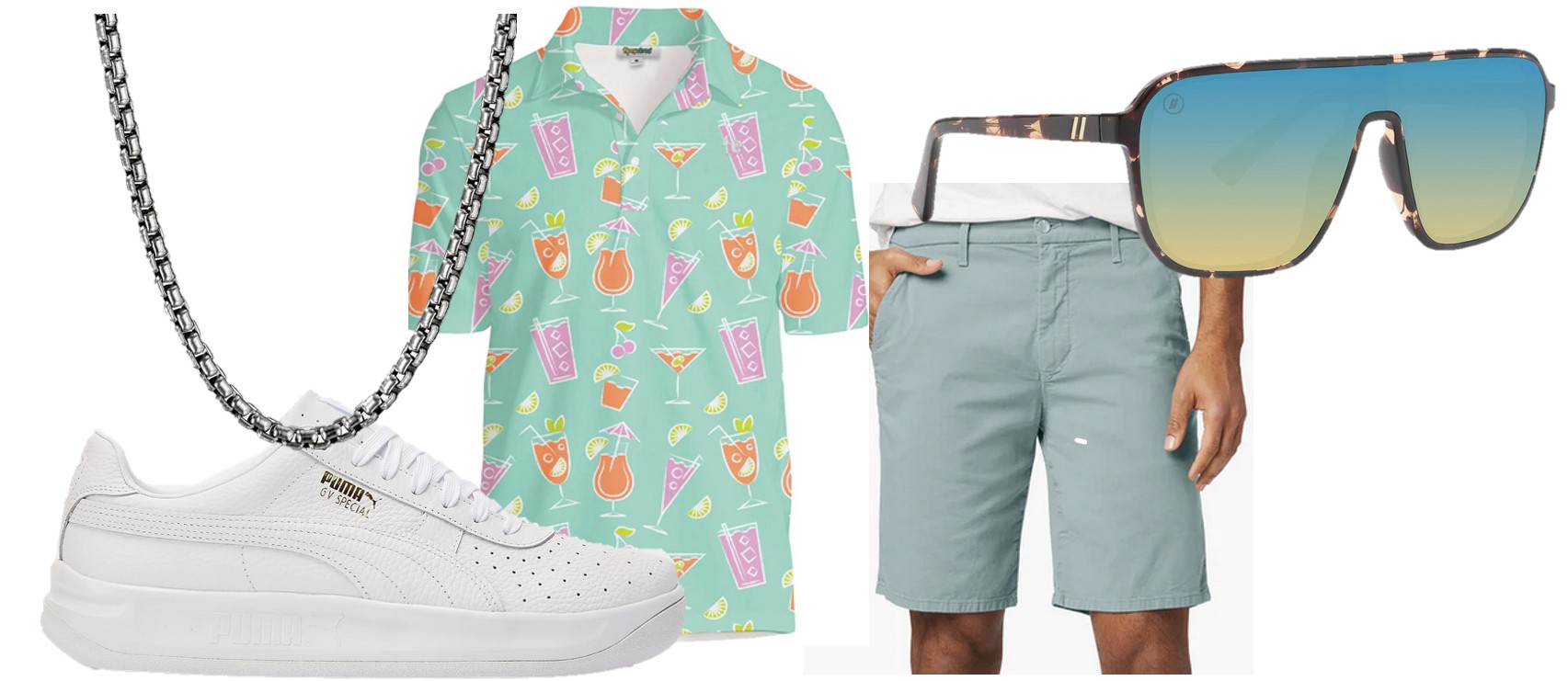 FROM LEFT TO RIGHT:
When the cabana calls, you must answer. Hanging poolside on a hot Labor Day can be as close to heaven as they come. So why not enjoy the moment by going a bit old school luxe? That starts with The Breakwater Cabana shirt by Line of Trade. Soft, easy-wearing cotton and polyester blend terry, it's got sunny days in mind with a loop for your sunglasses at the placket, along with a microfiber cloth built into the inside hem. Pair this charming masterpiece with some tropical print swim trunks and the quintessential adidas water slide. Finally we accessorize with some sleek pilot sunglasses by Carrera and just for fun, an inexpensive bracelet set (so no worries about chlorine).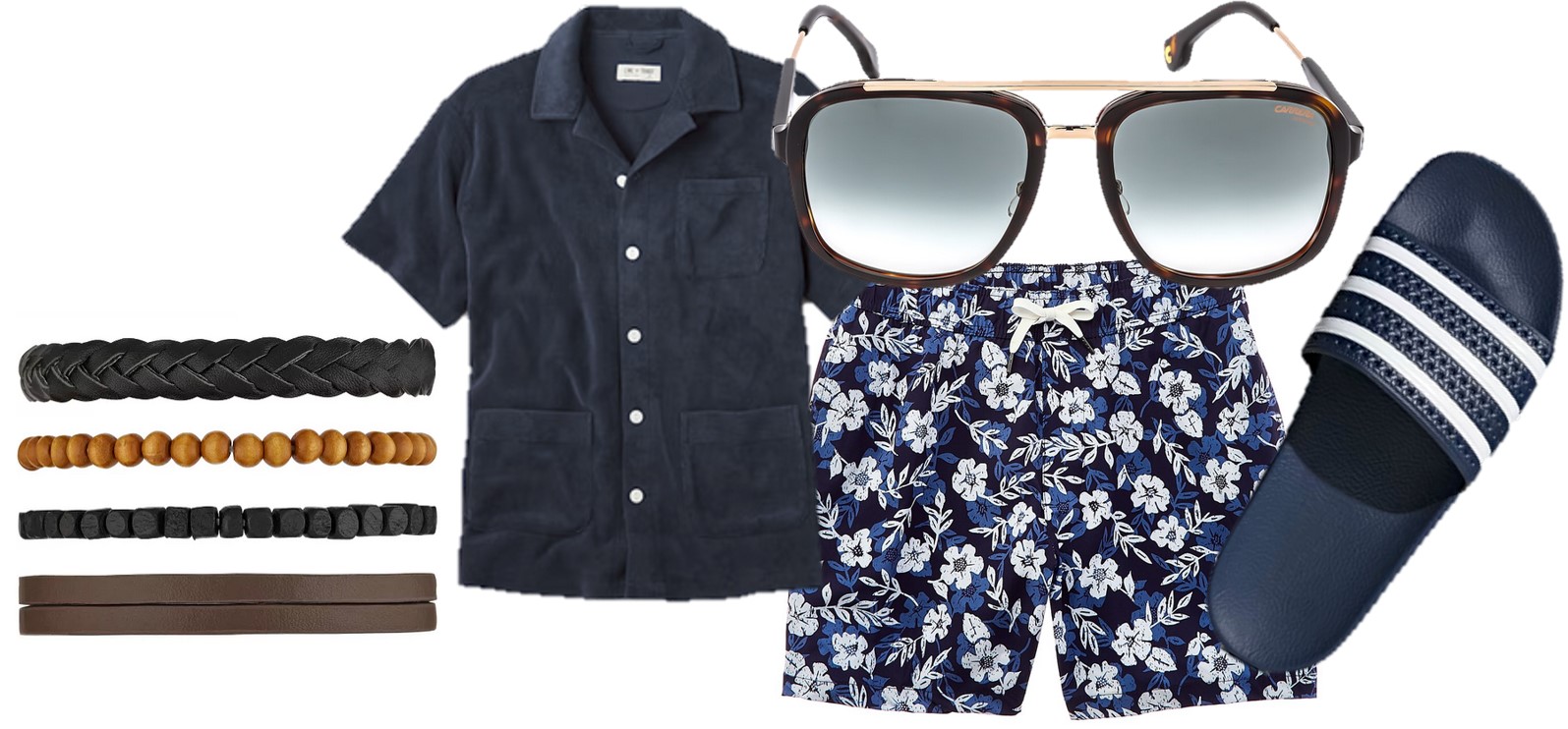 FROM LEFT TO RIGHT: