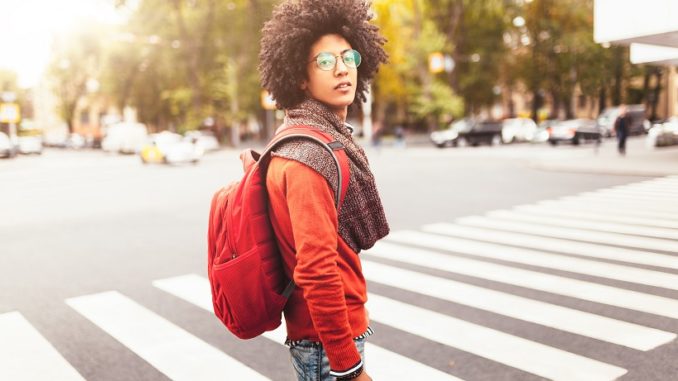 Whether it's edgy urban or off-duty, street style continues its wardrobe domination in our lives. And we're not complaining one bit. Seriously, who could possibly have a problem with wearing the trifecta of comfort clothes – joggers, sneaks and hoodies? Well, okay maybe with all the couch surfing we've all been doing of late we've slid ourselves into a rut. The great thing about a good street fit is that is hits that brilliant balance between put together without looking like a ton of effort. That can be trickier than you think.
If you're finding yourself in need of rethinking your approach, we've got ten great combos to get you inspired. Streamlined, a little edgy and all perfect for your off-duty ventures.

So, let's start off with some fun, namely with Ilustrata Design's Great Ramen-off tee. Next, a high-quality hoodie should be in every guy's wardrobe rotation. This super soft spun fellow from Legends will easily be the one you reach for time and again when a little layering is required. Top that off with adidas' lightweight Y-3 puffy that has a cool, distressed look (kinda like a gladiator's chest plate, but easier to get through airport security). Stretch slim chinos in burgundy ground the look while a pair of old skool adidas kicks lend a little skater vibe (bonus – these come with a built in OrthoLite sock liner so you can confidently wear sans socks without blister or odor worries). Top everything off with rag & bone's Addison baseball cap who's cool colors and textures are 100% recycled materials.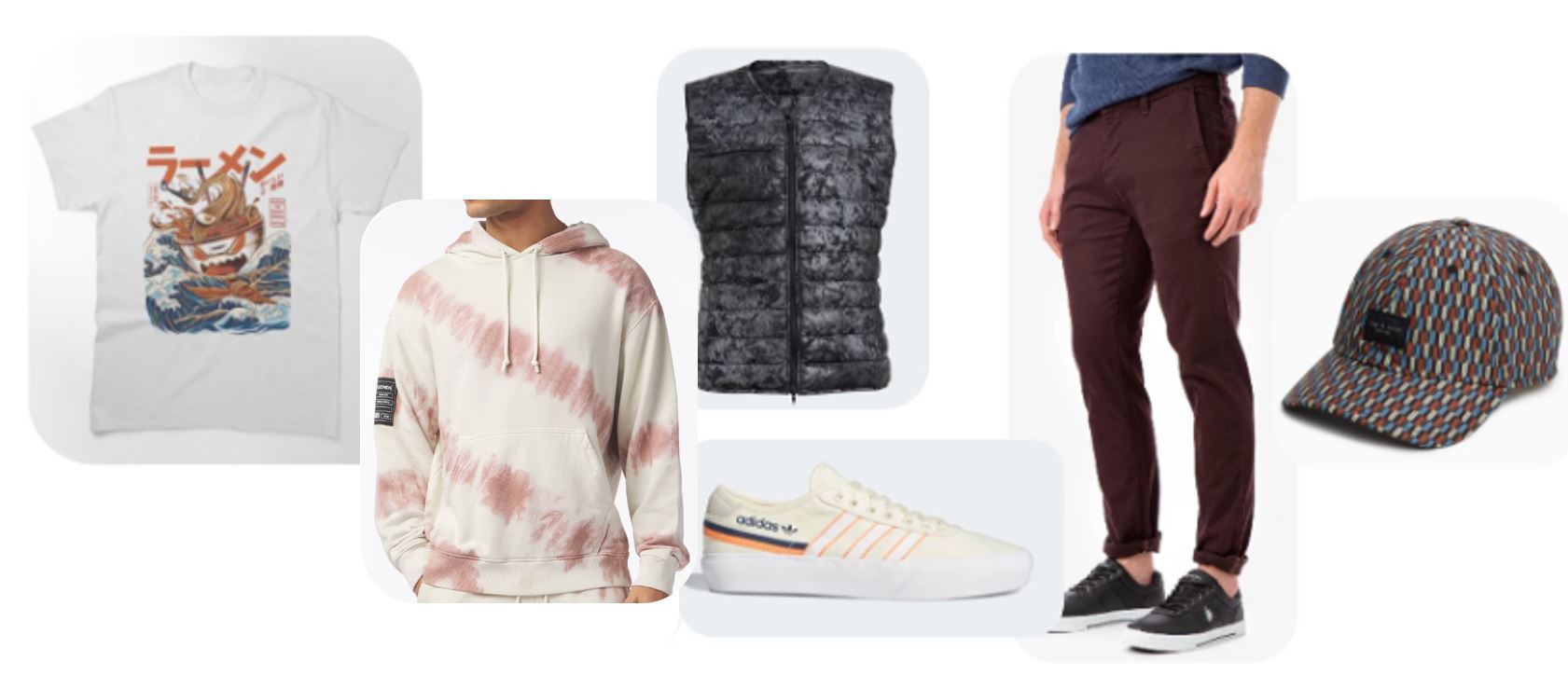 From Left to Right:
Let's talk track jackets, shall we? If you can only have one track jacket in your life? This. Is. It. The adidas Adicolor Primeblue is perfection, especially in black and white stripes. It literally oozes OG rapper. Underneath, wear this ultra-soft, micro spun Merino wool from Smartwool. It breathes better than cotton and naturally wicks away any armpit humidity you may be dealing with. Speaking of OG, grab a pair of Fox racing moto joggers and inject a little A$AP Mob into your fit. Last, mix things up with this unexpected sneaker-meets-loafer from G.H. Bass' Weejuns 2021 collection. Slide on GnH's black steel signet ring and you are set.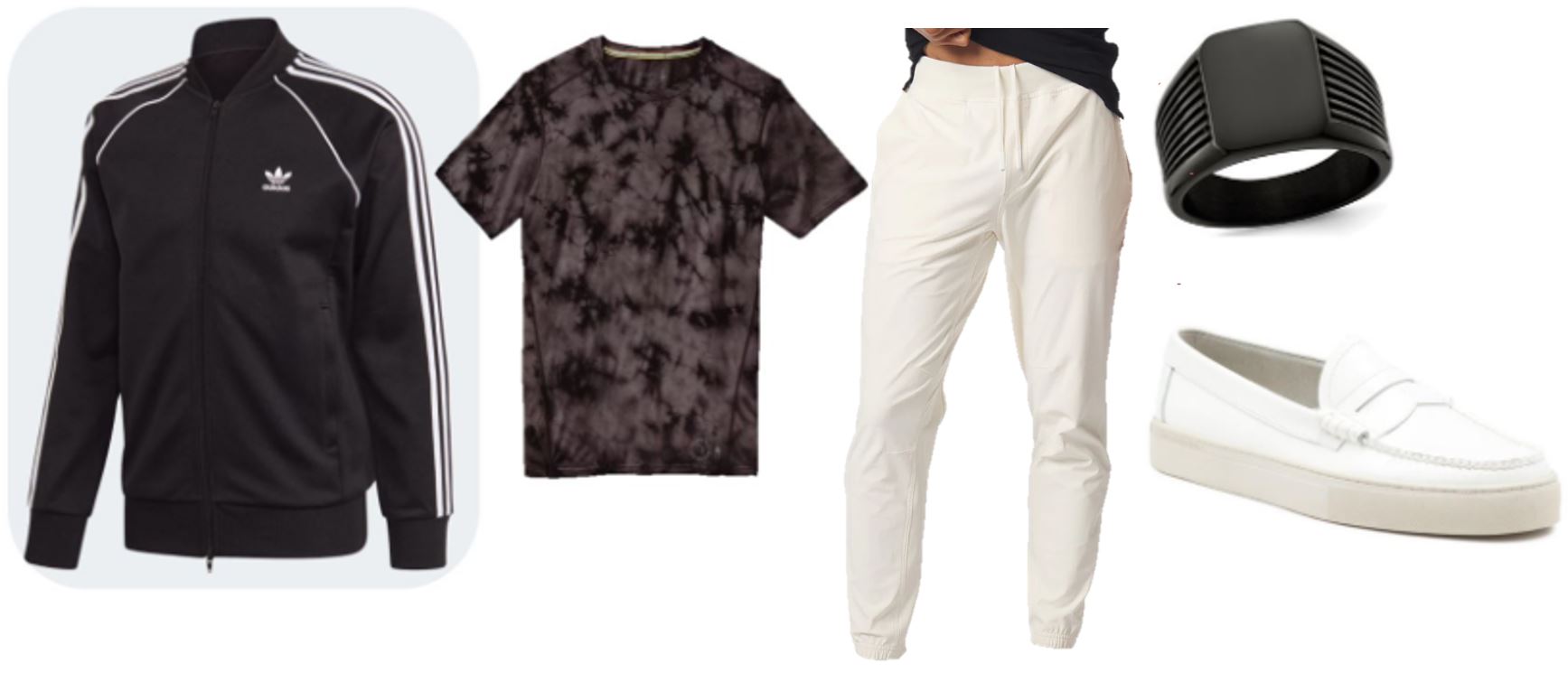 From Left to Right:
Okay so maybe your street leans more prep. Or maybe you're looking for that perfect cazh date night scenario. Start with American Giant's new arrival, the Stepped Up Sweats. 100% super soft ponte knit, they're cut like your favorite slim pants but way more comfortable. Polos are pretty much the de facto uniform for preppy but we like how this version from adidas' golf collection has a tailored expensive look; the black detailing really brings it to next level. Toss on Fila's logo-centric windbreaker in case your wanderings take you someplace breezy. Jivago's watch will keep you on time (and it's on sale to boot). Last, we keep things sleek and minimal with a black onyx bracelet from David Yurman, and spot on quite possibly the best lowkey black sneaker this season. The Nizza shoe by adidas is a reissue of the classic 1978 B-ball trainers that looks altogether fresh and polished for today.

From Left to Right:
Athleisure and street may look close (and you can argue they overlap a lot) but they are at their core very different creatures. While it's entirely possible someone could mistake your athleisure ensemble as you heading from the gym, street has a more concrete jungle feel to it. Case in point, while these jog-track pants by RYU could easily fit into your running routine (if you have one), the iconic 1968 suede Puma classics show your fit as more subway than treadmill. Add in a cool Stan Smith tee from adidas, an Acne Studios messenger bag and Timberland's Archive full zip to create your new lowkey cool look for running errands.

From Left to Right:
Let's talk color pop. These iconic Puma track pants have enough swag to built an entire look around them. Embrace that nineties vibe and layer on an eye-catching FFF top from Nike. To keep from veering too far into the zone, complement this bold look with a few neutral accessories. An R.Y.U. vest from adidas, some square frame shades from Off-White and super casual boots from Timberland help keep the feel retro without going Fresh Prince overboard. Oh, and just because we freakin loved this the minute we saw it, we'll throw in the homage Santa Cruz Screaming Hand bracelet for a cool talking piece.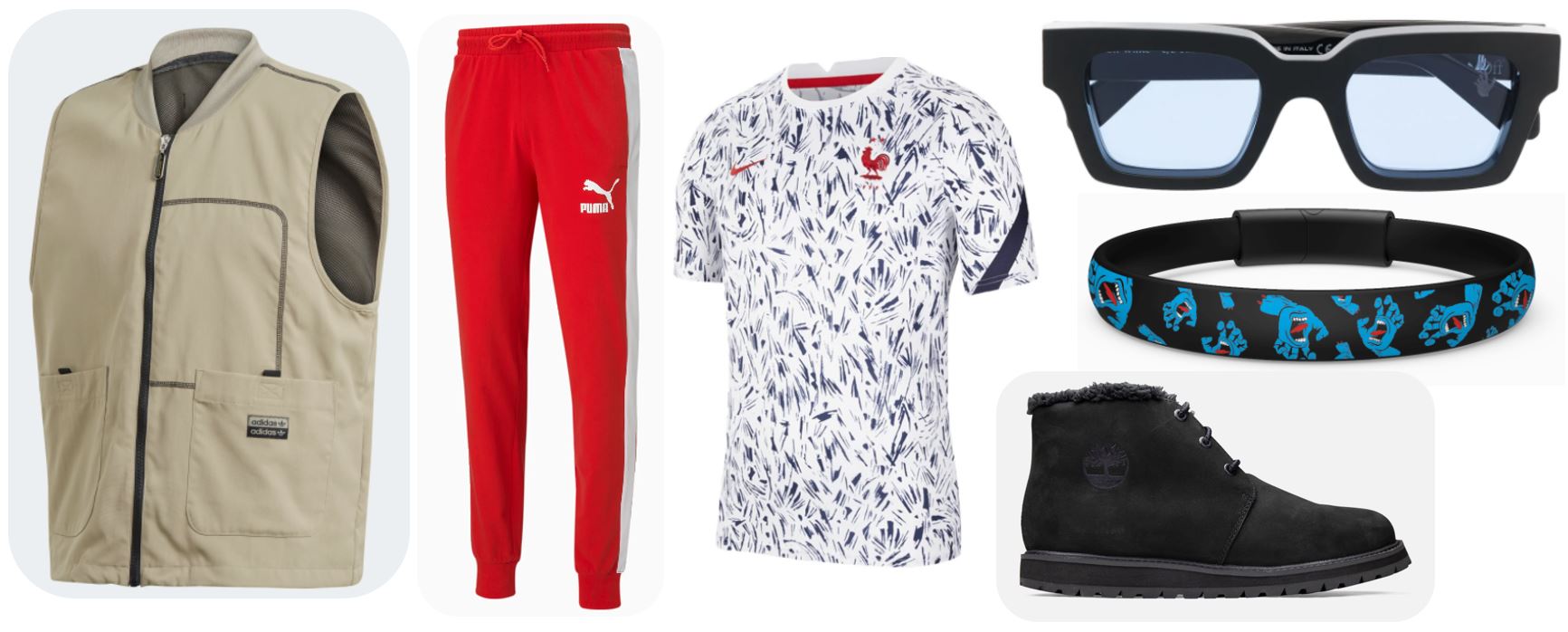 From Left to Right:
Feeling like channeling some Londoner? One thing that often sets us apart from our brothers across the pond is they are never afraid of mixing it up with patterns. This collab tee from Puma x Mr. Doodle (aka London based artist Sam Cox) is your bold choice to start. Take your cues from the colors of the shirt and plan your fit around it with mustards, like this Timberland Solar Wave sneaker boot and Vuori's Sunday Performance Jogger. Then top it off with blues like the Wolverine watch from Shinola and the adidas' MW Track Jacket (yes, those are stripes and yes, they do work).

From Left to Right:
Hanging out with friends at a lowkey party is a great way to show off your ability to hone a chill street feel that still looks put together. And we cannot think of anyone more drip than Bruce Lee. Otilia Tittle Tittle is whom to thank for this incredibly cool t-shirt that starts our look. Layer on an unzipped adidas FB Hype Vest made from Primegreen (a high-performance recycled material). Keep things interesting with rag & bone's jean jogger, complete with a J. McLaughlin striped belt. Lastly, these are your friends remember, so keep it light with some slides and a quintessential beanie.
From Left to Right:
Continuing the chill zone concept, here's a look that's perfect for hanging outside with the bruhs. These olive track pants get an upgrade from the usual with a slimmer fit and some edgy menswear-inspired patches. Add your layers up top starting with RYU's Vapor long sleeve tee (4-way stretch equals instant comfort) and a color-popping floral shirt from The Kooples. Show off your high-tops-meets-Mandalorian style with adidas' Terrex Parley shoes. A wooden bead bracelet from Jean Claude and some Gucci sunglasses kick everything into high gear.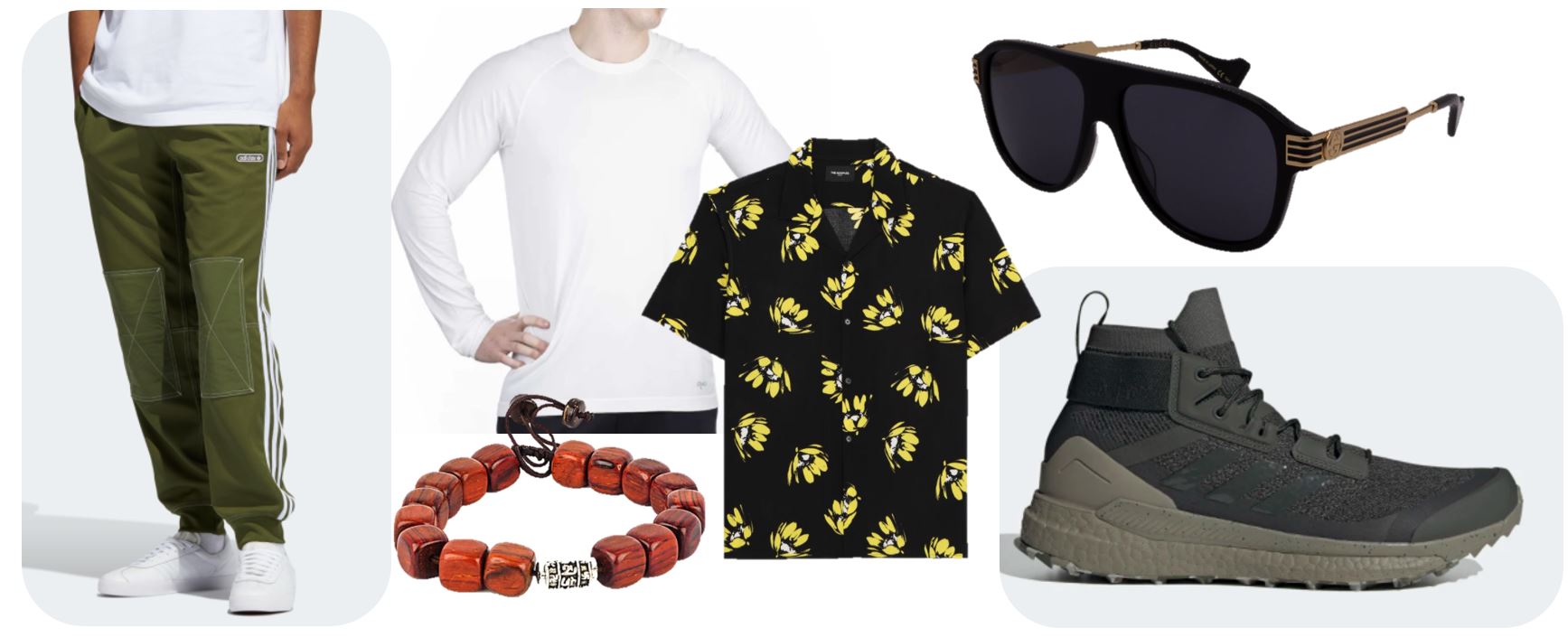 From Left to Right:
Mixing street with minimal? Absolutely my man. Start with this beige Palm Angels track pant in a classic cut, and then bold it up (ever so slightly) with Ethika's Bolt Tee. Layer on our new-found favorite, a full zip hoodie in Irish Wool, then accessorize with Nike's white-on-white Court Vision Low and slide on Qalo's Strata Silicone Ring that looks like a cool leather jewelry piece you picked up at some thrift store (except this one won't crack or stretch out).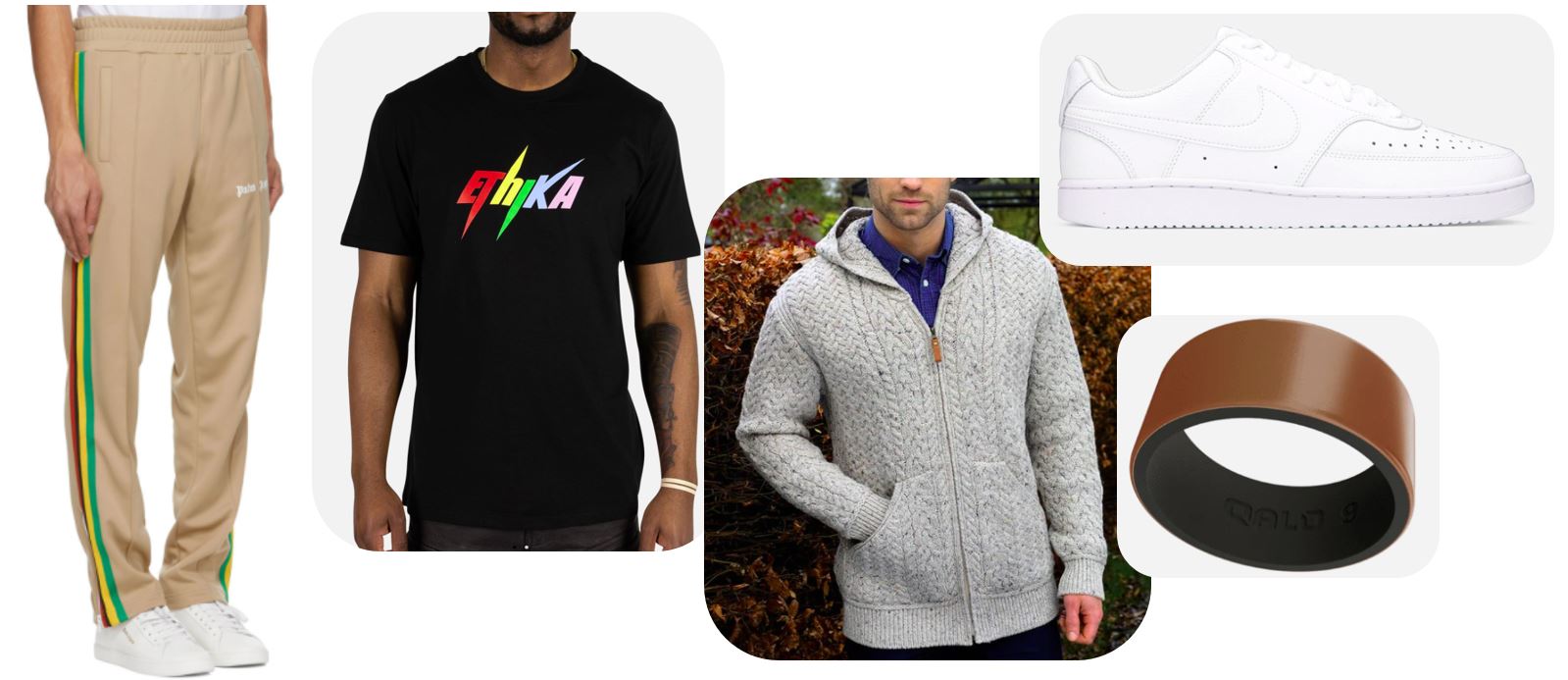 From Left to Right:
Saved our best look for last. If you love street and take your fashion seriously, this look will not disappoint. There are track pants, and then there is what Fear of God can make for you. Black leather perfection that, no kidding, will set you back almost two stacks. Pair it with the Premise Basic tee topped with Fox's Decrypted Woven shirt. Krewe's St. Louis oyster mirrored shades are a classic investment piece you'll have for years to come. Same goes for Varvatos' low top black leather sneaks. Cherry on the top is David Yurman's hand forged carbon tag necklace. This look reads under the radar big drip.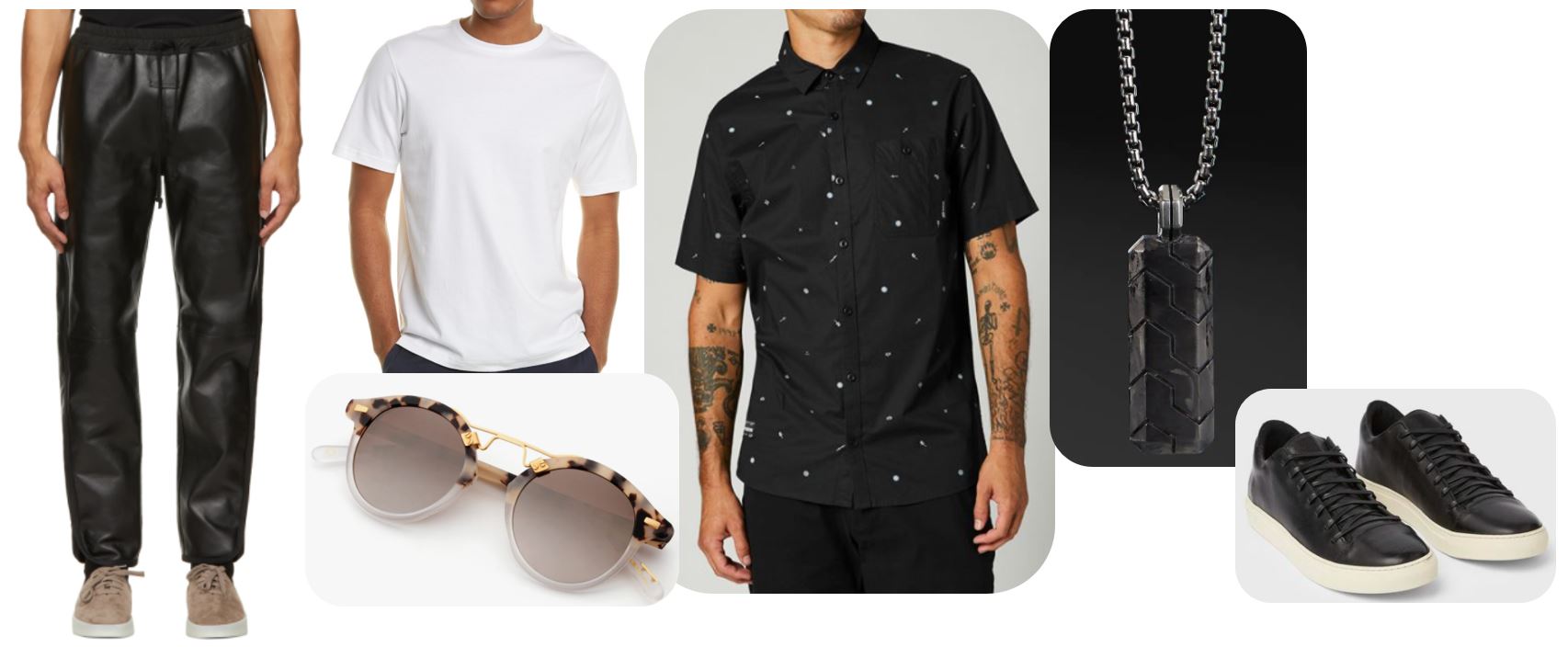 From Left to Right: