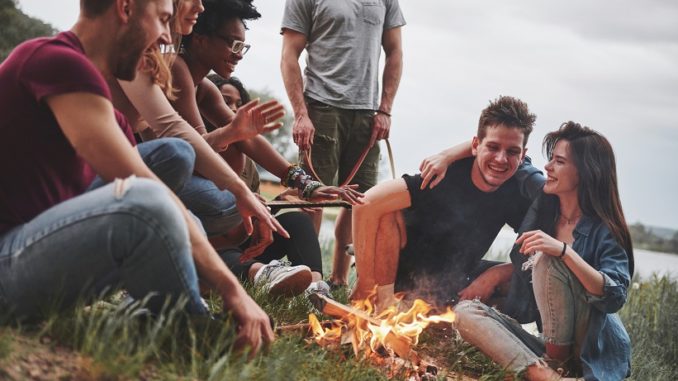 No need to choose between sturdy and stylish, we have 8 full looks that will withstand the rigors of your exertions, and still having you looking good when you get to the lodge for that well-deserved beer.
Who doesn't crave some time in the great outdoors? The fresh air, the friendly comradery and maybe a few flex pics of you looking just the *right* amount of rugged against some amazing skyline. Regarding that last point, how's your outdoor fit game? Our editors have put together some of their favorites that will have you feeling and looking good from first step to last.

EASY DOES IT DAY HIKE
One of the best things about taking in the outdoors is you can do as much or as little you like. An easy hike that only takes an hour or two is still a great way to get a workout while boosting your mental health. And doing it with a group of friends, family or maybe just carving some quality time with your S.O. makes is all the better.
Easy hikes don't require a ton of equipment, and if the path is well traveled and maintained, a good pair of grippy sneakers en lieu of expensive hiking boots should serve you just fine. These low top performance sneaks from Skechers have a high traction outsole that'll get you over terrain quickly, so even if you're not the most mountaineering type, you're feet won't hate you later. You can also have a bit more leeway with your wardrobe. Of course, you still wanna look put together, so consider starting with a performance fabric tee and a light outer layer to keep you warm while you're getting warmed up. New Balance makes an excellent, moisture-wicking pullover that does the job. Backcountry's hybrid shorts are made for short hiking treks, with lightweight synthetic fabric that dries quickly. And of course, a handsome pair of shades that will keep your eyes protected and looking good for whatever post-hiking activities you head to, is key. Blender's square-shaped Canyon frames have a cool, polarized, copper-tinted lens version called Gold Punch that looks like a million bucks, but will only set you back around fifty.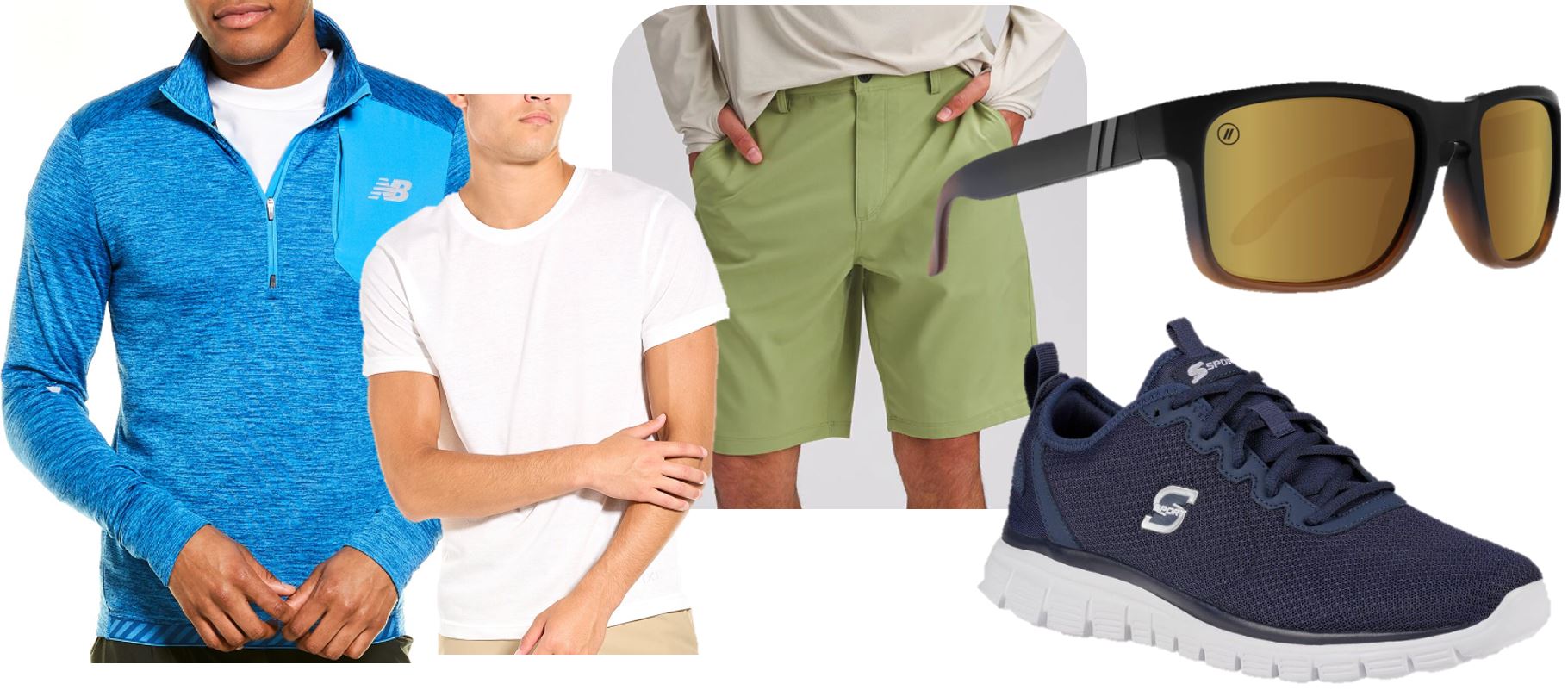 From Left to Right:
DON'T SWEAT IT
Whether it's sandy trails or slot canyons (or both), when you and your compadres are adventuring in desert climes, you need a fit that puts ventilation first. That's why we like this shirt and short combo below. Ultra light and seamless with 4-way stretch and UPF 50+, this muscle shirt by RYU has engineered side zones for increased airflow and sweat-wicking. Stoic's aptly named Desert Short is made of durable ripstop with a mesh lining for ample ventilation. Moving safely between sand and rock doesn't mean you have to settle for a heavy handed hiking boot. The Terrex Swift Solo Approach shoe has a high-grip Traxion outsole, plus adidas's Pro-Moderator stability technology inside, giving you the best of both worlds.
And while it goes without saying that you should lather up on the sunscreen, don't forget your eye and head protection! UV protection is especially important in desert environments because sand, like water, reflects sunlight back at you. Knockaround's polarized Premiums Sport line offers a whopping UV400 protection…that's a level you rarely find in a pair of shades for under $100. The Premiums Sport also comes with rubber nose pads, so they stay put even while you sweat. And if you do manage to drop them, the lenses are impact resistant. They come in a ton of styles (including a custom design-your-own). But this Desert frame style? Obviously calling your name. Last, but certainly not least, Columbia's Bora Bora Booney II hat crushes down easily in your knapsack but snaps back into shape when you need it. It also has a sweat-wicking headband and a mesh back panel for extra ventilation.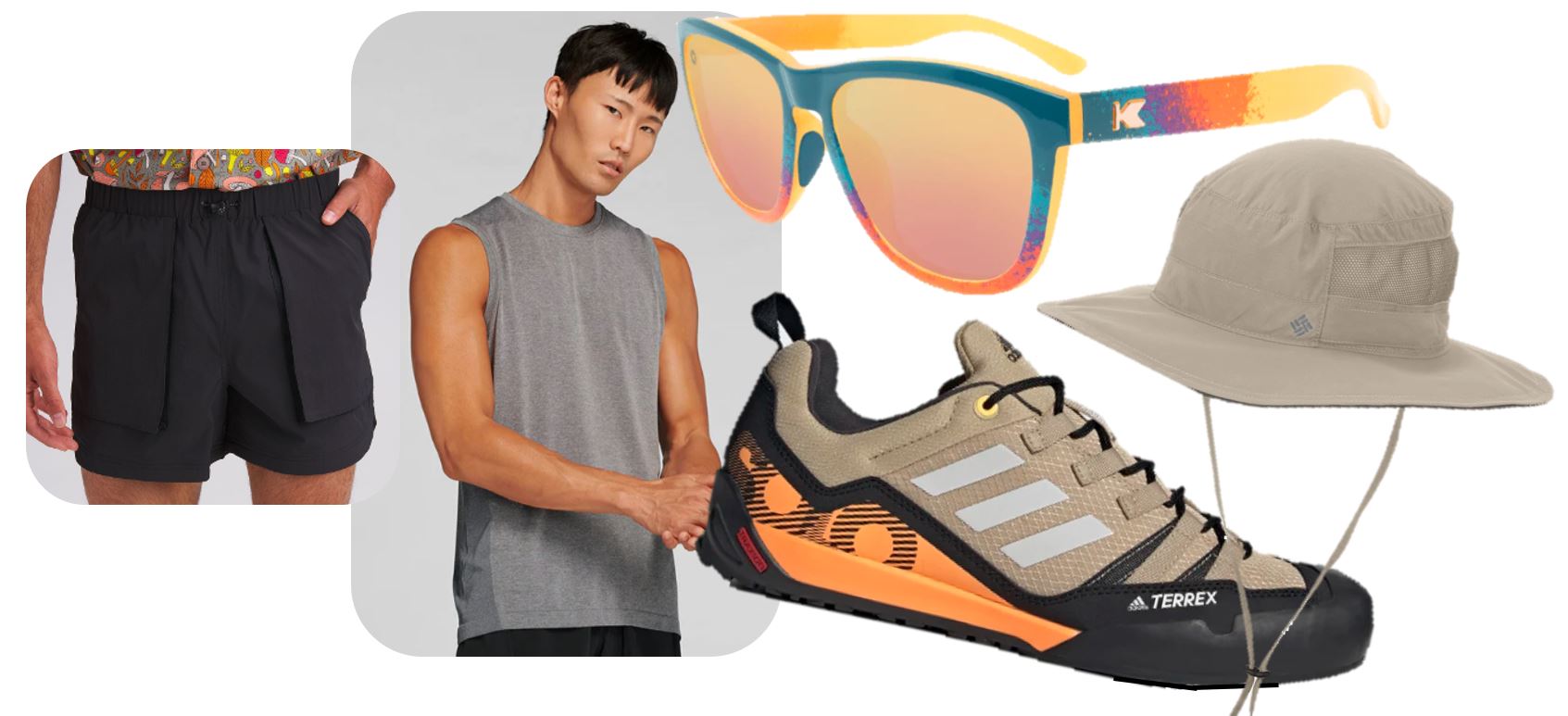 From Left to Right:
DON'T RAIN ON MY PARADE
Not every hiking experience will be blue skies and sunshine. But so what? Hiking in the rain with friends offers a unique chance to experience your favorite hikes with a lot less foot traffic. Of course, all that cloud cover won't make for a good time to go on a summit hike, and you should never hike anywhere that has a history of flash flooding, but forested areas with dense canopy are absolutely ideal for a great rainy day hike.
So in addition to your friends and fortitude, you'll need to carefully consider your wardrobe choices. First off, a proper waterproof boot with serious grip is a must. Columbia's Newton Ridge Plus II has been an OG go-to for rainy trails for a reason. It's coated leather and seam-sealed construction is leak proof, the mesh upper panels provide breathable ventilation, and those technical rubber lugs keep you firmly on terra firma. Next, you want a base layer shirt preferably of performance fabric (cotton absorbs moisture). Legend's Enzo tee is anti-microbial and moisture wicking and will work perfectly in tandem with the Terrex Rain.Rdy hiking jacket. Made in part with recycled materials and crafted using advanced waterproofing materials and construction, this jacket will keep you comfy and dry. Lastly, we add the Stoic Multi-Pant to the list. This fellow has a DWR treatment for water resistance, but is also made with 4-way stretch for maximum maneuverability. The bottoms also have a cinched cuff option, if you and your companions find yourselves navigating through some deep puddles.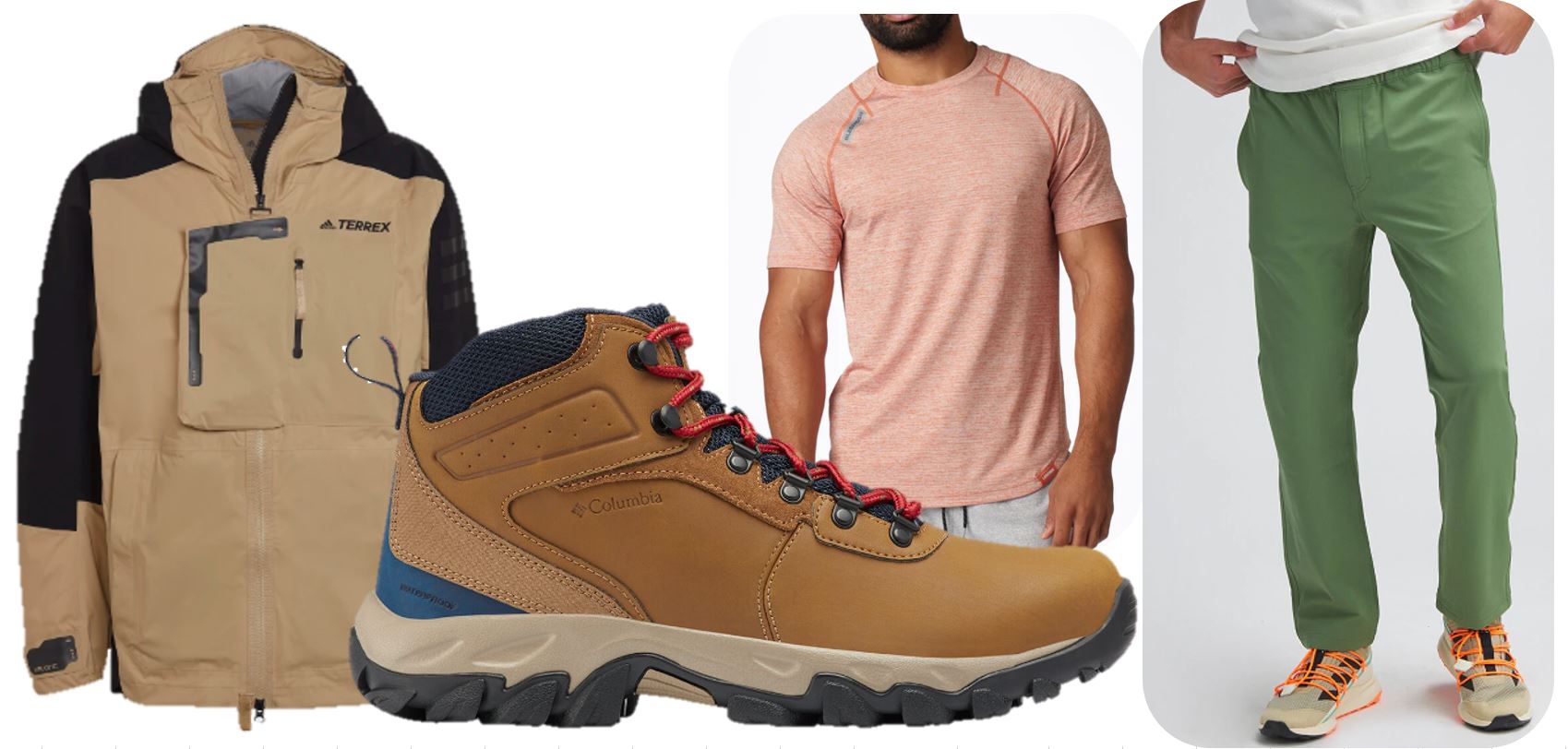 From Left to Right:
DOUBLE-DIPPIN'
Hiking and water activity are a fantastic combination. A little physical exertion to get the blood pumping, followed by a well-deserved dunk in some cool water is a great way to spend the day. Whether the hiking destination is river or lake, waterfall or beach, you want a fit that can handle getting you there in one piece and be water-friendly.
Merrell's Moab 2 hiking shoe is our Editors choice for these activities. Why? Its performance suede leather and mesh breath easy, while the bellows tongue keeps debris out. There's a protective rubber toe cap, super grippy lugs for traction and the external heel loop makes them easy to pull on. Plus it's lightweight construction won't make it a drag once you're in the water (unlike those heavier boots). Speaking of keeping things afloat, if you haven't heard of Blender's Float 2 O sunglasses series, then let us be the first to tell you! Not only are they polarized, and have an anti-salt water coating, they're made to float…so no more unfortunate sacrifices to the lake, river or ocean. Plus they come in a bunch of very cool color options. As for apparel, Mammut's Moench quick-drying synthetic tee will keep you cool in and out of the water, and Kavu's H2O shorts are (as the name implies) designed for hiking from land to water and back again.
From Left to Right:
BLAZING A TRAIL
Running is one of the best cardio workouts. So what could be better? Research shows that trail running burns 10% more calories than road running. Not to mention greater results on increased balance and stamina. Looking to join your fellow running squad on some trails? You're going to want to focus on a fit that's lightweight, ventilates great and will hang on securely for the ride.
Any running means getting a good running shoe, but when you add in elevation changes, shifting ground and uneven surfaces…simply put, you need a trail running shoe. Hoka's One One Anacapa trail runner is a fantastic shoe for both beginners and intermediate trail runners. The compression molded EVA midsole gives you plenty of shock absorption, while the extended heel and Vibram® Megagrip rubber gives you major grip. For clothes to keep you cool, both adidas's Break the Norm running tank and Legend's Luka shorts have plenty of perforations for air flow, plus moisture wicking and antimicrobial fabrics. One thing you definitely don't want happening? Losing your shades. Knockaround's Torrey Pines Sport have embedded rubber nose pads to keep them on your face whether you're looking up or down. They're also super lightweight polycarbonate, so they won't slow you down. Plus with plenty of frame style options, you can have some fun and inject a little color in your look (as we did with these Torrey Pines Sports called Cubic). And of course with any run, hydration is key. Nathan's 2.0 version of their cult-inducing Trail Mix Plus running belt includes two 10oz flasks, plus a decent sized front pocket perfect for stashing your phone, keys and a few energy bars.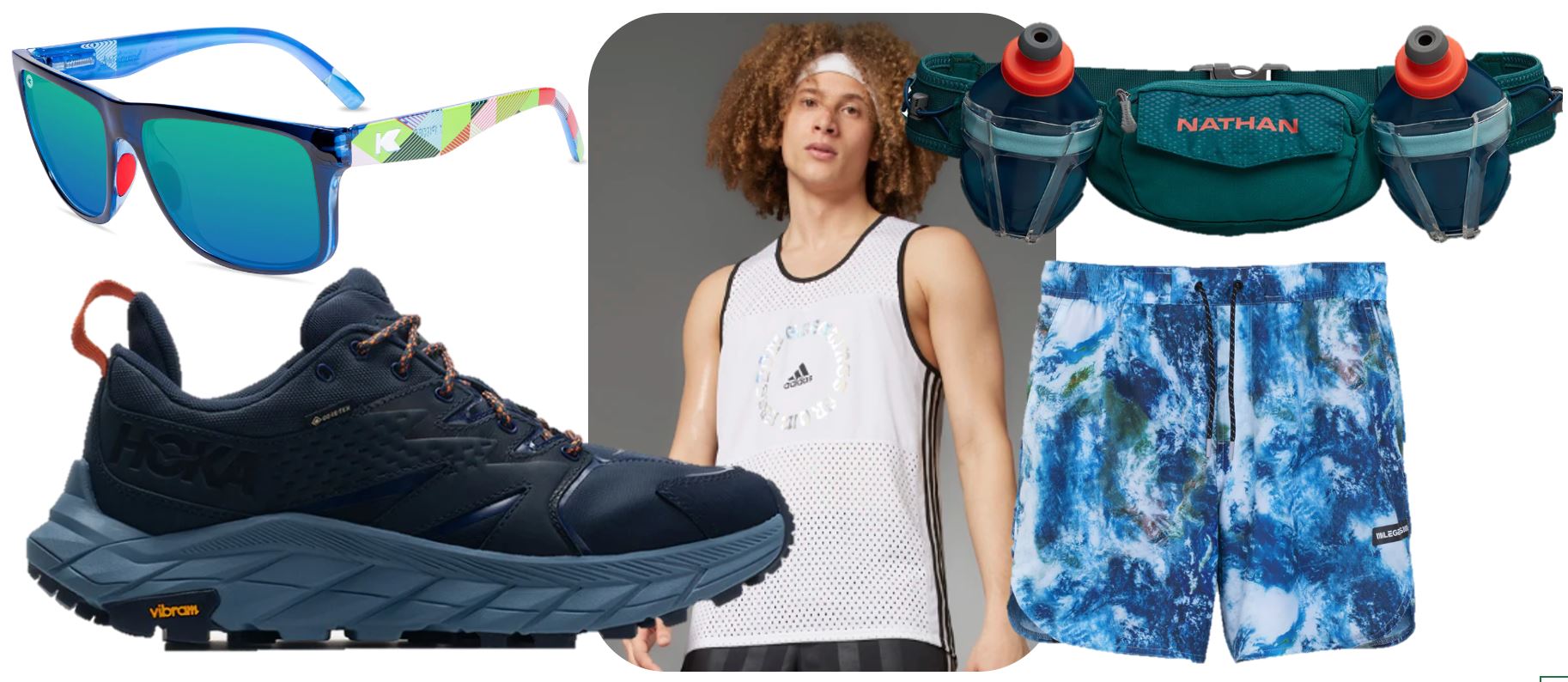 From Left to Right:
DON'T BUG ME
Hiking in deep woods can offer up some of the most beautiful scenery and welcome views. Something that's not so welcome? Dealing with uninvited trail friends, like biting bugs and rash-inducing ivies. If you're next planned expedition is leading you into thick vegetation, you're going to need some gear to help you come out unscathed.
With its reinforced seams and gusseted crotch, the Radikl Pants by Kuhl are strong but also breathable and stretchy. The easy fit also adds a nice layer of protection against any pesky mosquitos or biting flies you may happen across. For your top layer, Smartwool's Ultralite Anorak is more than a safe bet. It has a half zipper for venting, double-welt hand pockets, and adjustable cording at the waist and neck. Plus the nylon outer shell offers great resistance against insects. For your base layer, a long sleeve offers the best protection, but can be challenging in keeping you cool. Enter RYU's Vapor long sleeve, which as strategically place mesh zones to increase breathability while the Polygiene® treatment inhibits the growth of odor-causing bacteria. Last, a mid top hiking boot will help protect your ankles from any exposure (insect or plant). Merrell's Moab Speed is an excellent choice, and is waterproof to boot.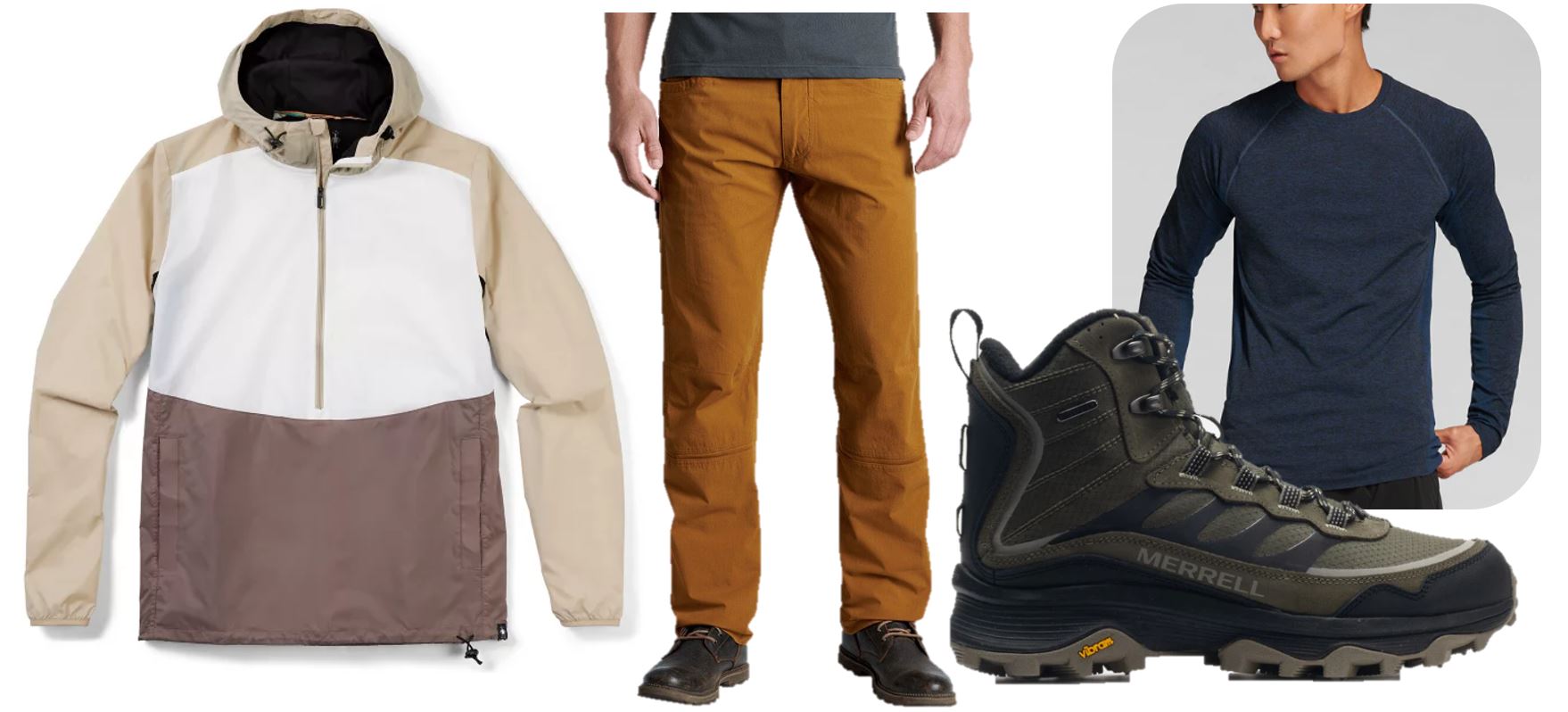 From Left to Right:
L-E-VATION
For first-timers going on an all day hike, there's nothing quite like starting from a valley floor and ending up at the top of a mountain. But major elevation changes can be a real challenge, and we're not just talking about the altitude. What you wear needs to be much more adaptable as you move through a lot of temperature changes. That cozy pullover which warded you against the chill in the morning valley isn't going to be nearly as attractive to you once you hit the higher temperatures mid day.
Stoic's zip-off pants pull off some amazing double-duty. Perfect for keeping your legs warm as you start and then they easily zip right off into shorts when the weather changes. For your layers up top, Smartwool's Merino ultralite tank is made with a blend of ZQ-certified Merino wool and Tencel™ performance fabric, so it will keep your core warm when it's chilly and when you break a sweat, it's got your back. Speaking of back, Four Laps reversible jacket has a rain proof side in the event of an unexpected shower, but easily reverses to a fuzzy sherpa outside for when you need some warmth. Last we have a multi-terrain shoe that is ready for just about anything. On Cloudtrax has multiple traction patterns for optimum grip on mixed terrain while its breathable mesh and water-repellant upper offers ample comfort and protection in various climates.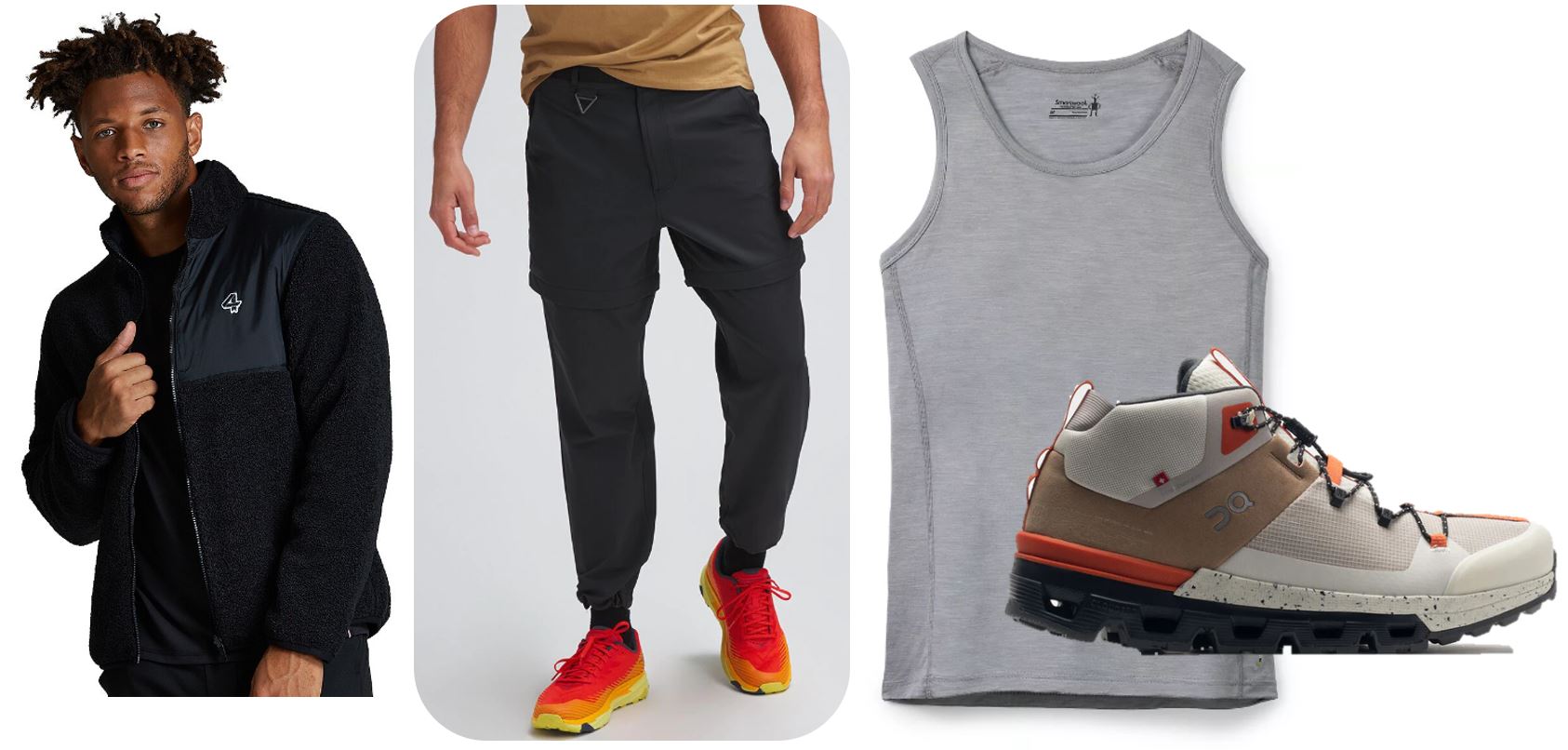 From Left to Right:
WARM REGARDS
Not all hikes will have you sweating down to your tee. Some of the most popular hikes, the east coast mountains for example, the temperature can stay under the 70s the whole time. If you and your companions have set your sights on a ridgeway or misty mountain trail, you'll want clothes that will keep you warm and moving.
That means you'll want to do some smart layering. Our fit starts with the adidas Techfit tee, which is designed for cross-training workouts. It's fitted, so it won't bunch or wear under your jacket, and the tech fabric is both moisture wicking and odor resistant (so no hiking funk worries at your post-hike celebration). For your top and middle layer, the North Face has a 2-in-1 jacket called the ThermoBall that has an outer, wind and water resistant shell and a zip-out, superlight liner that can be worn independently if the outer shell no longer becomes necessary. Your lower layer will be in great shape with Salewa's warm cargo pant. The Puez DST is new this season, but has all the bells and whistles of Salewa's best pants, including Durastretch nylon and a thin thermoregulating inside layer that releases heat when you need without getting you overly chilled. As for your feet, Altra's Lone Peak hiking shoe has a plush and snappy feel to it, with a toebox that let's your feet expand for better grip over rocky terrain. It's a heavy duty hiking shoe that will keep your feet warm and cozy all day.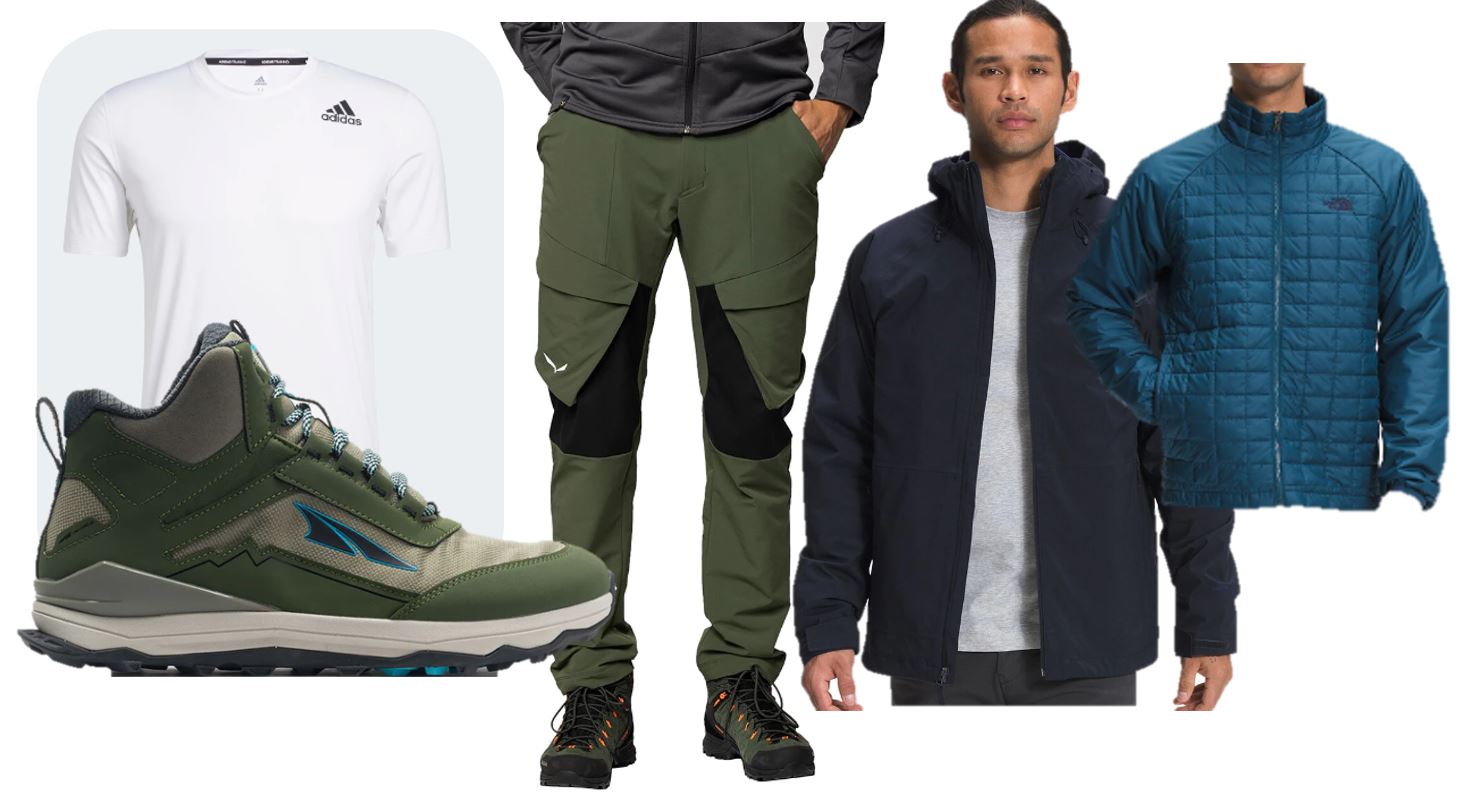 From Left to Right: